Earlier this month, over a dozen cosplayers protested outside Warner Bros. Studios with one demand — release the "Snyder cut" of Justice League.
The protest was a key moment in months of online campaigning by fans of the film. It started last year, when Justice League was released in cinemas to mixed reviews.
During weeks of speculation, one fan, Roberto Mata, decided to make a petition addressed to Warner Bros.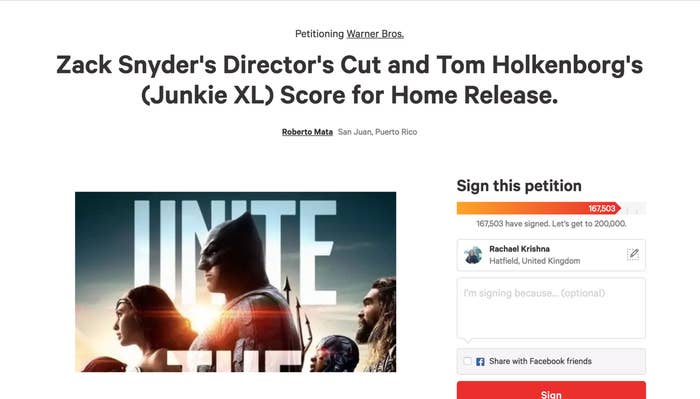 While the petition gained popularity, theories about what the film should have looked like began to surface.
The Wrap theorized that footage from trailers and inconsistencies in the film showed that significant changes had been made following Snyder's departure. It also pointed out that Justice League was originally supposed to be two films, which suggests numerous plot points from both may have been condensed into one.
There were similar posts on Reddit that claimed to have details of what the Snyder version was meant to look like. Rumors began circulating about the existence of a "Snyder cut" – a version of the film without Whedon's involvement.
DC fan and actor Kevin Smith talked about deleted scenes on his podcast. The film's cinematographer, Fabian Wagner, said he "loves" the Snyder cut. In a now-deleted a tweet, a fan also claimed that Steppenwolf actor Ciaran Hinds also disliked the theatrical version of the film.
On social media, the hashtag #ReleaseTheSnyderCut galvanized the campaign.
And yes, there are memes.
However, the campaign has not been without controversy. Accusations have been made that a number of the signatures on the petition were fake.
A fan also circulated a screenshot that appeared to show a conversation with Justice League stuntman Richard Cetrone. He told BuzzFeed News that the screenshot was actually fake.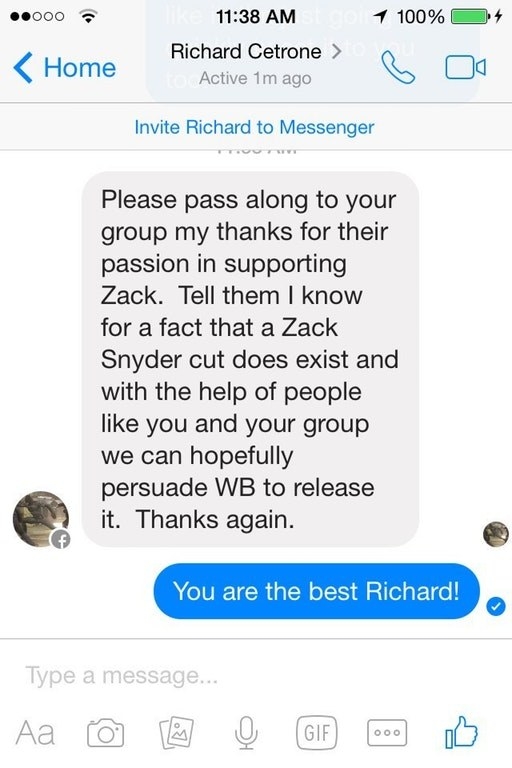 The gathering at the Warner Bros. building marked the first time the campaign had manifested in real life.
The organizer, who asked to be identified as Itzmoe, is a 32-year-old from Los Angeles. She told BuzzFeed that she wanted the protest to be a "visual representation of the love and support Zack Snyder has from his fans that we can spread on social media."
Itzmoe said having seen the Batman v. Superman director's cut, she strongly believes in Snyder's unedited vision. She said she enjoyed Justice League, but having heard of the edits made via Smith's podcast, she believes it could be better.
Itzmoe said that the meeting was not a protest, but a show of love for Snyder: "This is not an anti-Warner Bros./Joss Whedon event. It's to support Zack Snyder and show him love."
With the home release date of Justice League set for March 2018, fans may have to wait a while to find out what Snyder's vision could have been.
BuzzFeed News asked both Mata and Itzmoe how they'd feel if the director's cut wasn't what they had hoped.
Mata said that if Snyder's cut isn't up to scratch, he "would be the first to say it" but would still feel it was superior to the theatrical cut. "One thing is for sure, Snyder's cut will be better than the abomination Joss Whedon reshot and edited and Warner Bros. released. If anything, it would be the true vision Snyder always intended since the release of Man of Steel and Batman v. Superman, two films that in my opinion are masterpieces — thought-provoking and relatable themes and characters."
Itzmoe said that she did not expect Snyder to go back and put together a new version of the film. Rather, she would just like the opportunity to see deleted scenes.
"We would be happy if those scenes would be included in the 'deleted/extended scene' section of the Blu-ray/DVD release. Even if they're just animatics and not complete, just so we can have a better idea of what Zack's vision really was," she said. "And if Snyder fans don't like his work, oh well. But we will never know if we never get the chance to see it."
BuzzFeed News has reached out to Warner Bros. for comment.