On Monday, Russian travel website director Svetlana Stroganova posted on her Facebook, asking friends to help her son, Stepan.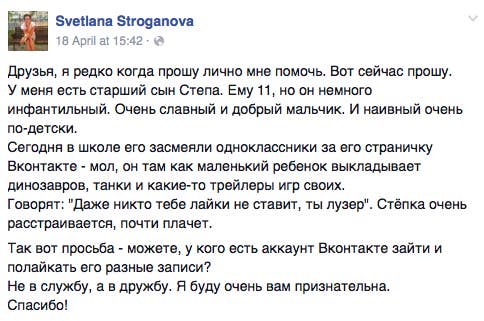 "Friends, I don't often ask for help, but I do now. I have a son Stepan. He's 11 and a little bit infantile. But generally, he's a very nice and kind boy. And also, naive and very childish. Today, his classmates in school laughed at his VK page saying that he just was a small child putting dinosaur photos and tanks and some video games trailers on there. They say: 'No one even likes your posts, you're a loser.' Stepan was very upset, almost crying. So, please, can those of you who have VK account go and like some of his posts? I will be very grateful to you. Thank you!"
From here, things escalated quickly. Stroganova's post was quickly shared across Facebook, and people began visiting Stepan's VK page, liking it, and sending him messages of support and pictures of dinosaurs.
"Dear Stepan, don't pay attention to those classmates of yours who laugh at your hobbies and the love you have for dinosaurs and video games."
Thousands of people also liked the boy's existing posts, including pictures of dinosaurs and sunsets.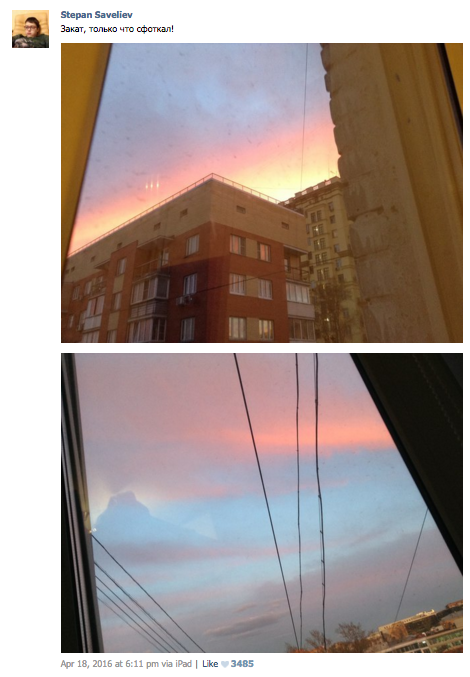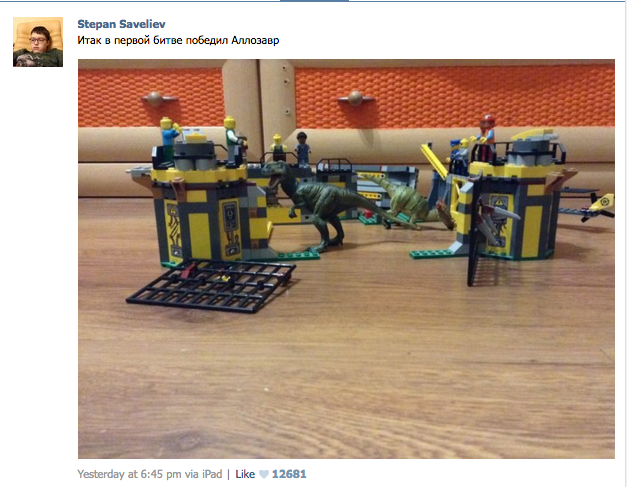 He began receiving friend requests from influential people in social media and tech. Ex-VK PR Manager Georgiy Lobushkin sent Stepan a message saying "we're with you."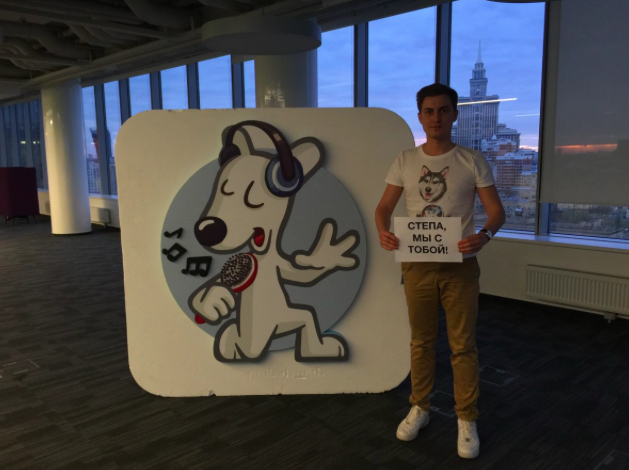 Dmitry Grishin, co-founder of Mail.Ru, one Russia's biggest tech companies, sent Stepan an invitation to visit VK headquarters in Moscow and sent him a BB-8 toy.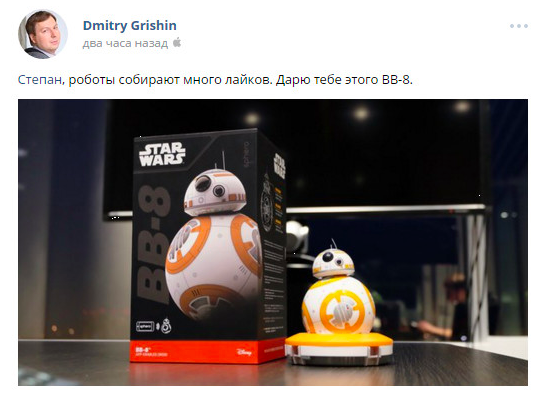 In fact, Stepan's story got so much attention that popular Russian rapper Basta recorded a tribute to him.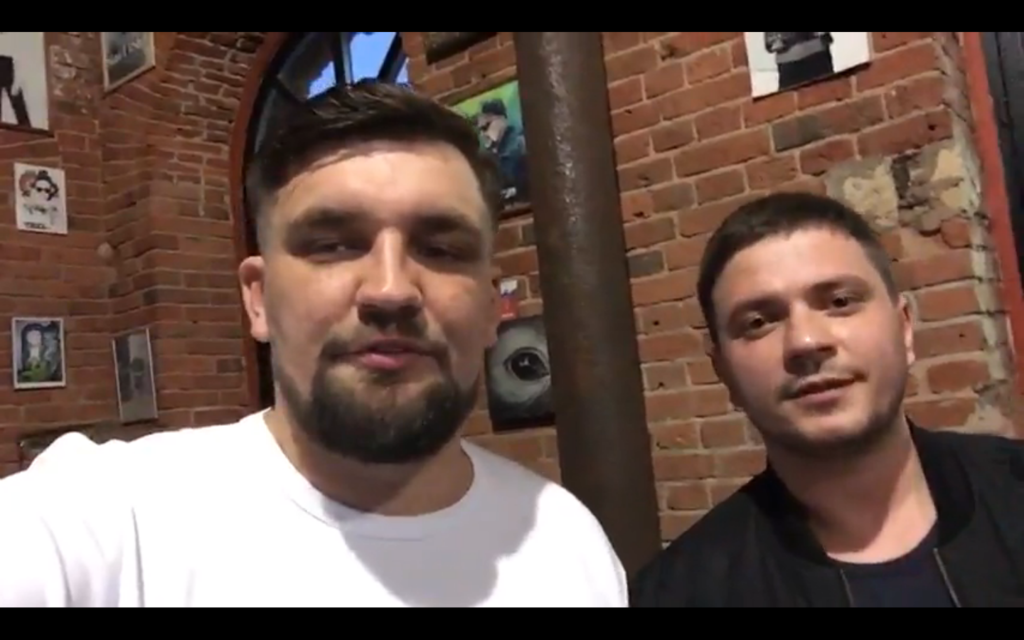 By the next day, Stepan had to close the ability to post on his timeline due to so many comments. On Wednesday, he shared a message thanking everyone for their likes and promising more dinosaur pictures.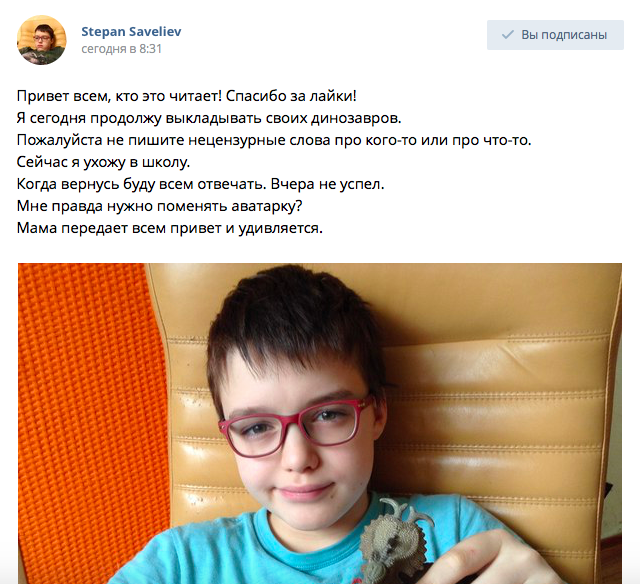 Hello to all who read this! Thanks for all the likes!
I'll continue to post my dinosaurs today.
Please, don't swear here when speaking to someone or discussing something.
Right now I'm going to school.
Going to answer all of you when I'm back. Didn't have time yesterday.
Should I really change my profile picture?
Mom says hi to all of you and is really amused.</<blockquote>
Stroganova told Russian website TJ that Stepan's newfound fame appears to had have a positive impact on his school life.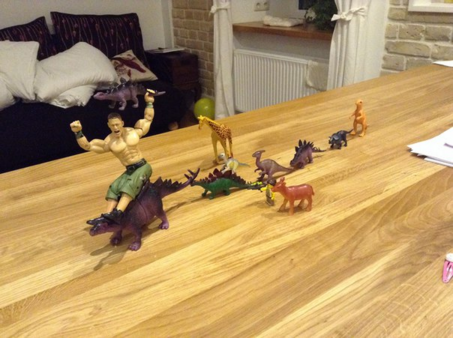 "We talked and decided to hold a meeting in school for those who love dinosaurs," she said. "Stepan will make a little presentation and his classmate Platon, who mocked him initially, will cook something dinosaur-shaped to give to other kids."