Alternative for Germany (AfD) — a German political party with far right–leaning views — is predicted to have gained 13.5% in Sunday's federal election.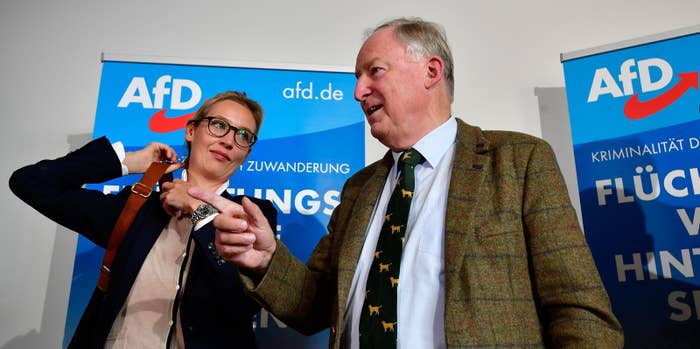 The preliminary exit polls indicate that the AfD is now the third-biggest party after the Angela Merkel's Christian Democratic Union (CDU) and the Social Democratic Party (SPD).
It's the largest percentage gained by a far-right party in Germany since the Nazis' 43.91% in 1933. Weeks after that vote, Nazi Party leader Adolf Hitler enacted laws that gave him plenary power.
While Germany has seen numerous far-right parties following the collapse of Nazi Germany in 1945, this is the first time a far-right party has entered the German parliament since 1945.
After the exit polls were announced, the AfD sent out a tweet thanking Germany for its "support in recent weeks and months."
The AfD's cofounder Alexander Eberhardt Gauland said the party will "hunt" the larger parties and "change Germany."
And the party's chairwoman called the election result a "political earthquake."
Chants of "We are going to take this country back" were reportedly heard at the AfD election party as supporters celebrated.
People were shocked by the result.
Many were saddened by what they felt was history repeating itself.
Others, however, remained optimistic.
France's far-right candidate Marine Le Pen has tweeted to congratulate the party on the "historic result," which she called "a new symbol of revival of the European people."
Martin Sellner, the leader of the "New Right" Identitarian Movement of Austria, also tweeted in support of the AfD.