Earlier this month, Colgate University in New York was shut down for several hours after a shooter was reported on campus.
Hours after the incident, Jenny Lundt, a sophomore, attended a general meeting about the lockdown.
Angry at what she felt was a lack of action from the university administration and from the white population of the school, she remembered that she has a sword in her room, and that it had always been considered a "joke." She then posted this to Facebook.
In the post, Lundt calls out her own white privilege, pointing out her ability to keep and carry the sword with no issues and comparing it with the fact campus shut down because a black man had a glue gun.
The post quickly went viral and has been shared over 16,000 times. Lundt received a mixed response — some people praised her for highlighting her own privilege and sharing her thoughts.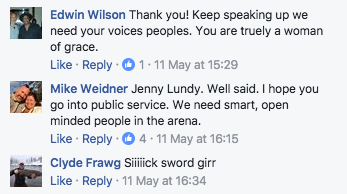 While others felt that Lundt's post got so big because of her privilege and she inserted herself into a narrative that wasn't hers. Some felt the privilege was not a white one, but a female one.


Lundt shared a response to her post, thanking the author, Sahil Gadhavi, for "challenging me to think more critically about my role in this conversation and the amount of space that me and my whiteness are taking up."
Lundt said she is happy the post has had a positive impact, but the narrative surrounding the college lockdown should be about people of color and not her and her feelings.
She said she acknowledges that her post has taken up space in a conversation, and encourages anyone who feels this way to read Gadhavi's letter.
"If every white person reading my posts commits to doing better in their own lives, we can create a paradigm shift that can ripple through all of our communities and the world," she said. "We need to do better to uplift the POC in this country and that is on us."