This City Is Having An Argument About Whether This Statue Of Dolphins Is Gay
Some have suggested the situation has escalated so rapidly that the dolphins now need a police guard.
This is a statue of two dolphins in the Russian City of Bryansk. It was installed earlier this week.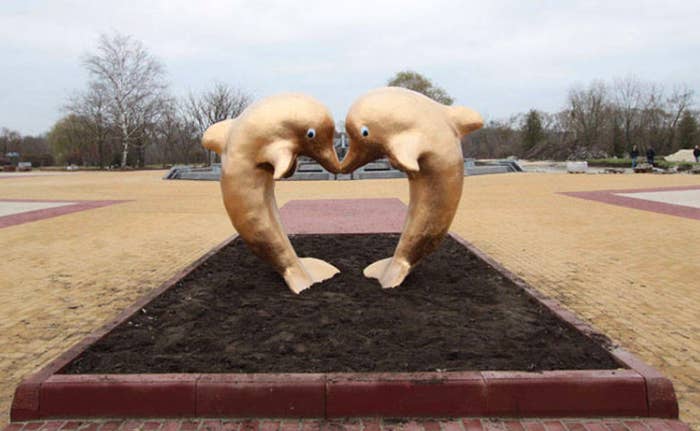 A day after it was erected, a petition was started to remove the sculpture because some people believed it possessed "questionable cultural values".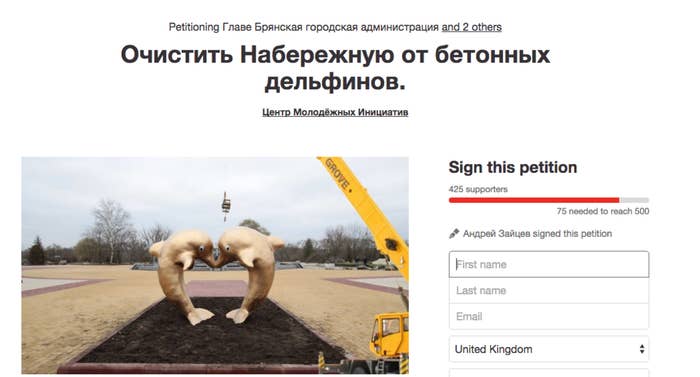 According to a local news outlet, the petition was started by the Bryansk center for youth initiatives.
While same-sex sexual activity is legal in Russia, homosexuality is still widely condemned in the country. Recently, Russian President Vladimir Putin was called out by pop star Elton John over the country's historically poor treatment of the LGBT community.
In 2013, Russian officials passed a law banning LGBT propaganda in what they described as a move to protect children from content that promotes homosexuality.
The argument about the dolphins got so intense that Bryansk's official website started running a survey that allowed residents to vote on whether the dolphins are appropriate. The poll has now closed, but hours before its closure, the pro-dolphin voters were ahead.
A statement on the website says the poll was closed due to fears that internet users were manipulating the vote.
The debate spilled over to places like Twitter, where some users argued the statue was an example of "gay propaganda".
Those dolphins on the Bryansk embankment are violating a law that prohibits gay propaganda, some locals say.
Whether gays or lesbians, those dolphins definitely are a propaganda of something.
Though, not everyone was convinced the dolphins were gay propaganda
Just read the news about dolphin monument at the embankment. Some shit heads see gay propaganda in it.
Good dolphins! My daughter loved them. And adults shoudn't make a case out of nothing.
One Facebook user, supporting the anti-dolphin movement, suggested that the votes were being manipulated.
Those who defend dolphins have no taste and no self-respect.We offered them a compromise. Agreed on a having an all-people vote. Now it's clear that we should have kept our point of view and defend the immediate removal of cellulite dolphins.Here's the results of vote on the district website. Only 5 minutes passed but there is already more than 2500 people voted. And visits counter shows that only 600 people visited the website.
One tweet have even suggested that the situation has escalated so rapidly that the dolphins now have a police guard.
The locals loved the dolphins so much that the police guard them.