Dustin, aka @poolspidey, is an 18-year-old senior from Florida. He's a massive fan of Deadpool, and has been for four years now.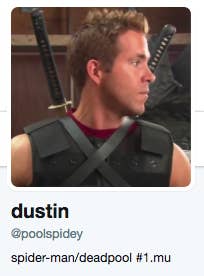 In fact, he's such a big fan that earlier this month he tweeted Reynolds a promise — if Reynolds liked his tweet, he would get, "Ryan Reynolds" tattooed on his butt.
And Dustin's follow-up tweet.

So, yep. Dustin got Reynolds' name tattooed on his butt. On Sunday, he sent the actor proof he kept up his side of the bargain.
People were shocked Dustin actually went through with the tattoo.
Some people thought it was art.
A lot of people were just impressed he went with comic sans.
Dustin told BuzzFeed News that the idea came after he saw Reynolds like another fan's tweet.
"I saw someone else tweet him saying they'd buy 10 Deadpool DVDs if he liked their tweet, and he did like it, so I thought I'd do something similar," he said. "I just thought it'd be funny to get a tattoo, so I said if he liked my tweet I'd do it."
Dustin is super pleased with the reaction, and even though some people have said he might regret the decision in the future, he said it will always be, "a funny story to tell."
And even though he is enjoying his new viral fame, Dustin has found that the bet has come with some downsides.
BuzzFeed News has reached out to Reynolds' representatives to see if he likes the tattoo.