Kevin Tran, an engineer from Oakland, California, posted a Facebook status Monday about a recent experience his friend had on Tinder.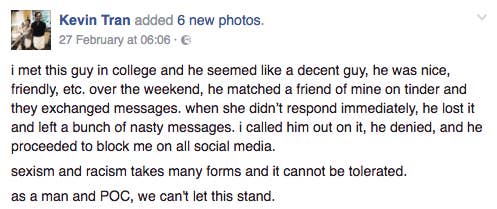 Tran's friend, who wishes to remain anonymous, was allegedly matched with an account named "Nick." Tran shared screenshots on Facebook of his friend's encounter.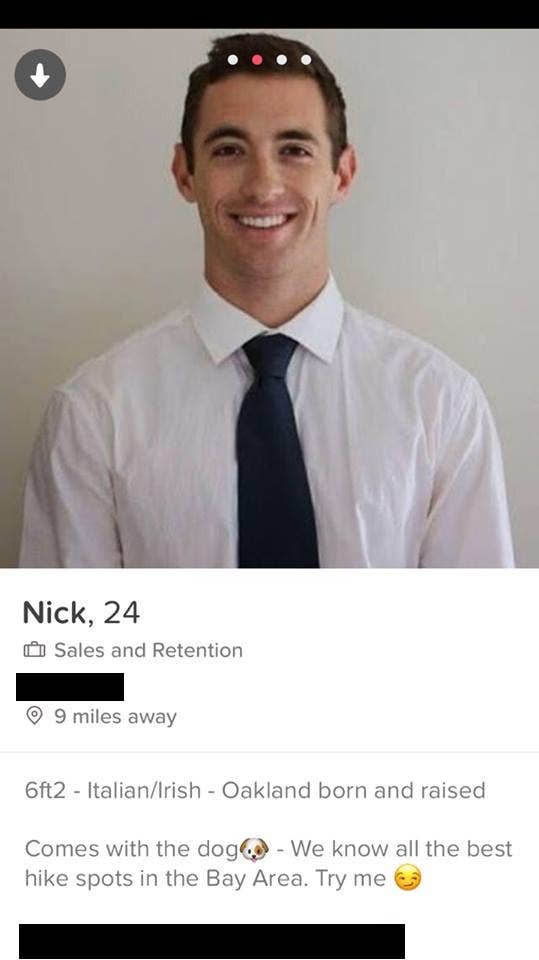 The two apparently exchanged numbers and began to arrange a date via text message.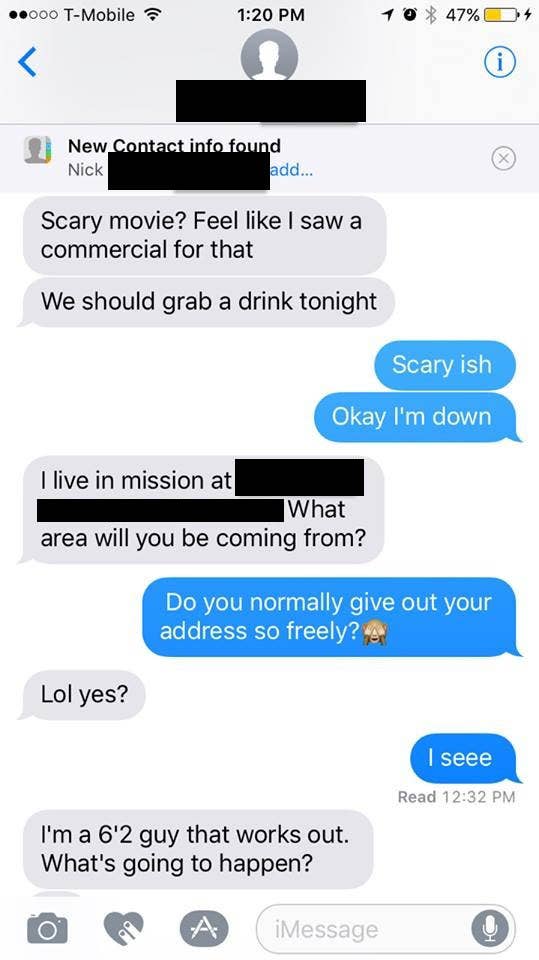 However, when Tran's friend didn't immediately reply, "Nick" allegedly texted her a string of abuse, calling her a "chink" and a "cunt."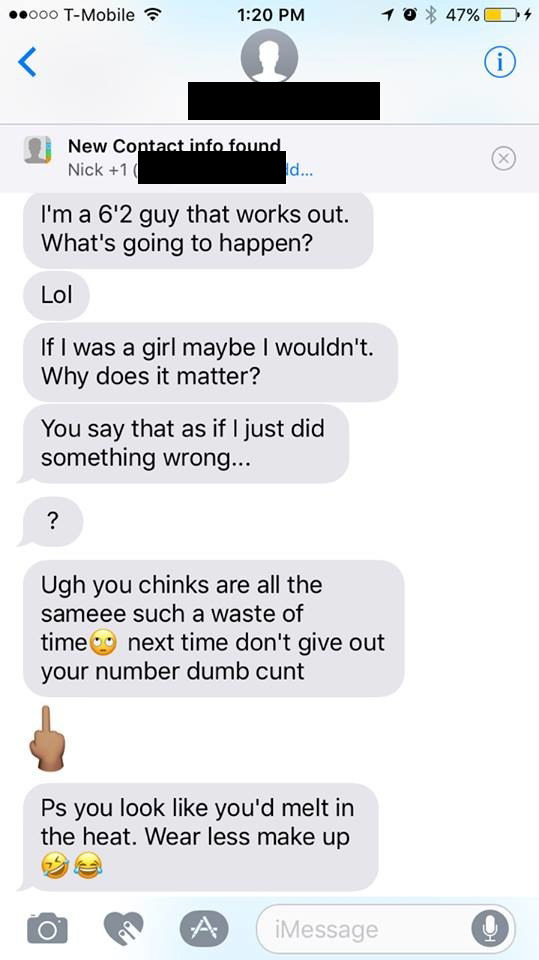 Tran told BuzzFeed News that his friend initially told him about the messages because Tran was the mutual connection that appeared when she matched with "Nick" on Tinder.
Tran said he and the man in Nick's Tinder photo were Facebook friends after attending the same college together.
"He exploded on her because she was taking a shower at the time and couldn't respond," Tran said. "I think she said this was within a 15-minute time span. At first, I was skeptical and since I had known him previously, I wanted to give him the benefit of the doubt. She showed me the screenshots and I was in shock."
Tran messaged "Nick Ved" before posting the screenshots on Facebook. Tran said that "Nick Ved" told him that the texts weren't from him, but someone who had his old cell phone number.
In messages to Tran, "Nick Ved" said that his pictures had most likely been stolen and used in a catfish account. "I can tell you for a fact this is the first time I've seen what you just screenshotted," he said.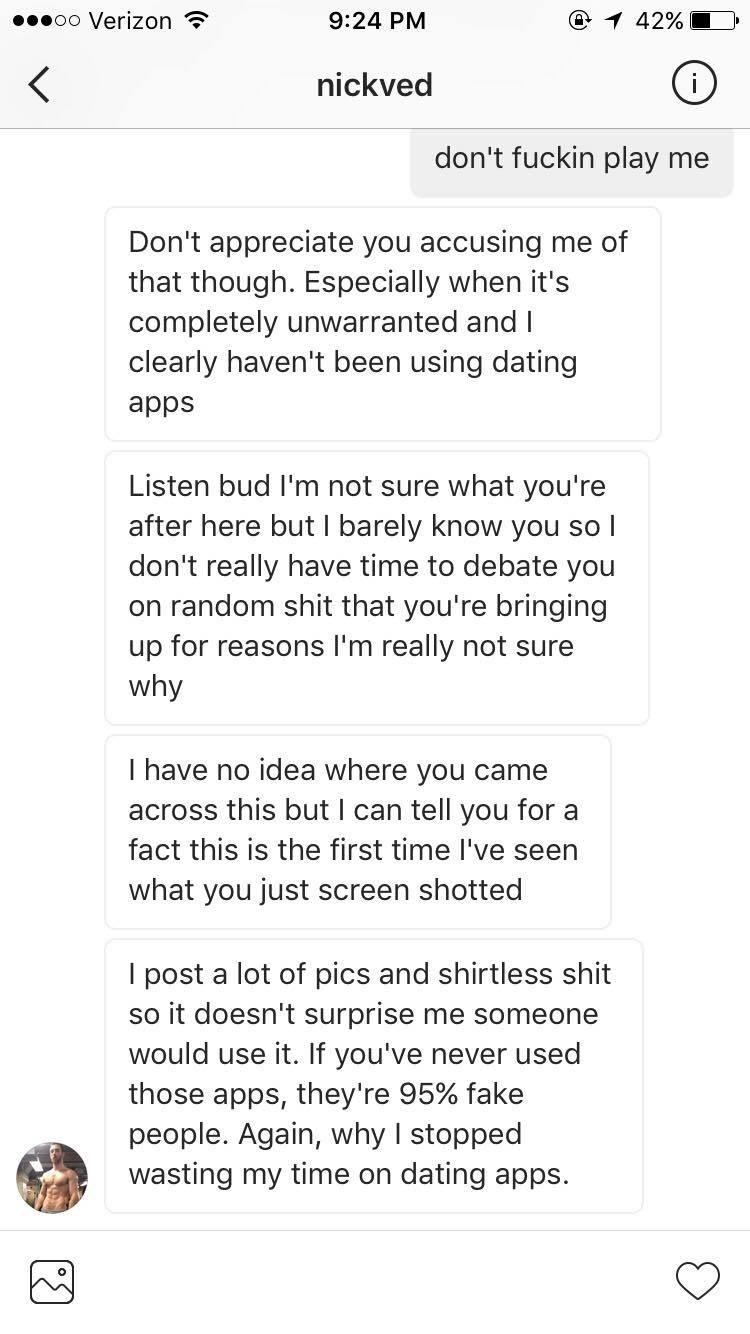 Tran's post was shared thousands of times and inspired other women to come forward with their own stories about meeting the man whose picture was associated with the "Nick" Tinder profile.
Others simply expressed their anger at his behavior and want to spread the story as far as they can as a warning for other women.

And Tran also provided a Facebook Messenger conversation from another woman, who said she received a message via an account in the name of "Nick Ved," demanding an answer and calling her a "waste of time."
One of the first sites to pick up the controversy was NextShark, a site that specifically covers news stories about the global Asian community.

From there it spread to other publications that focus on Asian-American pop culture.

On Wednesday, Tinder VP of Communications and Brand Rosette Pambakian posted a blog post about the controversy titled "In Commemoration of National Pig Day" — saying that "Nick" had been banned from the app based on the texts.
Hey Nick (and anyone who behaves like you),

We're swiping you off the island.

Tinder has a zero-tolerance policy on disrespect. No racist rants. No sexist pigs. No trolling. No jerks who can't get over their own inadequacies long enough to have a decent conversation with another person on Tinder.

I was personally offended by what you said. Your words to that woman were an assault, not only on her, but on all of us. Every day, we work to rid our ecosystem of bad actors like you. Why anyone would choose to go out into the world and spread hate I will never understand, but you do not have that choice on Tinder. Hate is not an option and we will continue to fight it wherever it rears its ugly head.

You have a lot to learn, Nick. I see that you studied global business, and that you joined your school's programs for young entrepreneurs and technology management. Great choices. Because you'll need to search far and wide to find an organization that will employ you now. Not sure if you've heard, but more and more women are becoming successful entrepreneurs and business leaders. Clearly, you haven't been paying attention. Women's voices are only getting louder. So let me say this loud and clear: you and your kind are not welcome in our world.

And we have the power to keep you out of it.

Rosette Pambakian
Vice President, Communications & Brand
Tinder
The profiles using the photos of this man has appeared to have been deleted from social media platforms. People started collecting personal information from them, however, and have posted things like the address and phone number in Facebook comments.
The woman at the center of controversy, who asked to be known as "EP," told BuzzFeed News that while she is glad Tinder responded to the incident, she has found some of the reaction uncomfortable.
"At first, I felt a sense of unity when people were applauding Kevin for his stance for people of color and women," she said. "However, when the thread began to grow and promote cyberbullying, I started to feel uneasy. The reason why the post gained recognition is because people were upset at the hate Nick was spewing. I felt that it was counterintuitive that people were now spewing hate at Nick."
Pambakian provided BuzzFeed News with a follow-up statement, saying that Tinder stands behind its decision to publicly ban "Nick" from the app.
"Given the racist, sexist and graphic nature of his comments, we believed it was important to send a very loud and clear message that we don't tolerate abusive behavior on our platform," she said. "We encourage anyone who has encountered this type of behavior to report the user immediately so we can take swift action to remove them from our platform. As for Nick, we hope he's learned that type of abusive behavior has consequences, and he cleans up his act in the future — it just won't be on our platform."
CORRECTION
The account user in the name of "Nick Ved" called another woman a "waste of time." This post originally implied the user said that to the same woman he called a "chink."