A Bullfighter Has Come Under Criticism For Taking His Baby Into The Ring
The fighter captioned the photo #OrgulloDeSangre, which means "blood pride."
Famous Spanish bullfighter Francisco Rivera Ordóñez has received backlash for posting a photo of himself holding his baby daughter next to a bleeding bull.
Carmen's debut, she's the fifth generation of bullfighters in our family. My grandfather fought like this with me, and I have done it with my daughter Cayetana and now with Carmen. #bloodpride
Ordóñez comes from a long line of bullfighters, and is a popular sporting figure in Spain.
Reaction on Ordóñez's Instagram post has been mixed: While some users have criticized his parenting and participation in bullfighting, others have stated that outsiders have no right to condemn.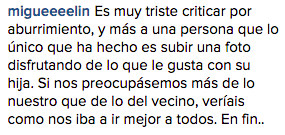 It is very sad to criticize just out of boredom, and way more to criticize a person whose only wrong was to upload a picture enjoying what he loves with his daughter. If we cared more about our business instead of our neighbor's, everything would be better.
Respect everybody's traditions and every family's values. And the minor's protectors better stop their bullshit and start researching and reporting worse cases, because there are. I think that the picture is very pretty and she's following a tradition that's huge for her. Fran (Francisco) would never let anything happen to his daughter. There's no place she'd be better than in his arms.
Retard! To put your daughter's life at risk and teach her how to harm animals! Aren't you ashamed? You are the worst example for her, you ignorant brute! You have the worst job of all! Damn insensitive cruel person, you disgust me!
Ordóñez posted a series of tweets in response to the backlash, asking people to "respect our traditions".
Please, respect our traditions.
Never has my daughter been safer, I am a bullfighter by the grace of God, I live for this and I dedicate 365 days a year to this. Not for a second did she run the slightest...
...risk. There are many things that are more dangerous, which I won't name, that are full of children.
He also posted another photo to Instagram, showing him as a child in the ring with his father. Ordóñez's father, Francisco Rivera Pérez, was killed by a bull in 1984.
History repeats itself. Long live the best legacy, the feeling, the purity, the honor