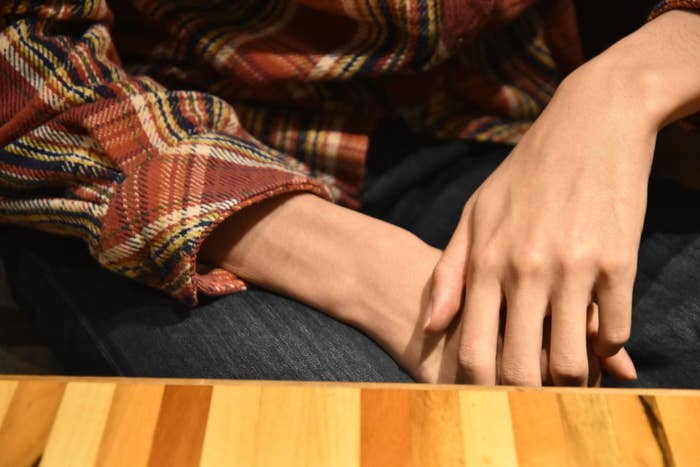 On January 17, a Japanese website published an explosive story that said a South Korean court had overturned the conviction of a man accused of raping two Japanese girls in Seoul.

The story reported that a man named Lee Mu-hyun raped two sisters, aged 11 and 9, in 2000 when the girls' family was visiting South Korea from Japan. It quoted a judge named Kim Jun saying, "It is highly possible the accused is truly the culprit, and unlikely the crime was committed by another. But because the victims have returned to Japan, it is unnecessary to force a sentence, and therefore valid to acquit him."
The story spread widely on Facebook in Japan, eventually earning close to 20,000 shares, reactions, and comments — a high level of engagement for a news story on Japanese Facebook. It was also completely fake.
The site, South Korea Civil News, was only registered the day before the article was published, and a search of a news database containing articles from major Korean and Japanese newspapers found nothing about the case or any of the people involved.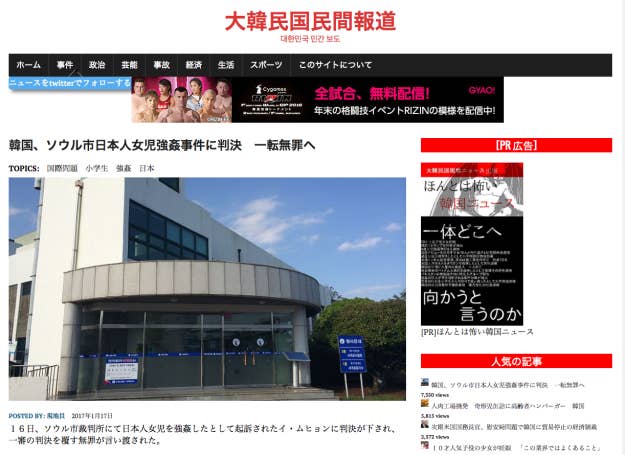 No one in Japan seemed to know who was behind the site that had scored what may be the country's first viral fake news hit. But two weeks after the hoax was first published, an unemployed 25-year-old man walked into a cafe in the Tokai region of Japan and took a seat.
"I'm really sorry, this whole thing got out of hand," he told BuzzFeed News.

Over the next two hours, Anakura explained how he came up with the idea to create fake news websites in Japanese and Korean, and to sell Kindle book collections of his fake stories. He spoke on the condition that BuzzFeed News not reveal his real name due to fears of potential legal action.

"I wanted to make money quick," he said. "That's why I did it."
It didn't work out as he'd hoped. Anakura said he spent what amounted to roughly $125 to create one website and earned just under $50 in revenue from it. He also paid money to a service that shared links to his stories using Twitter bots.
Prior to this viral rape story, Japan was largely unaffected by the current global anxiety over the spread and influence of fake news — completely false stories created and spread online for financial profit or for ideological reasons. After concerns about fake news during the US election mounted, governments and media in Germany, the UK, the Philippines, Indonesia, France, the Czech Republic, Italy, and elsewhere are now on alert or taking action against fake news.

Anakura's experience shows how the economics and prevalence of fake news can differ by country and language. Macedonians, for example, were able to earn hundreds or even thousands of US dollars a month because their sites appealed to the English-language internet market. Their content also earned higher advertising rates because it was directed at Americans. But a smaller market like Korea or Japan offers less potential revenue for financially motivated fake news.
"This world is filled with rumors and lies," Anakura told BuzzFeed News. "I think it's up to the individual to decide how to react to them... False rumors will keep on coming. Whether you can make money from it or not is a different question."
Inspired By Macedonian Teens
Anakura said the idea to start a fake news site came to him in November after he read a Japanese article that cited the BuzzFeed News story about teens and young men in Macedonia earning money by running pro-Trump websites that often published fake news.
"I thought, if this kind of thing got so much attention that it forced Facebook and Google to do something, I might be able to do the same thing in Japan," he said.
Anakura signed up for a paid bogging platform called Hatena Diary and created his first news site, Local Korea News. He began churning out hoaxes with headlines such as, "The Korean navy captured and destroyed a Chinese army submarine." His articles began to spread in Japan and Taiwan.
He chose to focus on outrageous hoaxes about Korea because he saw these stories were already being shared on the Japanese web. He quickly discovered the most popular fake articles about South Korea were ones that filled his Japanese audience with anger or shock. "Articles that inspire hate get spread," he said, noting that he has no personal opinion about Korea.
Anakura earned a graduate degree in science and engineering but had no experience writing news articles. He said he learned to write in a news style by reading real news websites and mimicking the writing and story structure. "The structure for a news article is fixed, so once I got used to it I didn't even have to look at the real articles," he said.

At first he combined fake details with real facts in his stories. But he soon realized this "takes time to research," so he started completely making things up in order to increase his output and potential revenue.
In addition to advertising, Anakura tried to make money by collecting his fake articles into Kindle books. He published two Kindle books entitled Scary Korean News and sold them on Amazon as well as via links on his websites.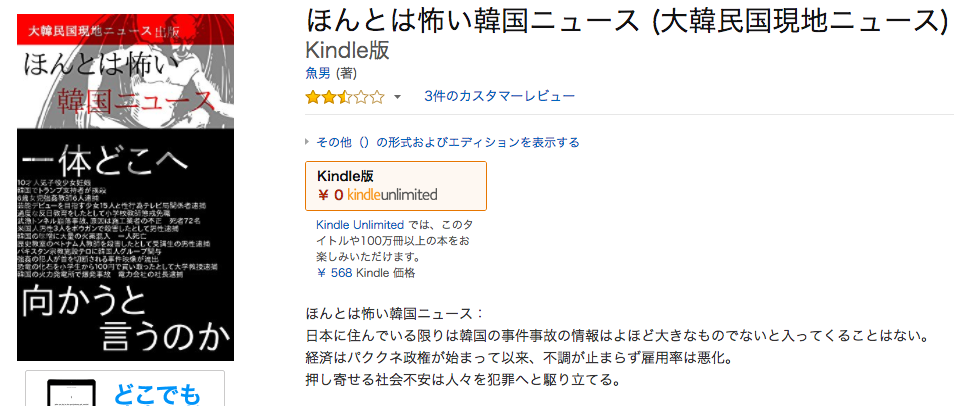 Anakura also came up with an idea to make his stories seem more legitimate: He ran his Japanese articles through Google Translate to create a copy in Korean, and then published these on a second website. This gave him a Korean "source" he could link to in order to seem more credible.

"I thought it would get more shares if there was a source, so I created the Korean website," he said.
He soon learned the most popular fake articles about South Korea were ones that inspired a strong emotional reaction from his Japanese audience.

"Articles that inspire hate get spread," he said.
Anakura published the site until early December when Hatena shut it down for violating its terms of service. He launched his second site, South Korea Civil News, on WordPress and immediately began publishing fake news such as the rape story, while still publishing Korean versions on his other site.
Targeting Anti-Korea Nationalists
Anakura found the most successful approach for his sites was to focus on Makoto Sakurai, the former head of a far-right nationalist group called Zaitokukai that's known for its anti-Korea position. He looked for people who follow Sakurai on Twitter and followed them from the account associated with his site. Anakura hoped they would follow back and eventually retweet the hoaxes, increasing the likelihood that his content would make its way into Sakurai's network. (BuzzFeed News initially got in touch with Anakura through the site's Twitter account.)
Just three days after publishing the rape hoax, Anakura saw his strategy pay off when Sakurai himself tweeted the story to his more than 60,000 followers. "This is hate," he said. "Japanese people should not go to Korea, a country of rapists." Sakurai's tweet received over 2,000 retweets.
"I was targeting Sakurai as an influencer from the beginning," Anakura said. "But I didn't think I would get to him in three days."

Sakurai wasn't the only influential person to share one of Anakura's hoaxes. "I was able to catch people with high social status," Anakura said, citing hospital directors and company presidents.
"I don't blame them for getting caught," he said. "Now that Facebook and Twitter are so close to us, sharing something is no different from saying, 'Hey, did you hear about this?' to the person sitting next to you. When you do that, people rarely ask, 'Is your source on that reliable?' I think it kept spreading like that without people putting too much thought into it."
Anakura said he doesn't think his hoaxes could increase anti-Korea attitudes among people in Japan.
"I can imagine people will get mad, but I don't think these stories would actually affect someone's life or daily life," he said.
But he also recognizes that what he did was "ethically wrong."
"Of course it's a bad thing to spread false rumors," Anakura said. "But there isn't a world without rumors. There are many news articles like these. This was a problem since before the internet was invented."
In the cafe Anakura opened up his WordPress dashboard and showed BuzzFeed News the number of views for his recent hoaxes. At the top of the list was the rape hoax, which received roughly 72,000 pageviews. South Korea Civil News as a whole generated roughly 170,000 views in its first nine days of operation.
But now that his most successful hoax has attracted so much attention, Anakura told BuzzFeed News he would most likely close his sites. He also floated the idea of launching another website that mixes true and false articles.
"I could create a different website and operate it on a long-term basis and mix in lies among articles containing true information," he said. "But I want to make quick money, so I probably won't do it anymore."

In the end, Anakura said that creating purely fake news for the Japanese market didn't make sense economically, and he spent more money than he made.
"Making money with fake news was difficult with the size of Japan," he said. "If I could spread it to the world in English, maybe it is possible. If you want to make money, there are much better ways."
This post was translated from Japanese.