You can only get so close to an industrial speaker the size of a golf cart before it hijacks your body. A force field of bass vibrates around each limb, and it feels like sound is filling your insides from navel to nape. For most people, this proximity is painfully loud.
But Lisa Cryer loves it. My ears are already throbbing when I find her posted up in front of a massive speaker arranged for Zara Larsson's Swedish electro-pop performance at the Lollapalooza music festival in Chicago. Cryer has the lean frame and unaffected cool of '70s-era Patti Smith. And in a sea of Lollapalooza festgoers who have obviously dressed for a style blogger's camera, Cryer is low-key in denim and a faded tee that shows off her minimally inked arms. While I'm terrified that my ears will start bleeding at any moment, Cryer looks perfectly at ease within arm's reach of the amplifiers.
Born profoundly deaf (meaning her ears detect no sound at any level), Cryer likes to get as close as possible to the music's source. She brings me to the front of the crowd and instructs me to put my foot on an aluminum stage barrier so I can feel the music's vibration through the metal. She plucks an empty water bottle off the ground for me to hold so I can feel the bass in my fingertips.
"Music is not about the sound for me; it's about how I feel," Cryer says. "My hearing comes through my eyes and my body." (Throughout the weekend I communicate with Cryer and other music fans from the deaf and hard-of-hearing community via written notes, text messages, phone apps, body language, and American Sign Language interpreters who are considered as invisible facilitators.)
"My hearing comes through my eyes and my body."
Growing up deaf in a hearing family didn't limit her access to music, she says. As a little girl, she would sit on her grandfather's lap while he played the accordion in order to feel the air whoosh in and out of the bellows, and she recalls how the feeling of the music filling up her body made her "giddy with delight." As an adult, she experimented with different hairstyles that would help intensify the way sound moved around her head. (These days, she wears her dark waves cropped mid-neck.)
By day, the 45-year-old music obsessive travels the Midwest as an advocate for deaf children. Those skills come in handy for a music fan who is deaf; after years of going to concerts where the experience ranged from disappointing to miserable, Cryer and other music fans who are deaf and hard-of-hearing have pushed for access in the hearing-centric music world.
Going to shows that didn't have access — chiefly, no American Sign Language (ASL) interpreter — had become too discouraging, often for safety reasons, Cryer says. The lack of an interpreter, or "terp," is the surest signal that there's no security or seating anywhere near the front of the stage to see the music. A terp's presence indicates that a venue has taken the time to actually provide space or seating so that deaf guests can fully participate in the concert experience.
Cryer has spent years adapting to a culture that regularly ignores the fact that she and other fans like her exist. But after enduring decades of limited access at shows, she's hopeful that the mainstream perception of music fans in the DHH community has finally reached a watershed moment.
The rise in mainstream visibility of DHH folks has been gradual, playing out mostly in pop culture and in social media. In 2012, the ABC Family drama Switched at Birth was recognized with a prestigious Peabody Award for storytelling; the show featured deaf actors in starring roles and scenes presented entirely in ASL. Then, in 2013, a YouTube video of veteran ASL interpreter Amber Galloway Gallego signing rapper Kendrick Lamar's performance of A$AP Rocky's "Fuckin Problems" went viral. That led to a 2014 appearance on Jimmy Kimmel Live!, where Galloway Gallego and two other well-known ASL music interpreters, Holly Maniatty and JoAnn Benfield, squared off in an ASL rap battle — which in turn prompted a popular Vox explainer video about ASL and music interpreting and articles like "What It's Like Listening to Music as a Deaf Person."
And when Aziz Ansari's popular Netflix dramedy Master of None returned earlier this year, it drew praise for an episode that included a vignette about a deaf bodega clerk who navigated work, friendship, and a hilarious shopping scene where her and her partner's graphic argument about their sex life is "overheard" by a trio of ASL-fluent children and their indignant mother.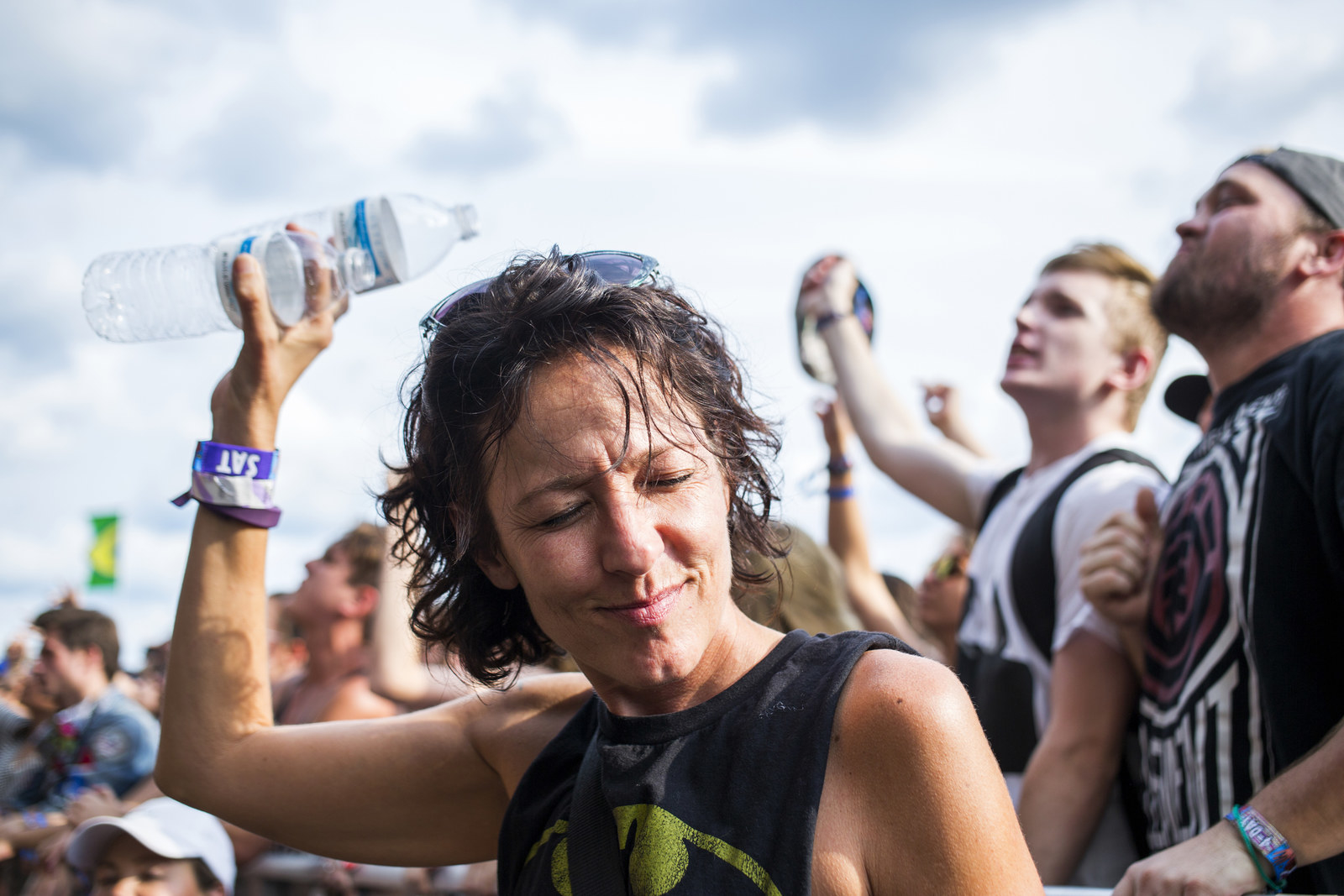 In 2014 alone, 32 million people attended at least one US music festival, according to Nielsen Music.
As pop culture has begun to better recognize the experiences of deaf Americans, there have also been signs of progress for the Deaf community in sports and politics. The Obama White House included two deaf women in prominent roles – Leah Katz-Hernandez, the first deaf person to serve as the receptionist of the United States (one of the first people to greet White House visitors), and Claudia Gordon, the public engagement adviser for the disability community in the Office of Public Engagement, who is also the first deaf black female attorney in the US. Around the same time, Seattle Seahawks fullback Derrick Coleman became the first deaf Super Bowl champion during Super Bowl 48; Coleman's status as the NFL's first deaf offensive player prompted a major halftime commercial by Duracell batteries (the tie-in being Coleman's use of battery-powered hearing aids). In 2016, Smirnoff vodka featured deaf dance instructor Chris Fonseca as part of its inclusivity-minded "We're Open" campaign.
Though Deaf culture has nudged closer to mainstream visibility in the past several years, progress remains stunted in spaces where DHH people aren't considered part of the equation to begin with. Music festivals in particular have been slow to include the DHH community, despite the industry's explosive growth over the past quarter century. In 2014 alone, 32 million people attended at least one US music festival, according to Nielsen Music.
Historically, members of the DHH music community have taken matters into their own hands by creating their own festivals, though the type of music performed at these festivals was often limited. Organizers of the annual Brickfest — hosted on alternating years by the Rochester Institute of Technology and the Washington D.C.- based Gallaudet University, a private school for deaf students — learned this the hard way in 1995.
"The organizers would only play rock and roll," recalls Greg Perez, who attended Gallaudet at the time and is president of the advocacy group Deaf Planet Soul. "People didn't want to pay $55 for only rock, and Gallaudet students said they wouldn't come unless they were allowed to host a party of their own. BrickFest lost $12,000 that year because everyone else went to the [competing] party. And BrickFest learned they couldn't segregate music."
More recent festivals organized by DHH fans for their community, like Louisville's DeaFestival Kentucky and San Antonio's Good Vibrations festival, nail the accessibility angle of staging a festival. But while they excel at creating a strong community and camaraderie among DHH fans, these festivals typically lack the star power of bigger productions like Coachella or Bonnaroo.
But in 2015, thanks to a concerted push from DHH advocates and a growing cohort of employees plugged in to the DHH community, festival organizers have been prioritizing access for DHH fans. At Lollapalooza this year, a fifth of the 170 performances scheduled had ASL interpreters.
ASL-accessible sets are increasingly incorporated into larger festivals like Austin City Limits and Lollapalooza, where the factors of an established festival and strong local DHH community are in place. But industry insiders say it wasn't until around 2014 that both festivals (which share a producer, C3 Presents) more formally established an accessibility program for DHH guests. And even though some festivals had proved that they could pull off an admirable level of access, no one was stepping up to declare it a planning priority.
Then, in June, the DHH music community saw the boost it was waiting for. Chance the Rapper announced that he was hiring a team of ASL interpreters for the remainder of his tour, which would include stops at major festivals like Bonnaroo, Lollapalooza, and Austin City Limits. Chance's 2017 announcement made him the first artist to provide his own interpreting team for a tour. And to the DHH community, it signaled that a door that had long been shut was finally cracking open.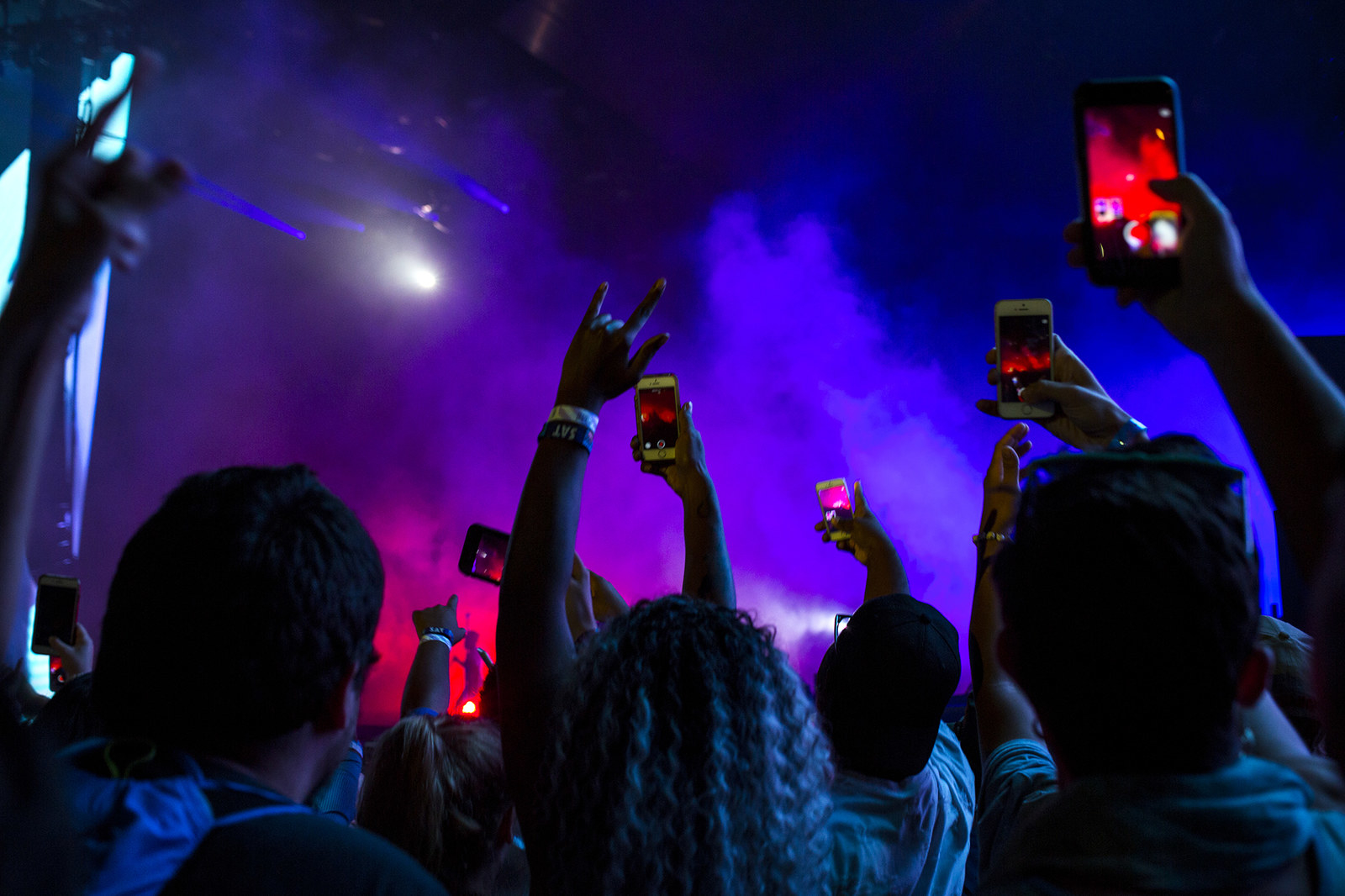 Hearing people tend think of deafness as one side of an on or off switch — you can hear everything or nothing — but deafness is actually a spectrum. You can range from profoundly deaf to some ability to hear sound above a certain threshold to hard-of-hearing with the ability to process speech, usually with the help of hearing aids or implant; smembers of the DHH community will also identify themselves as "Big 'D' deaf" to indicate they're part of the Deaf community, or "Little 'd' deaf" to indicate they are not involved in the Deaf community even though they have no hearing. The DHH community is also a large one: According to the National Institute on Deafness and Other Communication Disorders (NIDCD), a quarter of the population will have "disabling hearing loss" between the ages of 65 and 74; it jumps to 50% by the time people reach age 75. Music fans exist across the entire DHH spectrum and have devised many alternate ways of listening when their ears are of limited use.

"Any music I want to see or attend, I must plan very far in advance — ask for access, hope they cooperate, hope they can find people, hope the people are qualified to be up there."
For years, "Deafheads" — the Grateful Dead's deaf fans — have been recognizable by the balloons they hold to catch sound vibrations during the Dead's lengthy jams. Hard-of-hearing fans will often seek out a front-row space near the speakers so they can hear vocals that would otherwise be inaudible from the back. At dance parties with EDM and bass-heavy music, a DHH-savvy DJ might place the speakers facedown on the floor instead of on speaker poles. Deaf artists and tech entrepreneurs are even developing Bluetooth-enabled wearable vibrative technology in the form of vests, backpacks, and bracelets that can be synced to a beat.
But while these innovations and adaptations help well-connected DHH fans tap into the larger music experience, Cryer notes that most venues and festivals don't start from a point of accessibility; the burden is on DHH people to find the proper (and often obscure) channel and request access. Ideally, Cryer says, DHH access would be structured the way wheelchair access is: It's required by law, and it exists for someone who needs it whether or not the venue is aware in advance of the need.
"Any music I want to see or attend, I must plan very far in advance — ask for access, hope they cooperate, hope they can find people, hope the people are qualified to be up there," Cryer says. "I can never just get last-minute tickets, or join a friend that has an extra — it takes a long time to get that set up and it's not easy to do, which is infuriating because the [Americans With Disability Act] requires that they make it accessible."
At a few sets during the weekend we're at Lollapalooza, Cryer will point out the dearth of teenage DHH fans in the audience. According to the National Institute on Deafness and Other Communication Disorders, roughly 90% of deaf children have hearing parents, like Cryer, but few learn ASL, and they often don't consider the ways that a lack of access to experiences like music festivals can further isolate them. Particularly for millennials — DHH or not — music festivals are an increasingly popular social experience and cultural rite of passage; the chance to see multiple bands and share in a community of like-minded fans is one which DHH youth don't want to be excluded from.
"People would say, 'Why do you get to be up front? You can't hear, so you should be in the back.'"
Krista Reese is one of them. She's been coming to Lollapalooza since she was 21 (she's 26 now) and is enjoying the Zara Larsson set so much I almost feel guilty asking her to talk about times when festgoing wasn't so great. "People would say, 'Why do you get to be up front? You can't hear, so you should be in the back,'" says Reese, who is hard-of-hearing. "I've never been close enough. Before this, I only listened to dance music, because I could feel the beat. But now I can branch out to other genres." We both watch the ASL interpreter while Larsson sings "Make That Money Girl." The music morphs from audible to tactile as the interpreter smacks her pinched fingers against her open palm to form the sign for money; you can imagine the fat stack of bills slapping back and forth in the interpreter's hands.
"Without [an ASL interpreter], I miss almost all the words," Reese adds. Since the festival's DHH accessibility program was formalized in 2014, the steady improvement has made this the best concert experience in her five years of going to Lollapalooza — and has widened her circle of friends. "It's been really good to know I'm not the only young person dealing with this," Reese says.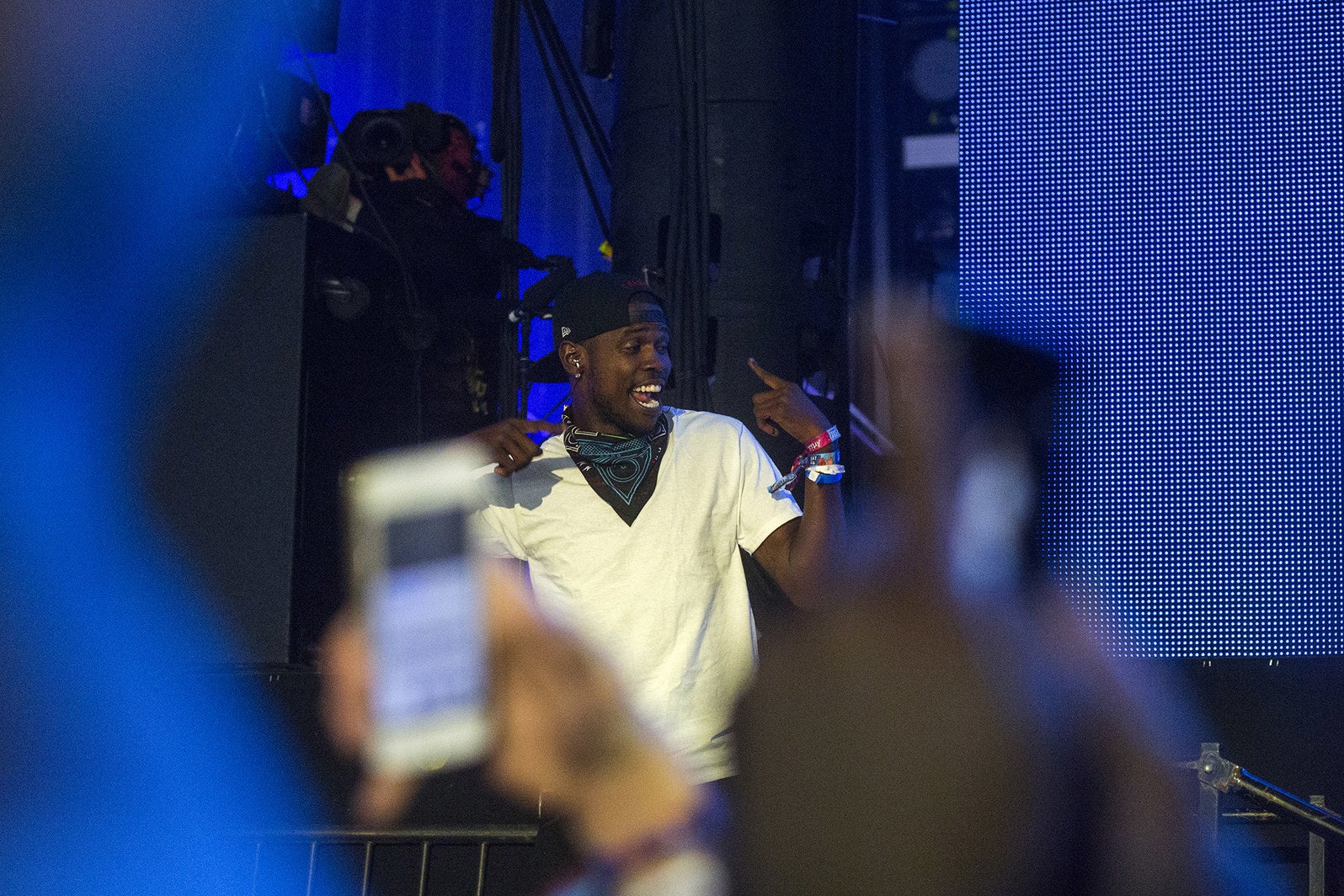 Amber Galloway Gallego makes sure she puts her whole body into the music when she's interpreting.

Her cheeks puff out while interpreting the thick bass line in a 2014 interpretation of Meghan Trainor's "All About That Bass." She shuts her eyes and winces with her hands up near her chest to interpret the looping guitar riff of Walk the Moon's "Shut Up and Dance" in another video earlier this year. Galloway Gallego wants to be sure fans catch not only the artist's lyrics, but their entire emotional vibe. As the DHH fans who watch her will attest, simply knowing the proper signs in ASL is only one facet of effectively communicating with it.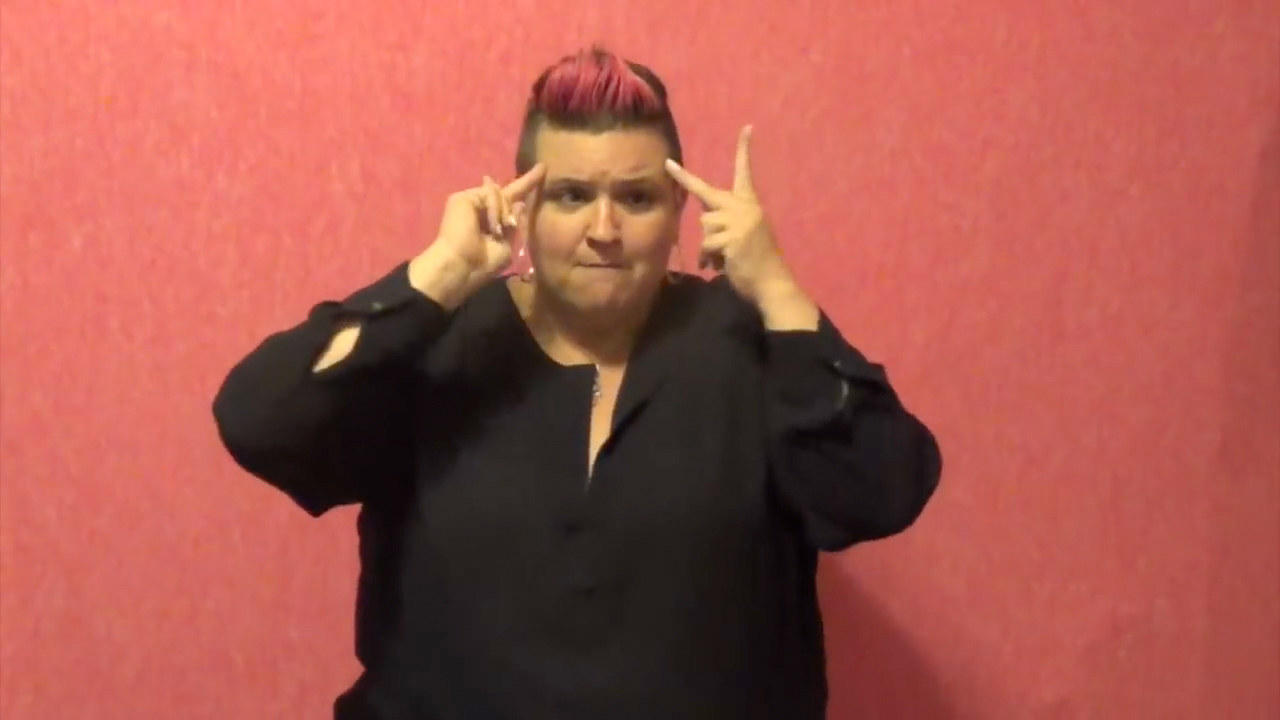 ASL mirrors spoken language: It has its own dialects (you can get into a version of the "pop" vs "soda" debate in ASL), and fluent speakers say they can pick up regional and even rural or city accents. As the name implies, ASL is also uniquely American — though it's actually closer to French Sign Language (LSF) than British Sign Language (BSL).
Galloway Gallego is one of the most popular ASL music interpreters in the country because she and her team have perfected the art. Interpreters spend weeks preparing for a single set by memorizing lyrics, slang, and where the beat drops. They have to understand the musician's personality, since they interpret not only their music but any interaction the artist has with the audience — and any mistakes the artist makes.
ASL mirrors spoken language: It has its own dialects (you can get into a version of the "pop" vs "soda" debate in ASL).
If a musician's vocals are frayed or their instruments are out of tune, it comes across in the interpretation (a "this is really bad" face might accompany an out-of-tune guitar riff). During Zara Larsson's set, the Swedish singer flubbed the name of the festival, calling it "Lola" instead of "Lolla." Since flubs get interpreted, a few DHH members of the crowd were flashing the same bemused smile as the folks in the hearing section.
This warts-and-all philosophy toward music interpretation is the one DHH music fans — both in person and online — say they like best, and it's the one practiced by the next generation of interpreters. One of them is Matt Maxey, the 29-year-old founder of Deafinitely Dope, the team of young black interpreters that Chance the Rapper hired for his tour.
"I founded Deafinitely Dope to break barriers between the hearing and deaf communities through music and sign language," wrote Maxey in an email to me a week after Lollapalooza. When asked about the importance of having representation by black ASL interpreters, he responded: "It's important and helpful because a lot of times, unwarranted or not, rappers become role models for the new generation, and for the deaf community to have people that embody that persona; it changes their perspective of the world around them."
Rachel Arfa, a 39-year-old civil rights lawyer in Chicago who describes herself as "little 'd'" deaf, praised Maxey's interpretation skills. "Matt has been rapping songs for years in American Sign Language so this is a natural fit for him. Other artists, when they get ASL interpreter requests, they simply call local interpreting agencies and hire two ASL interpreters who are available, and do not give them preparation or time," Arfa wrote. "Matt is able to honor Chance's personality and philosophy as a rapper and that has a greater impact on conveying the songs during the performance."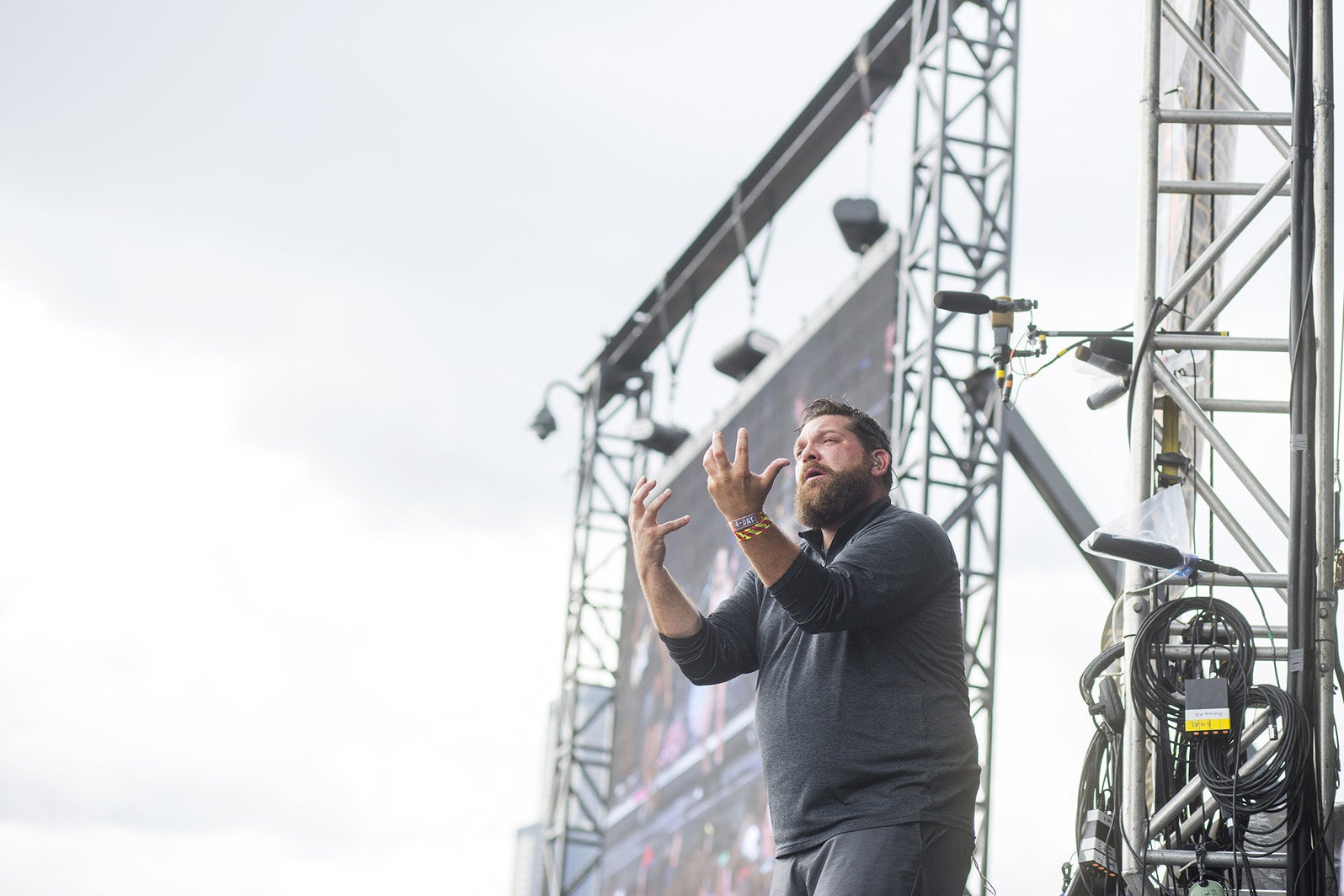 Even with one day left in the festival, Saturday night is a sort of early finale — the crowning moment of the festival for DHH fans. Chance the Rapper's set is the last one of Saturday night, and it's on the biggest stage in the park, where we're all hanging out.

Even though it's more than an hour before showtime, the DHH audience is packed before the area reaches capacity — as folks take the opportunity to chat with fellow DHH music fans in one place. Cryer is among them, chatting, asking questions, and making introductions.
Some of the people in the area are Cryer's friends. The rest are strangers, but only for a moment; friendships form fast in this crowd. (Later on she'll laugh when our photographer and I ask for the names of her new friends: "I don't know their English names, only their ASL names!")
With Cryer and her friends deep in conversation, I stand to the side and smile widely, despite knowing that I can't smile away my awkwardness. An ASL interpreter floating through the area can tell I'm helpless and comes to my rescue. Once she knows I'm trying to talk to Cryer, she stands to the side to interpret while Cryer and I face each other (it's considered bad manners for a hearing person to turn and face the interpreter) and Cryer's friends look on.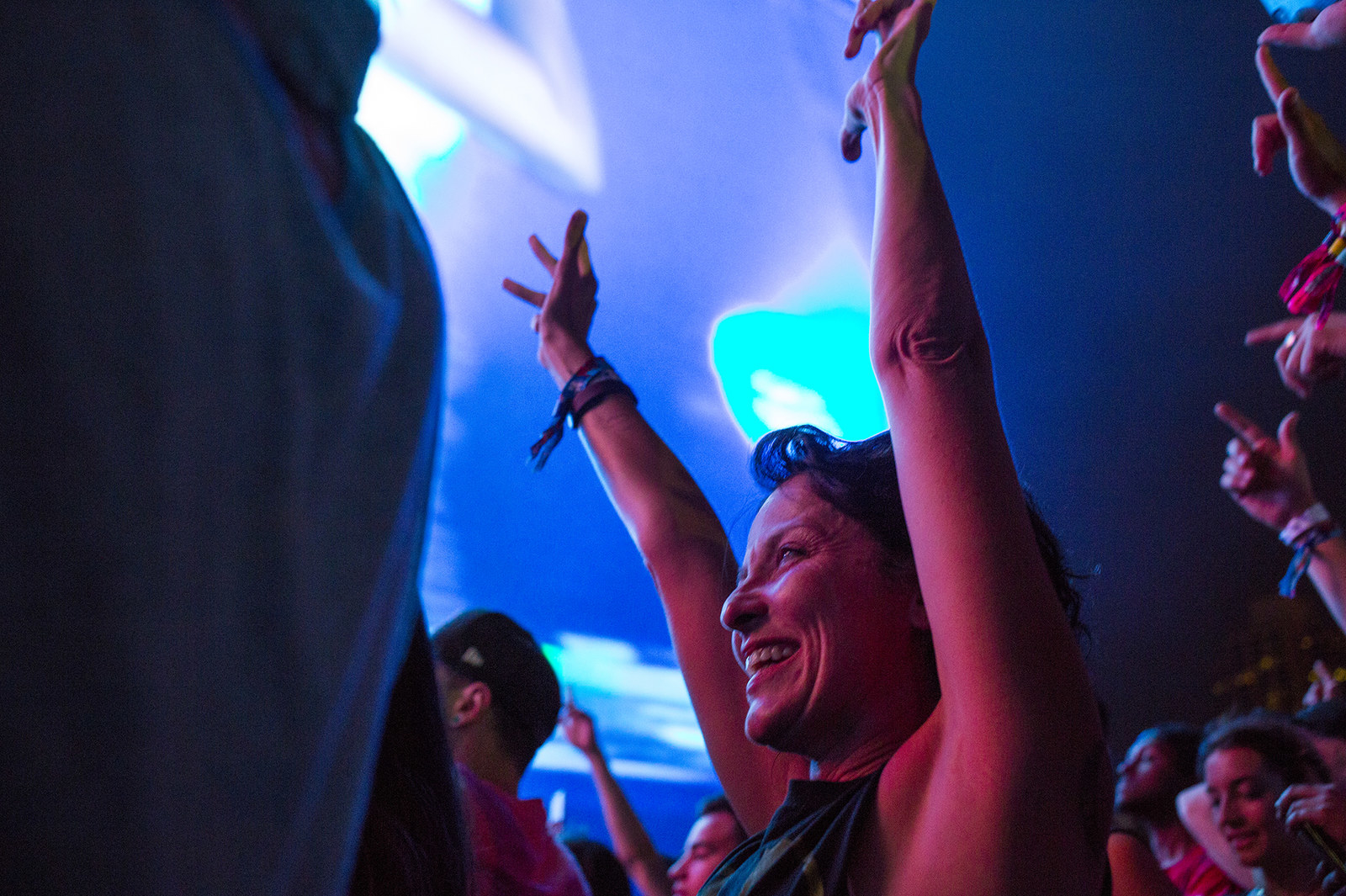 "We're talking about things like who has cigarettes and weed, right in front of you," Cryer explains. She's revealing tidbits of the surrounding atmosphere that I was completely oblivious to — including the fact that the young man sitting near me looking pained has to urgently pee. She pulls me to a safer area before continuing.
Cryer understands that I felt adrift in the midst of the DHH crowd — excluded, to an extent, though not intentionally — and points out that I just experienced a tiny sliver of what it's like for her and other DHH people when they try to do something as routine as going to a concert. "That is what my everyday life is like, not knowing what's around me," she says. "Access is important. Something as simple as being able to ask for a piece of gum in my native language with my friends is so very, very rare."
Without access, the otherwise fun and social experience of seeing live music is not only more lonely, it's sometimes scary.
Without access, the otherwise fun and social experience of seeing live music is not only more lonely, it's sometimes scary. Men have grown angry at her when she doesn't respond to them — like a security guard cutting through a crowd or a guy hitting on her — because they don't know she's deaf. Without an interpreter, there's no way to get clarification other than tapping out lengthy sentences on a phone or writing it on paper (which Cryer has graciously done, for my benefit). When severe weather forced an evacuation on the festival's first night, thousands of festgoers with dead phones and no signal extracted info on where to exit or take cover from the people talking around them. Cryer says she's shut out of this kind of "incidental information" that hearing people have access to all the time.
As if on cue, another emergency situation pops up at the Chance show. Behind us, someone in the general admission section on the other side of the DHH barrier needs a medic. Word travels quickly, thanks to the ASL interpreting volunteers clad in blue shirts who are roaming the DHH area, and in less than a minute, people in the DHH crowd are helping to hoist a peaked-looking young woman over the barrier. Directions from security have already been disseminated, and the DHH crowd makes a path for the woman's exit. It's easy to imagine the situation unfolding a lot more chaotically, had there been no access area in the venue. Having this level of access is new, Cryer says, and having it makes her feel comfortable and safe. Access, she says, is ultimately independence.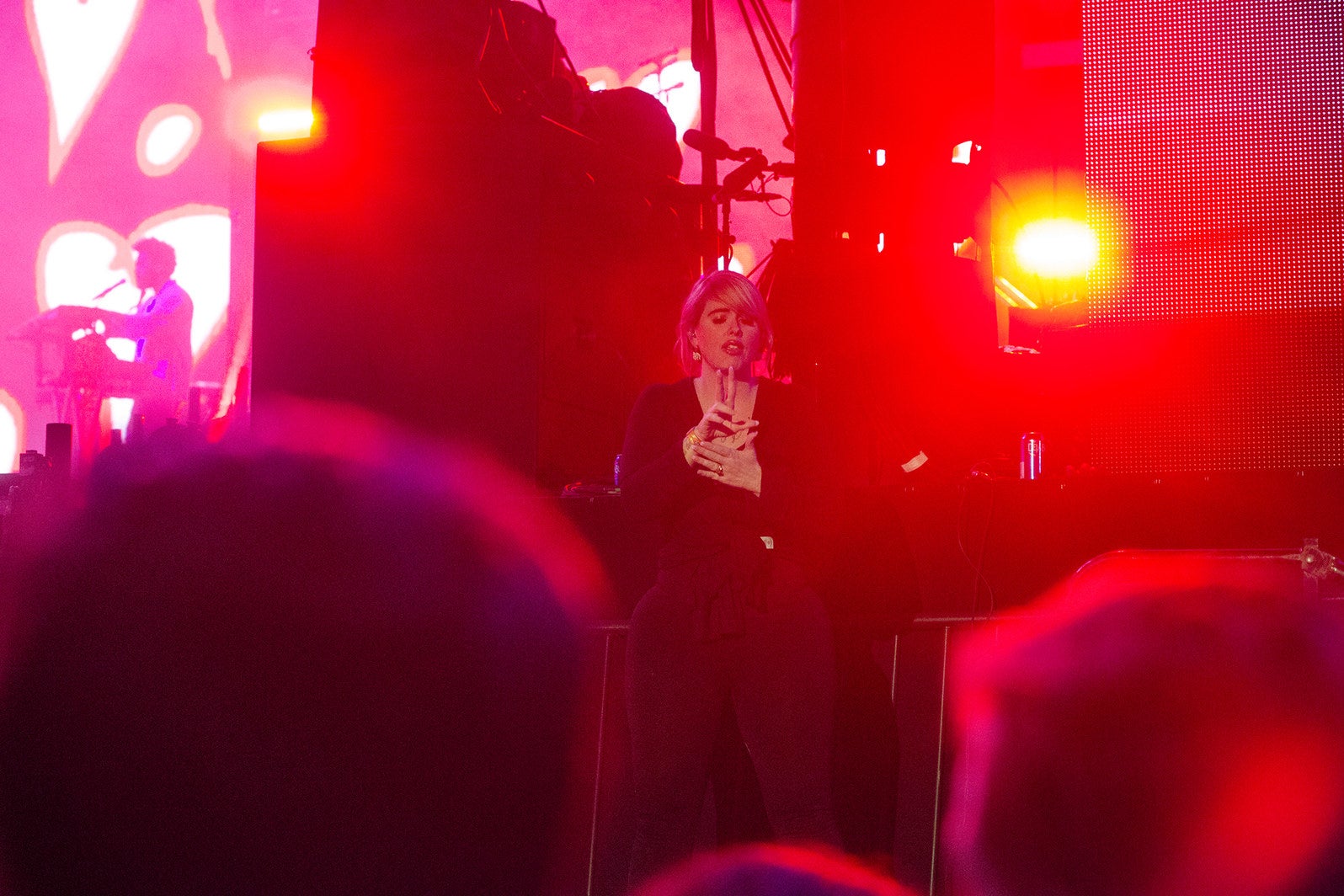 Chance the Rapper is late, and the crowd is getting restless. The sun is almost down, making it harder for people to see one another sign, but the anticipation is evident from the sea of widened eyes and and the people shifting their weight from foot to foot.
The DHH area has gone from crowded to sardine-like in the past hour. While Chance's fanbase is largely identified as millennial, the fact that at least a hundred DHH fans are eager for his set indicates that his appeal is even broader. "This year Lolla is a bigger deal because of Chance. The fact that everyone knows that he has made it clear he will provide access is a big deal," Cryer says. DHH fans, including those who have never attended a festival before, came just to see him.
With so much built-up anticipation, the rapper's lateness starts to worry some fans who are aware of the tightly enforced cutoff time. It's gotten to the point where the audience cheers when anyone appears on stage. A roadie gets a cheer. A sound checker gets a cheer. Members of the Chicago Fire Department get cheers (Chance will later enlist their assistance to help him douse the audience with a firehose).
When the video screens crackle to life and play a highlight reel of Chance's biggest moments over the past year — performing for the Obamas, winning a Grammy — a few DHH fans express disappointment that the video isn't captioned. That was an easy one. But the ASL interpreters are in position. The video ends, fog fills the stage, and a wall of hands shoot up into the air, wagging back and forth.
The applause is thunderous.
As Chance begins his set, Cryer pauses to reflect on how just a fraction of her 45 years as a music fan have been accessible. Decades of struggling for space, of being disappointed by lackluster experiences, of fighting to simply enjoy something she loves so much — at this moment, they fade into the background and there's nothing between her and the music.
"I've gone 30-something years waiting for this," she says. "It feels like home." ●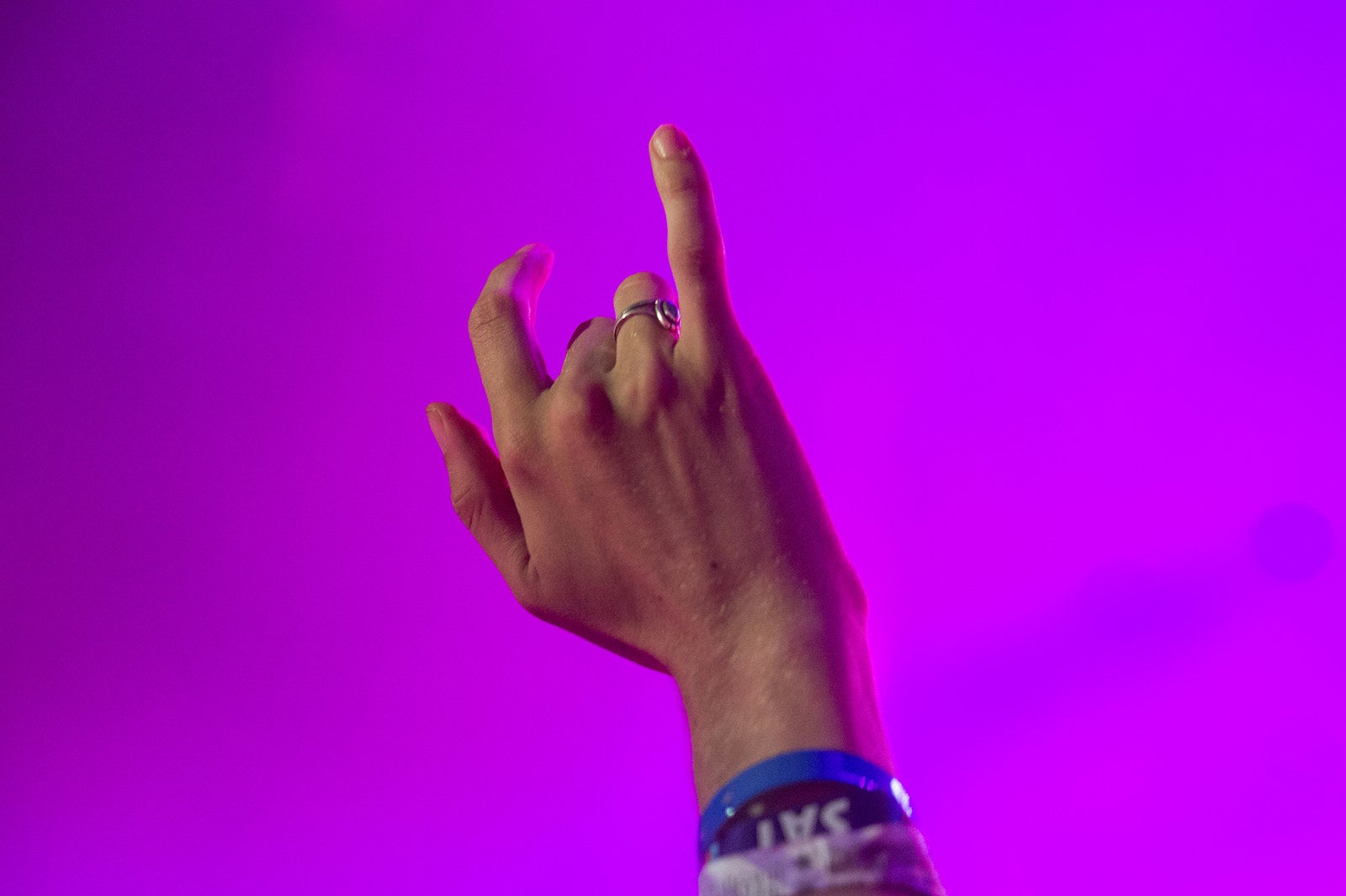 CORRECTIONS
Derrick Coleman is the NFL's first deaf offensive player. A previous version of this post misstated his position.
Big 'D' deaf refers to people who consider themselves to be part of the Deaf community. Little 'd' deaf refers to people who cannot hear but do not consider themselves to be part of the Deaf community. An previous version of this post misstated the meaning behind these phrases.