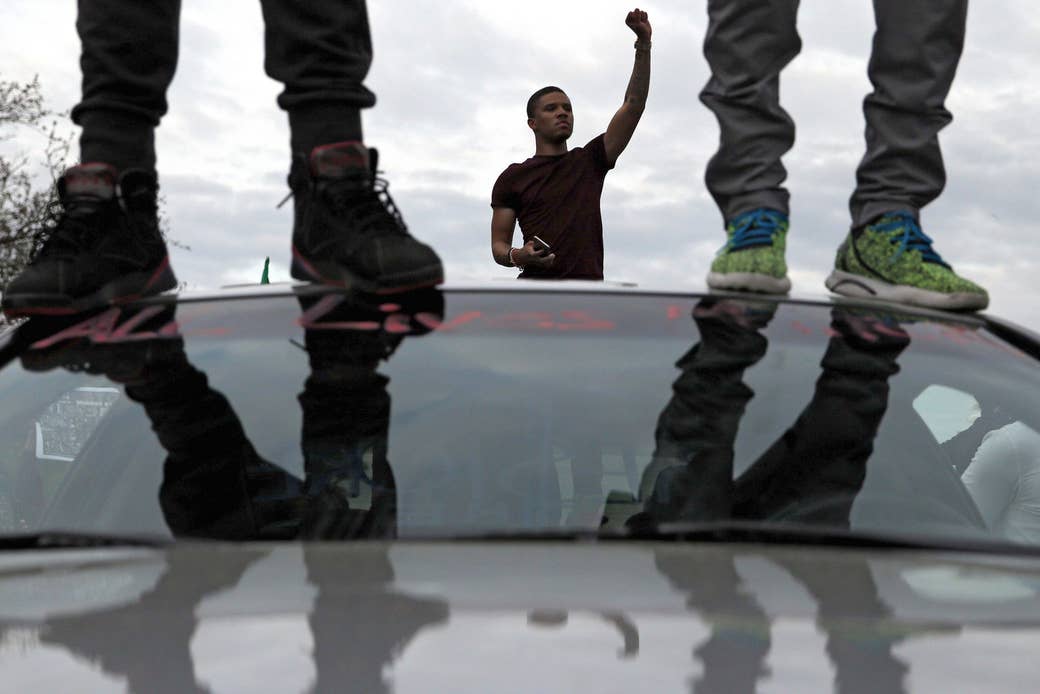 I'm not from Baltimore. The five years I've lived here are a long time to me, but they're a blip in the grand scheme of things. The kind of Baltimore story that has been at the center of national and international news isn't my story to tell.
But as a high school teacher, I'm worried about what Chimamanda Ngozi Adichie would call "the single story" of Baltimore's teenagers in the media this month — calling for a "purge," throwing rocks at cops, and destroying property. As Adichie explained in a 2009 TED Talk, any monolithic narrative is liable to create stereotypes, "and the problem with stereotypes is not that they are untrue, but that they are incomplete." Maybe some of Baltimore's protesters were opportunistic hooligans, as news reports suggest. But stereotypes, Adichie said, "make one story become the only story." And the ones I know tell a very different story.
I was sitting at my kitchen table last Monday, listening to the sounds of sirens and police helicopters making their way to the nearby Mondawmin Mall, where protesters had gathered in the name of Freddie Gray. What had started out as a peaceful gathering soon turned violent. I wasn't surprised. It was the unfortunate but natural progression of things, the consequence of the systematic degradation of a people, of their neighborhoods.
Because I teach at a private school, the flier that had gone out to high school students asking them to gather for the so-called purge starting at the mall wasn't even on my radar. It wasn't until I turned on the news that evening that I saw how young the crowd at the center of the chaos was. The images of police officers lined up in riot gear staring down our city's students is a devastating one. "How could they treat children that way?" I said to the empty room. I don't need anyone to tell me that it's because they're black.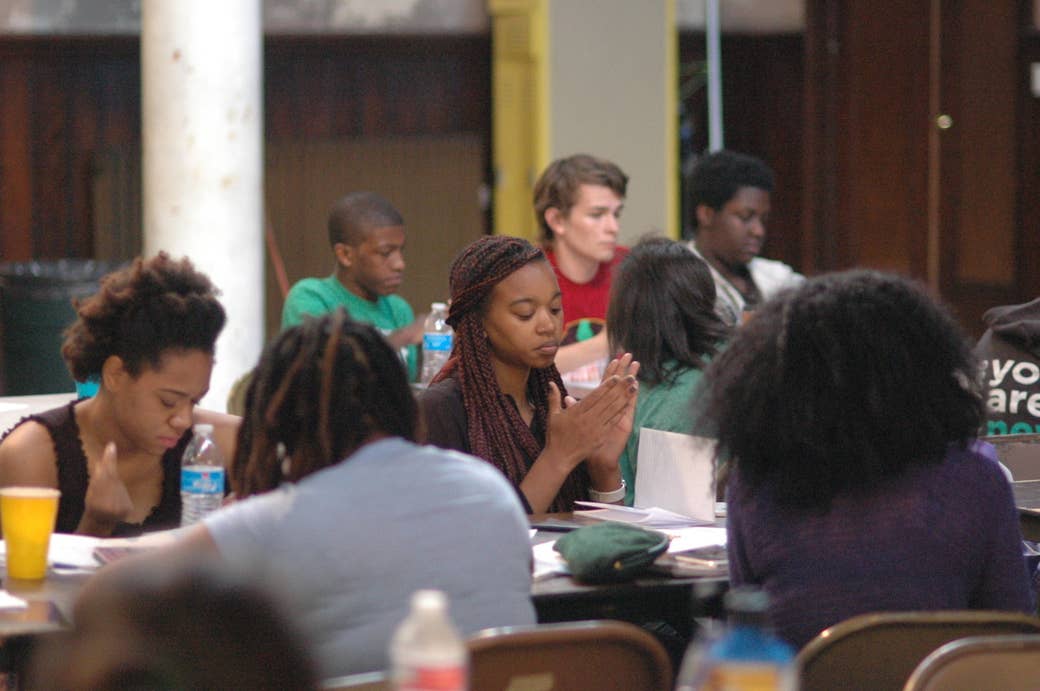 Before Ferguson, before Baltimore, there was Los Angeles in 1992. I was one of three black sixth-graders in a predominantly white Catholic school in the suburbs of Philadelphia. I remember watching the news with my parents over dinner and I remember going to school feeling embarrassed that the world had focused its attention on people who looked like me and my family, as they committed acts of violence out of anger. I was aware of the racial difference between me and most of my classmates; we pretended not to notice. Now, it was painfully obvious.
I never acknowledged those feelings. In fact, I didn't even remember I had felt that way until Monday afternoon, before the real chaos began. A student told me that he understood what had happened at Camden Yards but he was embarrassed by the behavior, and what it might say to his white, upper-class peers at school about black people.
"You have nothing to be embarrassed about," I told him. I said it twice for emphasis.
By then, Baltimore City was officially in a state of emergency and a curfew was in effect for all of us, teenagers and teachers alike. The public and Catholic schools were closed because of the previous night's riots but the independent schools in Roland Park, where I teach, were open as scheduled. It was the seniors' last day on campus and there was an interesting mix of emotions swirling around, the bacchanalia vibe that tradition calls for (complete with video games and a farm animal), combined with the sobriety and hushed tones in the faculty lounge.
Though technically in Baltimore City, Roland Park resembles, more than anything, a suburb with mansions and manicured lawns. We were only 6.7 miles away from Mondawmin Mall, but in reality we are much further away than that. In my fiction writing class I let the students talk about the riot and was immediately aware of a divide in the room — too much focus on the damage done to commerce and not enough interest in the damage done to people. One of my students walked out; she'd heard enough.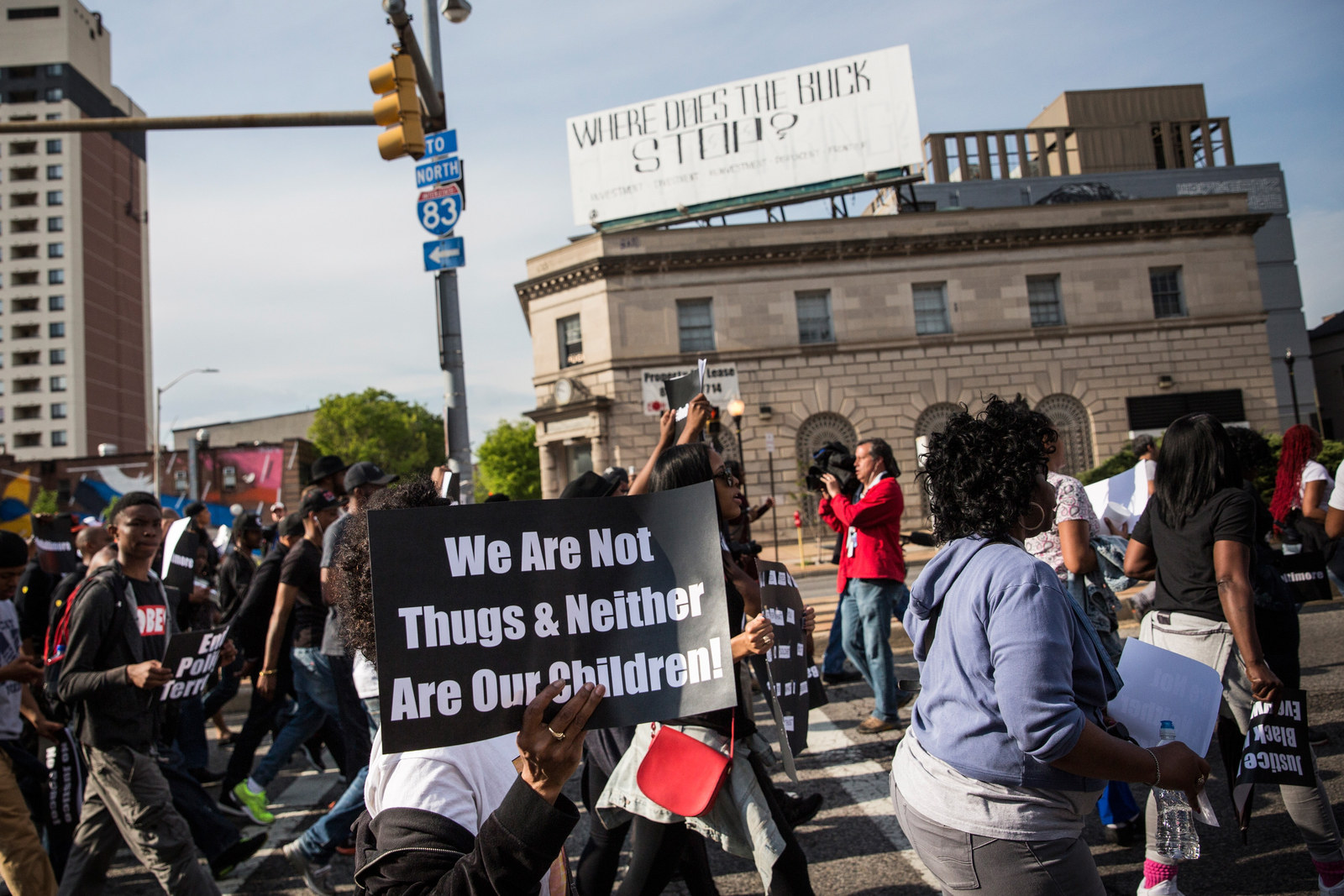 Later, many of the African-American students and several white students and members of the faculty gathered in a classroom to process our feelings. Many were in tears. The emotion was raw and the anger was loud. "Why don't they get it?" asked the student who had walked out. Other students asked the question I've been repeating in my head all morning, "Why are we even here?"
Nobody had an answer for them. But we did expose things about ourselves that we have hidden for the entire time we have shared space at this school. Because much of their lives and futures center on being a member of this school community, many of the students I work with don't talk about where they live. That morning, they reminded the community that they, their friends, and family have close ties to the Baltimore that is burning. They were a physical reminder that there is life outside of Roland Park.
On Wednesday I joined thousands of students on the march from Penn Station to City Hall. As we walked down St. Paul Street, I watched a young black man ding a taxi with his skateboard. "That's OK, brother," the South Asian driver responded, fist raised in solidarity. "This is important." This is important. The Baltimore City children are marching and they are speaking. Their voices are loud and angry and they are begging for the adults to hear them. They have made it clear that they won't wait for us to make change, they will do it without us if that's what it takes.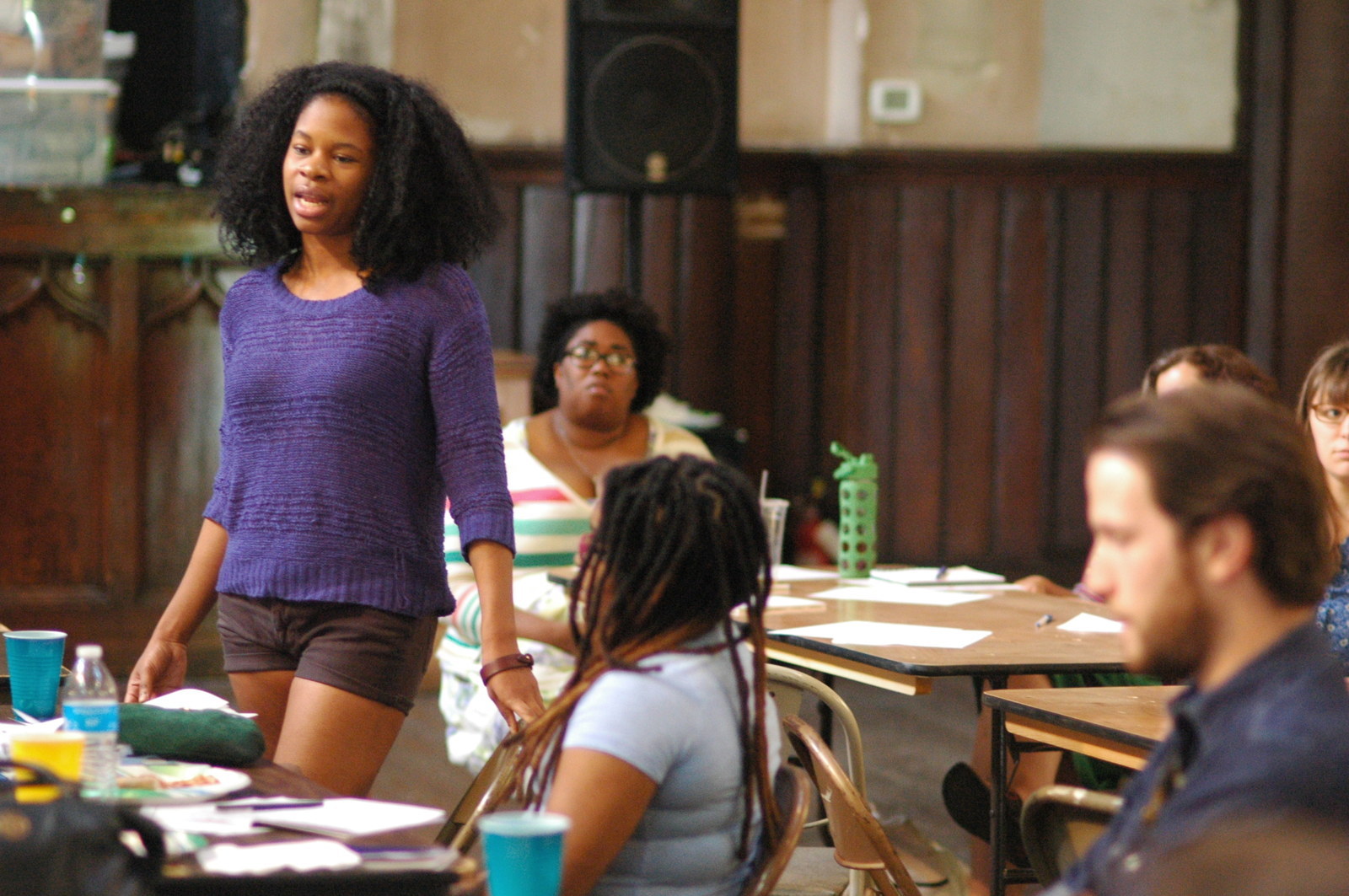 I also work with a program called Writers in Baltimore Schools that provides literary enrichment for low-income middle-schoolers. Five months ago, after Ferguson, we hosted a write-in event for young people to explore race through poetry, called Black Words Matter. I couldn't have guessed we'd be having one about our hometown so soon.
Last Sunday, in a former church run by the radical bookstore Red Emma's, we started with poems from Audre Lorde and Ross Gay. I used the same prompt from the Ferguson event to get us started: How safe do we feel in our community? The last time we gathered together for this kind of event, we were writing in response to something that, although we identified with it, was very far away. Now, we were seeing it up close. In 15 minutes of writing, children produced poetic masterpieces. They condemned the word thug and the media for its use of the word to classify a group of people that nobody has ever listened to. They made it clear that they were listening to the reporters who had descended upon their city — and even this write-in. "You want someone to blame?" asked a young poet. "If they fixed the streets the children wouldn't have rocks to throw in the first place."
A student read a poem by Morgan Parker titled (in reference to Zora Neale Hurston and Glenn Ligon) "I Feel Most Colored When I Am Thrown Against a Sharp White Background: An Elegy." I feel most colored when I am / thrown against the sidewalk. Let's write to this, I told them. I started by saying I felt most colored when I went to school last Tuesday and it felt like business as usual. An eighth-grader from Baltimore City stood up. "I'm not targeting anyone," he said. "I'm not threatening anyone. If anything should be targeted by this, it would be institutional racism." Then he offered up poem about about a young man who is empowered by the chants of "no justice, no peace," but, at the same time, craves the takedown of the "white man" more than a local CVS.
Asked why they came to write, students told me that they want to be heard by the people who make the rules: their teachers, their parents, and, now, their lawmakers. In general, students from public schools seemed to have been given more time and space to discuss Freddie Gray's death and the ensuing events. For private school students, it was a reminder that the comfort and stability their school communities provide them is precarious. "People who look like me care," said a young woman who goes to an all-girls private school. "People who don't, go to lunch." The write-in's youngest participant stood up again. "I wanted to come," he said, "because I thought if I came and dumped my feelings out on paper, I would feel better. I don't feel better." I wanted desperately to offer him some soothing words but I knew he was far too intelligent for that.
These kids are natural activists. They can get informed and outraged simply by pulling out their cell phones — but where the media sees uneducated thugs taking advantage of a terrible situation, I see that we have not done our duty by our children and they are no longer taking that failure lightly. They're organizing their own protests, writing poetry and prose. They're making the kinds of moves that many adults are still afraid to make.