Hedge Fund Handbook Or Kinky Sex Advice?
Bridgewater Associates is the world's biggest hedge fund. It also has the most cultish employee handbook. Can you tell its handbook from a sex column?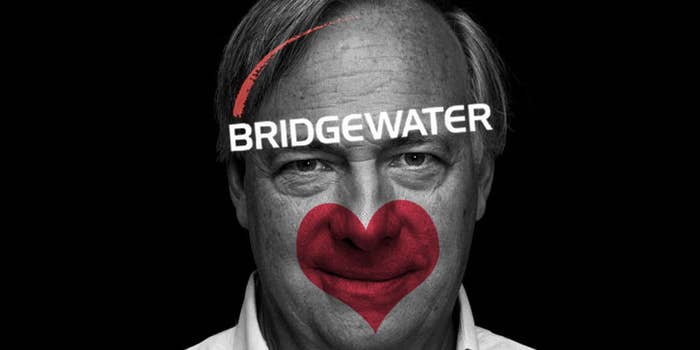 As you'd find through hedge fund manager Ray Dalio's manifesto, capitalism and sexual liberation operate on the surprisingly similar assumptions: that honest and rational self-interest will bring the most amount of pleasure to everyone. In both fields there is a deeply American language of the self — stressing the benefits of radical honesty, self-help, and an unembarrassed pursuit of self-actualization. There's a reason sex positive columnists like Dan Savage are called the Classical Liberal of the sexual barter economy. As long as two consenting adults can barter an agreeable exchange of pleasures, everything is (assumed to be, at least) peachy.
No surprise, then, that Bridgewater Associates' "Principals" sound like Steve Jobs giving a BDSM workshop.
Bridgewater Associates is not only the world's biggest hedge fund (managing over $122 billion in assets), but also the most famously cultish one. If you're one of Bridgewater's 1,200 elite employees, you're not only required to read founder Ray Dalio's autobiography and manifesto, you're also rigorously quizzed on it.
Can you tell which of these quotes is sex-positive advice, and which is from Bridgewater's employee handbook?
1.

Who said this?

Dan Savage's "Savage Love" Column

2.

Who said this?

"Unleashing Our 2nd Orgasm: Self-Discovery Through Sex Toys"

3.

Who said this?

Getting Past Your Breakup: How to Turn a Devastating Loss into the Best Thing That Ever Happened to You

4.

Who said this?

Diaries of A Sensitive Dominatrix

5.

Who said this?

6.

Who said this?

7.

Who said this?

The Alpha Male's Game Book

8.

Who said this?

Opening Up: A Guide To Creating And Sustaining An Open Relationship

9.

Who said this?

Coming Out As A Kinkster: A Radical Honesty Manifesto

10.

Who said this?

11.

Who said this?

A Loving Introduction to BDSM

12.

Who said this?

Golden Years: Rediscovering Love In Old Age

How To Save Your Passive Aggressive Marriage

14.

Who said this?

15.

Who said this?

How To Have A Three Way, Your Way