For Chinese Bloggers, Going Viral Can Mean Jail Time
"Being a Big V blogger felt like being an emperor," Chinese online celebrity Charles Xue confesses from jail. For China's news bloggers, going viral can mean three years in prison.

The Sept. 14 news footage is eerie: Celebrity blogger Charles Xue sits in jail, confessing to Chinese state interviewers that he shouldn't have criticized politicians on Weibo, a Twitter-like social network.
"My celebrity status got to my head," he says to the camera. "Being a Big V verified blogger felt like being an emperor. With no online restrictions, I started to run against the currents."
Xue traces his road to Weibo stardom for his interviewer. Years ago, he was just a humdrum American billionaire ("China's No. 1 Angel Investor"), but the bane of cancer became a boon when he posted about his illness online. He gained legions of supporters and followers. Weibo verified his account and began to recommend his blog to new users. GQ China and other magazines wanted him on their covers, and almost overnight he was transformed into one of China's most controversial public commenters, posting dozens of short missives every day on food safety scandals, military corruption, and Deputy Director of Industry and Commerce Ma Zhengqi's wrongdoings. With 12 million followers on China's freest public forum, he wielded an influence similar to an American political talk-radio host.
"Amidst my fans' applause I became vain and arrogant, misleading my followers with my angry rants," he says to the camera. "As a Big V-status microblogging celebrity, I have a responsibility to set a good example for society. At one point I felt more powerful than our provinces' governors."
Though Xue was formally charged for soliciting prostitutes, Weibo users know why he was really targeted: for thinking he was above the censors. His stilted confession about "Big V arrogance," after all, had nothing to do with prostitution. It reminded many of Mao's big purges, when officials forced intellectuals to admit to their wrongdoing on national broadcasts.
Xue is the most prominent target of President Xi Jingping's new "anti-rumor" internet law. To many other "Big V" celebrities on Weibo, Xue's jailing sent a clear message: Watch what you say. If we can jail a popular American billionaire, we'll come after you too.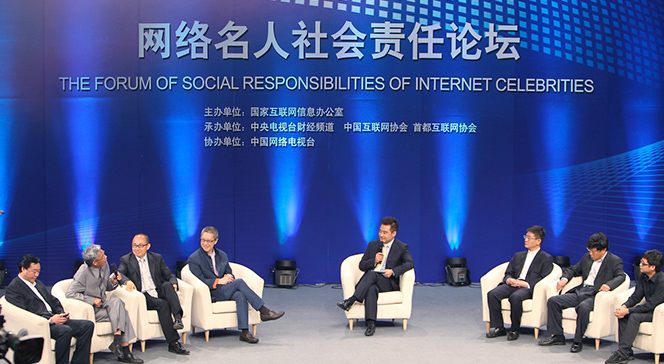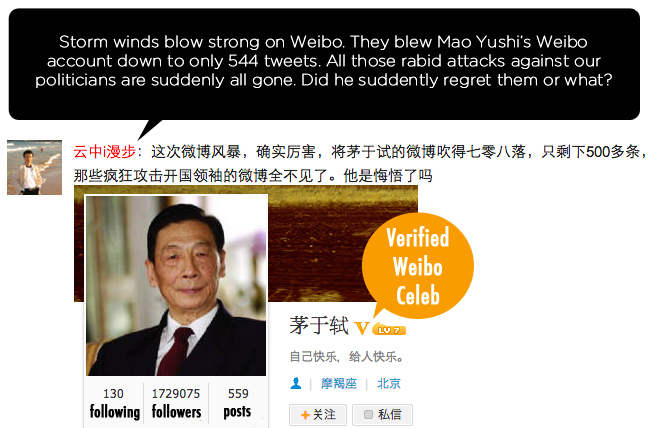 It's no surprise that Weibo's Big V bloggers often carry more credibility than the state's eerily sanitized news outlets. In recent years, many see Weibo's vibrant criticism of the government as a sign of a freer China, though the site censors most volatile posts within eight minutes, an impressive feat considering Weibo has 500 million accounts and 100 million active users.
That was, of course, until Sept. 10's "500 reblog law." Now many in China are discussing the death of Weibo.
Under the new law, any "slanderous" online post seen by over 5,000 viewers, or reposted more than 500 times by other users, can land you in prison for up to three years.
The latest "Big V" arrest targeted a popular environmentalist who broke news of mercury poisoning in Zhoushan City and lead contamination in Nanjing pork supplies. His Sept. 11 arrest was made public only this past weekend.
A middle-school boy surnamed Yang was also detained by Gansu Province police for insinuating that the police covered up a karaoke lounge fatality. On Weibo, he implied that the police had beaten a man to death, then thrown him off the balcony. His message was reposted over 1,000 times. Yang's Weibo profile page (bearing the line "I may not be handsome, but I try to be a good person") became a brief curiosity item online. If even a middle-school boy can be targeted, then how safe is Weibo?