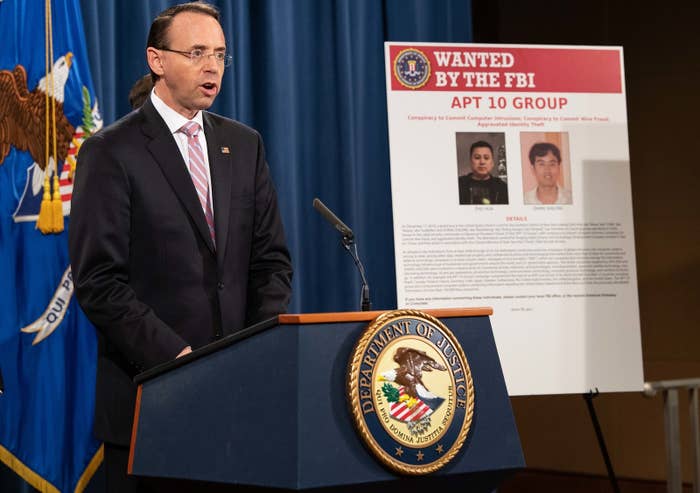 The US has convinced some of its top allies around the world to join it in condemning Chinese hacking.
At least 11 other countries joined the US in condemning China on the same day that the Justice Department and FBI accused China's Ministry of State Security of hacking foreign businesses to benefit its own companies, behavior that the US considers out of bounds.
The statements against China rolled throughout the day Thursday, starting with the US's closest intelligence-sharing partner, the United Kingdom, followed Australia, Canada, and New Zealand — the countries that, with the US, make up the so-called "five eyes" of Western intelligence sharing. The condemnation marks only the second time those countries have jointly accused a country of malicious cyber activity, following a similar condemnation of Russia this year for creating the NotPetya malware.
The Ministries of Foreign Affairs of Denmark, Finland, Norway, the Netherlands, and Sweden joined in — though with official tweets, rather than full statements. Japan's and Poland's issued a statement on Friday.
Most countries' statement are carefully crafted not to condemn hacking to spy on other countries — none of those countries can credibly claim not to do that — but to call attention to a longstanding disagreement between China and much of the rest of the world's cyber powers over what constitutes acceptable behavior.
"This long-running campaign targeted the intellectual property and commercial data of a number of global managed service providers, some operating in New Zealand," said Andrew Hampton, head of New Zealand's top signals intelligence agency.
"Australia calls on all countries — including China — to uphold commitments to refrain from cyber-enabled theft of intellectual property, trade secrets and confidential business information with the intent of obtaining a competitive advantage," said Marise Payne, Australia's minister of foreign affairs.
In 2015, Chinese President Xi Jinping, visiting then-president Barack Obama, committed his country for the first time to a joint agreement to stop economic espionage. While analysts say such activity died down around that time, it's not clear it was a result of the agreement, as China's military and intelligence was in the process of a massive reorganization at the time. Regardless, accusations that China was again stealing intellectual property for its own benefit have ramped up.
The announcements come in the wake of China taking international pressure over its approach to tech. Several countries, including the US, Japan, and Australia, have banned Huawei, China's largest telecommunications company, in recent months. On Dec. 1, Canadian authorities arrested Huawei executive Meng Wanzhou for potential extradition to the US after it accused her of violating sanctions by selling to Iran. Since then, China has detained three Canadian citizens.

After the US accusation, China's Global Times, a state-sponsored English language newspaper, said that China was actually the long-suffering victim of hacking from the US National Security Agency.

According to Thursday's charges, hackers Zhu Hua and Zhang Shilong broke into more than 45 US tech companies for economic espionage since 2006. Working for a company called Huaying Haitai, an MSS front, they allegedly stole from a wide variety of industries, including finance, satellite, and biotechnology. It's the Justice Department's eighth indictment of Chinese nationals for intellectual property theft since July.
UPDATE
Comments added from Denmark, Finland, the Netherlands, and Sweden.