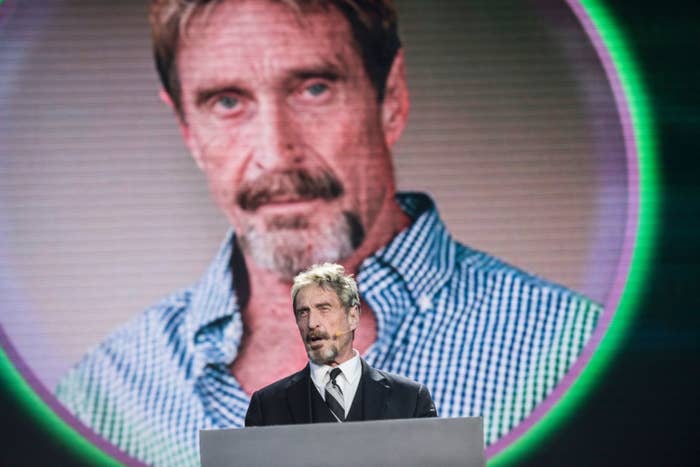 John McAfee, the one-time antivirus entrepreneur who has in recent years inspired a rabid following of online cryptocurrency enthusiasts, told his fans in June to email the chair of the Securities and Exchange Commission and demand a debate between the two men.

The emails poured in — nearly 100 of them. Now, thanks to a Freedom of Information Act request, BuzzFeed News is able to publish more than 90 of those emails.
McAfee, who has repeatedly insisted he will consume his own genitalia if bitcoin isn't successful, is infamous for creating and selling McAfee antivirus software, then being accused of murder (he says he's innocent), then rebranding himself as CEO of a cryptocurrency firm, and then severing ties with that firm. Earlier this year, he claimed "the SEC owns America" and said, "If you think that an agency of the US government would not stoop to assassination, kidnapping, threats, then what are you smoking?"
He was incensed when SEC Chair Jay Clayton said on June 6 that the agency would not change its current rules, which classify initial coin offerings — a process where startups attempt to raise money by selling cryptocurrency "tokens" — as commodities.
In response, McAfee tweeted Clayton's email address and phone number, along with a call: "Flood this mother fucker's voice mail and inbox with demands that he debate me."
Yet neither the email address nor phone number McAfee tweeted reach Clayton directly. Instead, McAfee's fans' comments were handled by SEC staff. The complete list is below. Here are some of the highlights:

"You seem to not be thinking logically about anything."
"Debate John on CNN !!!!!!!!!!!!!!!!!!!!!!!!!!!!!!!!!!!!!!!!!!!!!!"
"Greetings Sir. Please debate Mr John McAfee for US President come 2020. The man got my full support and I respect him so heartily."
"Dear sir as a devoted follower of John McAfee it would be a great pleasure in seeing you debate John on all things in the crypto space what he doesn't know isn't worth knowing it would be nice to get your take on it all crypto is going to change the world."
"You might shy away from the debate due to various official excuses but face it: blockchain and cryptocurrencies are the only way forward and FIAT is stinking; it's dead already and only needs to fall over like the berlin wall."
"You yourselve [sic] perhaps will soon receive your pension payouts and pay for your daily expenses with Cryptos."
"With the expansion of power in the US, I would challenge you to accept Mr. McAfee's offer to debate on CNN."

"Debate John McAfee… Show your intelligence."

"You obviously have no problem sitting in your emerald tower and spouting your 'truths' so there should be no problem going on CNN and defending your stance."
"Stop being such a chicken. You secretly know you will lose the debate, that's why you are avoiding it."
"Debate John mcafee about ico securities. They are not securities and he can educate you."
"Debate Mcafee you melt"

McAfee didn't respond to request for comment.