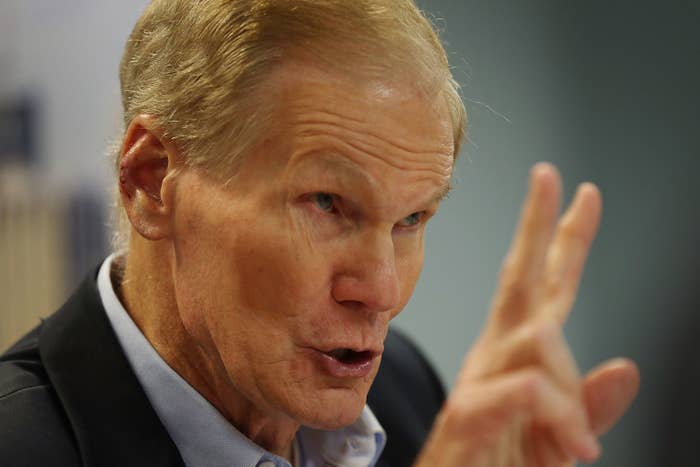 Florida Sen. Bill Nelson claimed Wednesday that Russian hackers "right now" are "in [the] records" of county election offices, prompting confusion from Florida state and county officials who said they are unaware of such an attack.

Speaking to the Tampa Bay Times, Nelson said that the hackers "have already penetrated certain counties in the state and they now have free rein to move about."
In an email to Florida's 67 county supervisors shared with BuzzFeed News, Florida's secretary of state, Ken Detzner, said he "has received zero information from Senator Nelson or his staff that support his claims."
"Additionally, the Department has received no information from the U.S. Department of Homeland Security, the Federal Bureau of Investigation or the Florida Department of Law Enforcement that corroborates Senator Nelson's statement and we have no evidence to support these claims. If Senator Nelson has specific information about threats to our elections, he should share it with election officials in Florida," Detzner said.
DHS itself contradicted Nelson's claim. "While we are aware of Senator Nelson's recent statements, we have not seen any new compromises by Russian actors of election infrastructure," a department spokesperson said.
Florida voters go to the polls Aug. 28 to pick candidates for the November general election. Early voting begins Aug. 18.
A number of Florida counties, including Bay, Bradford, Duval, Okaloosa, Okeechobee, Orange, and Pinellas, told BuzzFeed News they were unaware of any hacking of their computer systems in 2018.
"If I were a US senator and I knew my state's voter records had been penetrated by an outside source I wouldn't hold a press conference or release a letter to the media without first providing that data to my secretary of state and my county supervisors of elections," said Mike Duval, the supervisor of elections in Duval County, where Jacksonville is located. "We are already voting — thousands of mail ballots have been returned. Early voting for my county starts in five days. I am more than disappointed by such vague information as presented by Senator Nelson."
"I am totally unaware of what Senator Nelson was specifically referencing," said Terry Vaughan, the supervisor of elections for Bradford County in the north-central part of the state.
Paul Lux, the supervisor of Okaloosa County elections, said he'd spoken with election chiefs in nearly half of Florida's 67 counties and that none had received information from Nelson or the Department of Homeland Security.
"As Sen. Rubio and I wrote in our letter to the 67 county supervisors of elections, the threat is real and elections officials — at all levels — need to address the vulnerabilities," Nelson said a statement emailed to BuzzFeed News after the comments.
In recent press briefings and congressional hearings, the Department of Homeland Security has repeatedly stressed it has seen no coordinated Russian effort to hack any election-related infrastructure, the way that it had in 2016.
In late September 2016, US intelligence concluded that there was a credible and specific Russian threat to Florida counties. Representatives from the FBI and DHS requested the heads of each county join for an emergency conference call in which they instructed those county heads to block a certain range of IP addresses they believed Russian hackers were using in the operation.
While some county chiefs found it an example of the system working properly, others didn't bother to participate in the call.
In his comments, which the Tampa Bay Times included in its story online, Nelson repeatedly referenced a letter he wrote with fellow Florida Sen. Marco Rubio in July, which noted that Russian hackers were believed to have targeted Florida counties ahead of the 2016 election. The letter makes no mention of 2018 activity. In his comments to the Times, Nelson suggested the computer intruders could create havoc by deleting people from voter rolls.
Sen. Mark Warner, the ranking member of the Senate Intelligence Committee, issued a statement that didn't address whether he'd seen intelligence suggesting Russian hackers were currently in Florida's system.
"Russian activities continue to pose a threat to the security of our elections, as Senators Nelson and Rubio rightly pointed out in their letter," Warner said. "I hope all state and local elections officials, including Florida's, will take this issue seriously."
UPDATE
This story has been updated with comments from Nelson and DHS.