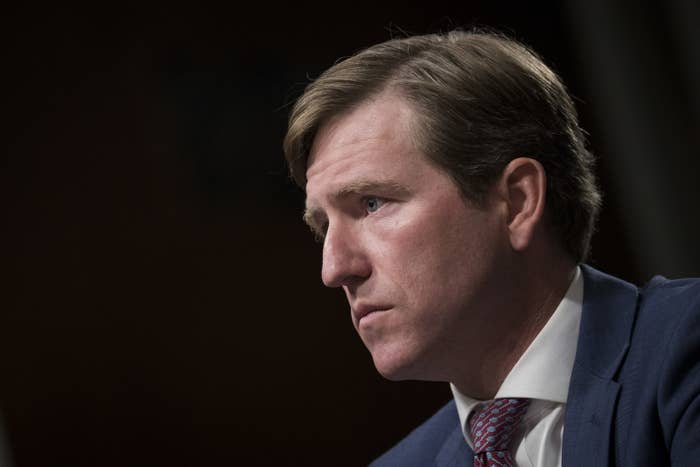 The Department of Homeland Security hasn't seen any sustained Russian effort to hack into US election systems ahead of the 2018 midterms, two agency officials told Congress on Wednesday.

With four months to go before the elections, there's still ample time for foreign hackers to mount a campaign. But so far, US officials have not detected any effort to probe local election infrastructure, DHS Under Secretary Chris Krebs told the House Homeland Security Committee in testimony that mirrored that of senior cybersecurity adviser Matt Masterson before the Senate Rules and Administration Committee.
In identical sentences in their respective prepared remarks, the officials said that "The 2018 midterms remain a potential target for Russian actors. But the intelligence community has yet to see any evidence of a robust campaign aimed at tampering with our election infrastructure along the lines of 2016."
Neither claimed that there hadn't been any Russian activity at all, or that they assumed Russia won't try to interfere in the next few months. Both officials cautioned that Russian influence operations, like the Internet Research Agency operation of 2016, which led to special counsel Robert Mueller's indictment of 13 Russians, were still sowing political dissent in the US.
The US's top intelligence agencies, which have not wavered in their 2017 assessment that Russia conducted a multi-pronged campaign both to influence Americans to vote for Donald Trump over Hillary Clinton and to lose faith in their electoral process, have consistently warned that Russia could return in 2018.
"There should be no doubt that Russia perceives its past efforts as successful and views the 2018 US midterm elections as a potential target for Russian influence operations," Director of National Intelligence Dan Coats said in February.

At least one publicly known Russian attempt to target US election infrastructure had already begun by this point in the election cycle two years ago. Illinois, one of the states whose voter registration database was breached with an unsophisticated method called SQL injection, was hit in June 2016, according to a report later commissioned by the state.

Others came later in the cycle, however. According to a National Security Agency report leaked to the Intercept, the NSA alerted DHS in August 2016 to Russian attempts to spear-phish US election equipment manufacturers. The Department of Homeland Security and the FBI held a conference call Sept. 30, 2016, about six weeks before the election, to warn county election chiefs in Florida about an unspecified Russian threat, though not all counties chose to call in. A similar campaign, in which Russian government hackers sent sloppy phishing emails to county election workers, was still ongoing in November of that year, as evidenced by a screenshot of such an email that Alachua County, Florida, previously provided to BuzzFeed News.
Election security was a fraught issue in the lead-up to the 2016 election. With the presidential campaign roiled by Russian hacks of Democratic party emails, DHS offered on Aug. 15 that year to scan each state's systems for signs they'd been penetrated. But at least one state — Georgia — rejected the offer as unwanted federal intrusion, and other states complained that the DHS was not sharing information in a timely way.
The two sides have spent the past year and a half mending that relationship, meeting regularly to talk about how to streamline the process of sharing top-secret threat intelligence from the country's top spy agencies through DHS to state employees who may not have security clearances.