Facebook, Twitter, And Google Face New Push In Congress Over Election Ads
At a news conference Wednesday, Sen. Mark Warner drew a legislative target on social media giants.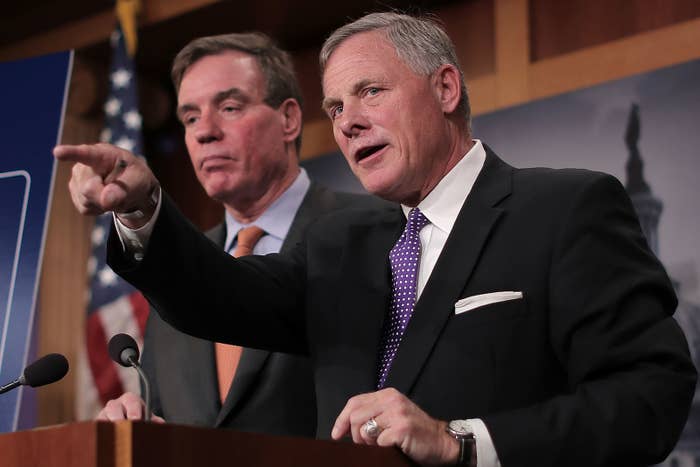 WASHINGTON — A cache of 3,000 Facebook ads Russia bought to influence the 2016 US election will remain unseen by the public unless the Senate Intelligence Committee or the social media giant backs down from positions they both restated on Wednesday.
US Sen. Richard Burr, the Republican who chairs the intelligence committee, said his committee's policy is not to release any documents it acquires during an investigation. A Facebook spokesperson said the company's position on the ads had not changed since a public statement Sept. 21 that referred to them as user content that Facebook could not disclose.
But the senior Democrat on Burr's committee, Sen. Mark Warner of Virginia, said he believes the ads should be seen by the public and called on Facebook to release them. "I think at the end of the day it's important the public sees these ads," he said, standing next to Burr.
The impasse is another sign that after more than eight months of investigation, the social media giants, Facebook, Twitter, and Google, are taking an increasingly prominent role in determining what took place in last year's presidential race.
In January, a joint assessment by the NSA, CIA, and FBI barely mentioned Twitter and Facebook in concluding that Russia had hacked Democrats' emails and used its RT news agency to spread fake news in an effort to influence the election result in Donald Trump's favor. After the election, Facebook founder Mark Zuckerberg dismissed as "crazy" the idea that a disinformation campaign conducted on his platform helped swing the election.
Zuckerberg has since apologized for his statement, and in the face of pressure from the Senate committee, Facebook admitted that Russia's Internet Research Agency, a government-sponsored "troll farm" designed to sway public opinion, had purchased at least 3,000 ads between 2015 and this year.
But Facebook at first guarded the ads so closely that its employees refused to leave copies with committee staffers. Two weeks ago, it relented and surrendered the ads to the committee but said they could not be made public.
Warner on Wednesday welcomed what he portrayed as a changed attitude toward the threat of Russian meddling via social media.
"I was concerned at first that some of these social media platforms did not take this threat seriously enough," Warner said.
And he promised more pressure, speaking in support of legislation that would force any social media platform with at least 1 million users to create a public database of ads that would include who paid for the ads, who the ads targeted, and the date and time the ads ran.
He spelled out three goals for the legislation:
– Transparency for the public. "If you see an ad that appears on a social media site ... Americans can know whether the source of that ad was generated by foreign entities," he said.
– Transparency for politicians. "If you have somebody running an ad for you or against you, you ought to be able to at least take a look at that content the same way that if ads are run for you or against you in TV or newsprint you can at least get a look."
– Transparency in trending topics. "If you see a story is trending, becoming more populated, whether that trending is because ... Americans are liking that story or ... whether that's generated by bots or in some cases by falsely identified accounts."
And he promised tough questioning of social media firms when their executives appear at a public hearing the intelligence committee has scheduled for Nov. 1.
"Google, Twitter, and Facebook," he said, "will appear in a public hearing so Americans can hear how we're going to protect (those) three areas."
In the meantime, Warner is pushing Facebook to release the ads from last year's campaign on its own, retweeting an NBC correspondent's tweet quoting him:
A Facebook spokesperson declined to respond on the record, saying that the company's position in its Sept. 21 statement hadn't changed.
Alex Kantrowitz contributed additional reporting to this story.