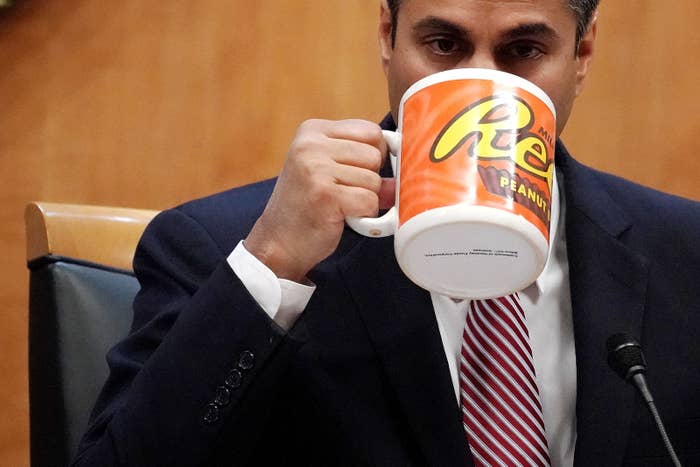 The New York Attorney General's office has subpoenaed 14 organizations in its ongoing fraud investigation into who misused millions of people's names and identifying information to file fake comments on the FCC's proposal to kill the rules protecting net neutrality.
The rules, which prevented internet providers from dictating the speed and quality of internet access, were repealed after the FCC offered a mandatory comment period in 2017 that gave people a chance to share their opinions about the proposed rollback of net neutrality.
The subpoenaed parties mostly opposed net neutrality, including Broadband for America, an industry group that largely represents AT&T; the Taxpayers Protection Alliance, a conservative lobbying group; and CQ Roll Call, according to a source familiar with the investigation.
Though the investigation found far fewer spoofed comments supporting net neutrality, it's also issued subpoenas to some of the biggest pro-net neutrality groups, including Free Press, Demand Progress, and Fight for the Future.
"The FCC's public comment process was corrupted by millions of fake comments — and our investigation found that as many as 9.53 million of those comments stole the identities of real people," New York Attorney General Barbara Underwood said in a statement. "The law protects New Yorkers from deception and the misuse of their identities. And all Americans deserve a fair and transparent process for determining public policy that impacts their daily lives. My office will get to the bottom of what happened and hold accountable those responsible for using stolen identities to distort public opinion on net neutrality."
Three of the organizations associated with anti-net neutrality comments don't have an immediate way to contact them online, and most of the rest didn't immediately respond to request for comment.
One, the Taxpayers Protection Alliance, said that it provided a link where users could click and give boilerplate anti-net neutrality comments, but that it had never used stolen or scraped user information to file them.
"They may not have remembered doing it and I'm really sorry that they don't because there's nothing we did to generate these names," said David Williams, the group's president.
Pro-net neutrality groups Free Press and Fight For the Future said in respective statements that they welcomed the investigation.
"Our advocacy tools and campaign pages have helped millions of real people make their voices heard about issues that affect them," said Fight For the Future Executive Director Sarah Roth-Gaudette. "But the FCC consistently used the fraudulent comments as a talking point to downplay the overwhelming public opposition to their attack on net neutrality."
While the comments were nonbinding, FCC chair Ajit Pai has cited them as evidence that his decision to end net neutrality was actually a popular decision —though a recent Stanford study found that with all automated, bot-aided, and fake comments removed, 99.7% of commenters preferred keeping net neutrality.
Though the comments with stolen identities were reported as far back as May 2017, the FCC didn't formally acknowledge them. Pai said in comments to reporters at the time that the FCC wouldn't consider obviously fake comments signed with names "like Wonder Woman and Joseph Stalin," but the FCC didn't say how it planned to handle less obviously fraudulent comments.
The FCC didn't respond to a request for comment.
UPDATE
This story has been updated to include comment from Fight For the Future, Free Press, and the Taxpayers Protection Alliance.