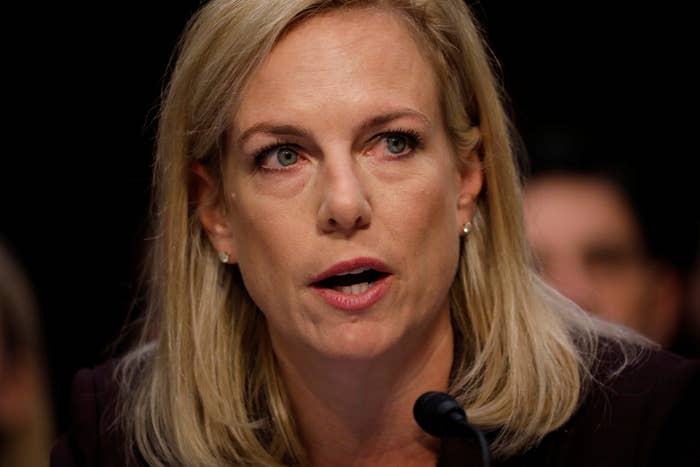 Pressure is mounting for Congress to take dramatic steps to ensure the security of US voting systems with just seven months to go before the crucial 2018 midterm elections.

On Wednesday, Homeland Security Secretary Kirstjen Nielsen called the need for new voting machines that produce a paper trail "a national security issue," and Republican Sen. Richard Burr, the chair of the Senate Intelligence Committee, added his name as a cosponsor to a bill that would provide money to replace voting equipment that can't be audited.
Approval became likely with the news that the provisions of the Secure Elections Act has been folded into the Senate's must-pass omnibus spending bill to keep the government open as the Senate heads toward a Friday deadline to avoid another government shutdown.
"I applaud Senate leadership for including election security funding in this Omnibus appropriations bill," said Sen. James Lankford of Oklahoma. "Although I object to this year's broken budget process, the funding in this omnibus appropriations bill will help states modernize their voting systems and ensure that auditable ballots can provide safeguards against manipulation and malicious cyberattacks.

Even then, it might not be soon enough to have new machines in place for the next presidential election, much less balloting in the fall.
"This issue is urgent — if we start to fix these problems tomorrow, we still might not be in time to have systems in place by 2020," Burr said in a hearing Wednesday.
Voting experts have long warned that the only way to reliably check that an election hasn't been tampered with is for voting equipment to produce a physical paper trail that can be audited after votes are counted.
Yet more than 60 million Americans live in voting districts where machines leave no paper trail, according to Verified Voting, a nonprofit that monitors voting equipment. According to a survey by New York University's Brennan Center, 13 states use voting machines that produce no paper trail at all. Five of those — Delaware, Georgia, Louisiana, New Jersey, and South Carolina — use them exclusively.

US officials have stressed that despite Russian attempts to undermine the 2016 election process, they've seen "no evidence" that votes were changed. But in states with no ability to audit votes, that's no guarantee that no votes were changed.
The Secure Elections Act, a bipartisan bill introduced in December, would have appropriated $386 million to the Department of Homeland Security for grant money to give to states to replace their aging and potentially insecure voting machines. The figure added to the omnibus bill is $380 million.
If spent in exactly the right way, $386 million could replace every paperless voting machine in the country, said Lawrence Norden, the Brennan Center's deputy director, who spoke with Sen. Amy Klobuchar's office during the bill's drafting process. "As it happens, the Brennan Center's estimate cost of replacing equipment is around $380 million," Norden told BuzzFeed News.
But it isn't clear that the grant money would go specifically to replace paperless machines, he said.
"It really depends on the state how far that money would go," Norden said. "In a state like Texas, or Arkansas, or Kentucky, where only part of a relatively small part of the state is using paperless systems, if they decide they want to use the money to replace those systems, that money would go a long way. But for states like Pennsylvania, or New Jersey, or even Georgia, where you're talking about most or all of a state that's paperless, it's going to be a small down payment — 10%, 20% of the cost."
After Wednesday's hearing, Virginia Sen. Mark Warner, the vice chair of the Senate Intelligence Committee, said the money in the omnibus bill "is in the range of what a number of experts said would be necessary," but noted that the federal government should not take over the election security file. "This is still a state and local responsibility, they still have to put up resources," he said.
On Tuesday, the committee, which wouldn't normally keep tabs on voting equipment but which has taken up the issue as part of its investigation into Russian election interference, released a list of six recommendations to improve voting security, including the provision that "At a minimum, any machine purchased going forward should have a voter-verified paper trail."
Speaking Wednesday before the committee, Nielsen said because the country was such a ripe target in 2016, not only Russia but other countries may also attempt to interfere in the 2018 midterms.
"Once these vulnerabilities have been made clear, it's not just Russia that we have to worry about," she said. "These are vulnerabilities and attack vectors that any actor could pursue. So we think the threat remains high."
Emma Loop contributed additional reporting to this story.