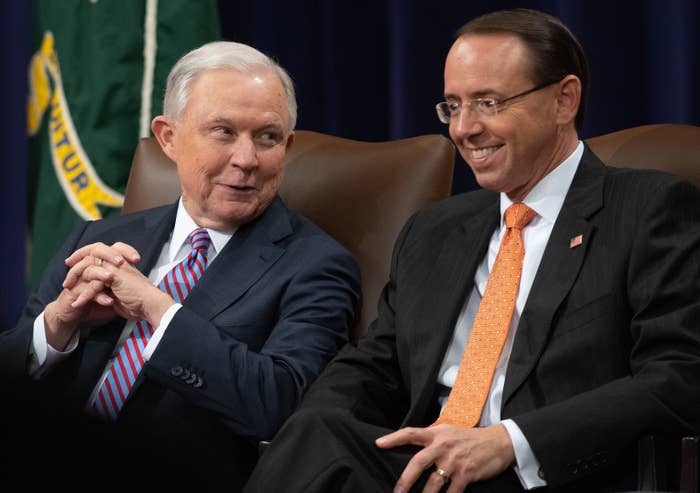 Representatives of 13 states and the District of Columbia have gathered in the nation's capital to take the first steps of what could become a massive coordinated antitrust lawsuit against the country's top tech companies, rooted in the idea they are fundamentally biased against conservatives.

The meeting is scheduled to take place at the Department of Justice on Tuesday at 10 a.m. The attorneys general of Alabama, California, Louisiana, Maryland, Mississippi, Nebraska, Tennessee, and Utah are expected to attend, as well as representatives from those offices in Arkansas, Arizona, Missouri, Texas, and Washington state. The District of Columbia attorney general, Karl Racine, will also attend. Twenty-four states had been invited.
States haven't received a formal itinerary in advance of the meeting, officials said.
Top Justice officials, including Attorney General Jeff Sessions, Deputy Attorney General Rod Rosenstein, Acting Associate Attorney General Jesse Panuccio, and Assistant Attorney General Makan Delrahim are scheduled to attend.
The DOJ originally announced the meeting in the immediate aftermath of a Senate Intelligence Committee hearing that quizzed Facebook COO Sheryl Sandberg and Twitter CEO Jack Dorsey about their policies. While that hearing never addressed whether the social media platforms discriminated against conservative viewpoints, it came after Apple, Google, and Facebook had banned right-wing conspiracy theorist Alex Jones, who during a break berated Florida Sen. Marco Rubio, claiming that tech companies' decision to ban him from their platforms was evidence those companies are "purging conservatives."
Prominent elected Republicans have stressed the idea in recent months that tech companies are biased against them, with little evidence. After a Vice story claimed that Twitter was "shadow-banning" some conservative luminaries from the site — Dorsey has testified it was a brief algorithmic decision to keep users whose followers were abusive from auto-filling when users would try to search from them — Trump called for an investigation.
Trump has also tweeted a doctored video that falsely claimed Google didn't alert users to his State of the Union address.

The Justice Department has provided few details about what it plans for Tuesday's meeting and hasn't referred to antitrust legislation in its official comments. Its original announcement of the meeting said it would concern "a growing concern that these companies may be hurting competition and intentionally stifling the free exchange of ideas on their platforms."
In an email to reporters Monday, a DOJ official called it a "listening session with these state attorneys general and/or their representatives in regards to consumer protection and the technology industry." In a previous email, that official called it a "meeting on tech companies, competition, and free exchange of ideas."
But conservatives states have made it more explicit that the meeting is to investigate a potential antitrust lawsuit.
"This matter involves both the central tenets of our country's free market economy and the guaranteed freedom of speech. We must work together to ensure that online economic competition operates fairly and transparently, so that Americans across the political spectrum can make informed choices," said a spokesperson for Texas Attorney General Ken Paxton.

Dominic Holden contributed reporting to this story.