Iran Joins Russia In Banning Telegram
Iran's ban of the messaging app is an effort to force Iranians to use apps the government monitors closely.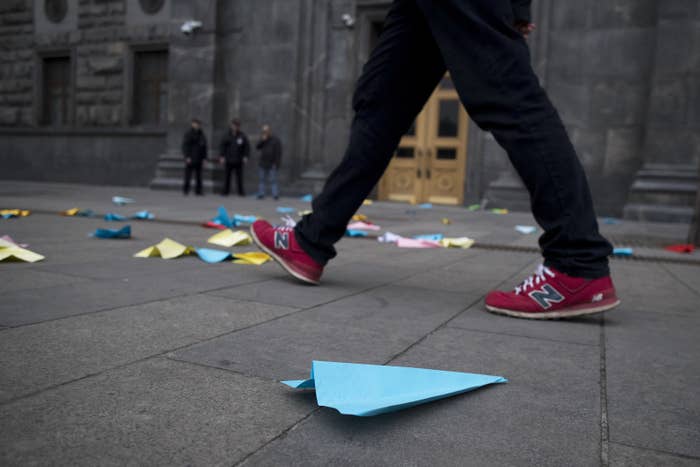 Iran has undertaken one of its most definitive online censorship actions to date, permanently banning Telegram, the overwhelmingly favorite chat app in the country.

Tehran's special prosecutor's office for culture and media ordered the country's internet service provider to block all access to Telegram on Monday, state media announced. By Tuesday morning, reports began pouring in that the service was unusable for many users. The impact was tremendous, said Amir Rashidi, an internet security and digital rights researcher at the Center for Human Rights in Iran.
"The thing that people here need to understand is, Telegram is not only a messaging app for Iranians. Telegram is the internet," Rashidi told BuzzFeed News.
"They use Telegram on a daily basis in their life. Blocking Telegram in these days in Iran is equal to cutting off the global internet," Rashidi said.
Telegram, which boasts the option of end-to-end encryption, is controversial among security experts, who say that its encryption protocol is subpar and has never been opened up to genuine expert scrutiny. But its group chats are popular and easy to use, and it has become especially helpful in a country where most other apps are blocked.
"There are bots in Iran where they take all the content from Farsi-speaking Twitter accounts and send it over in Telegram channels," said Nima Fatemi, an Iranian digital security researcher. "So by joining these channels, people can see what's going on on other platforms."
This is the second time in three weeks that a country where Telegram is extremely popular has banned it. On April 13, Russia did so, responding to a court order. Initially, the ban's implementation was a disaster; Telegram used Amazon and Google cloud services to connect with its users in Russia, leading to a game of whack-a-mole in which Russia banned millions of IP addresses, accidentally blocking a number of other sites, including, briefly, practically every major social network.
Russia eventually blocked Amazon and Google entirely. Users in both countries can still only reliably access Telegram with a VPN.
Telegram founder and CEO Pavel Durov has proudly touted Russians' protests of their government's ban and the fact that international human rights groups have expressed support for his service. He didn't immediately respond to a request for comment about Iran's action.
With Telegram and practically all popular international chat apps blocked, Iranians are instead incentivized to use government apps, which can be heavily monitored.

"This blocking isn't about censorship of a messaging app. It's about disconnecting the working class from accessing information," Fatemi said. "The Iranian regime wants to be able to control and influence the way they get the news, know what they talk about when they socialize and mobilize, and basically know when to drop the hammer on them and on who if they decide to do anything that would threaten the power."