Top US Intelligence Official Confirms Russian Propagandists Tried To Meddle In The Midterms
In a classified report, the US director of national intelligence confirmed that Russia, and to an extent China and Iran, tried to influence American voters in November.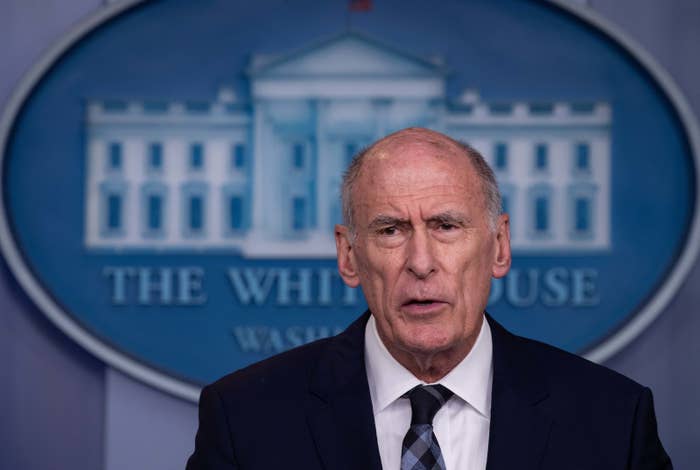 Russian internet propagandists tried to influence American voters ahead of the 2018 midterms, according to a new report compiled by the top US intelligence official.
The report doesn't address how effective those efforts were, and it says there was no corresponding campaign that compromised the actual infrastructure of the US voting system.
The report, overseen by Director of National Intelligence Dan Coats and delivered to the White House on Friday, is classified and not expected to be made public. In a statement, Coats said that "Russia, and other foreign countries, including China and Iran, conducted influence activities and messaging campaigns targeted at the United States to promote their strategic interests."
It was released in accordance with an executive order that President Donald Trump signed in September, which demands an assessment on whether anyone tried to interfere with a nationwide election 45 days after it's held, then another assessment 45 days after that on whether such attempts were successful.

Notably, that means that the Department of Homeland Security and the Federal Bureau of Investigation will give the White House their additional assessments of meddling attempts on Feb 4, 2019. Neither agency expects to make their reports public. And the government's full report on the one kind of interference known to have happened in 2018 — Russian attempts to run influence campaigns on social media sites — will likely remain hidden.
DHS, which tracks attempts to undermine infrastructure attacks — like against actual voting machines or registration databases — has consistently said there was no serious attempt to compromise those in 2018, and a senior DHS official told BuzzFeed News last week that the agency has seen no reason to change that assessment.

But the FBI, which tracks online influence operations on social media, is far more secretive. Right before the election, the FBI tipped Facebook to 36 Facebook and 99 Instagram accounts operated by Russia's Internet Research Agency, the "troll factory" tied to the Russian government that invested heavily in polarizing the 2016 US election.
The issue had clearly been on the FBI's radar. A few weeks before, it was one of several US intelligence agencies to issue a rare, pointed joint statement that specifically warned Russia, Iran, and China that conducting influence operations could, under that executive order, trigger sanctions. That same day, special counsel Robert Mueller's office accused an IRA accountant of still trying to influence US politics in 2018.
In January 2017, at President Obama's direction, ODNI issued a 25-page special declassified report detailing multiple Russian operations to interfere with the 2016 US presidential election. But Trump has repeatedly downplayed the idea that Russia helped him win the presidency.
A government official familiar with the report told BuzzFeed News that this assessment found considerably less activity than the one concerning 2016, but that the intelligence community was prepping for a return to that level in 2020.
Coats' statement indicates Russia played a larger role in trying to influence 2018 than other countries. It isn't clear which Iranian and Chinese activity he's referencing, though in October, Facebook did remove some IRA-style posts it attributed to Iran.
In September, Trump repeatedly accused China of "attempting to interfere in our upcoming 2018 election, coming up in November, against my administration," though he only cited a four-page ad in an Iowa newspaper as evidence.
"As the Director of National Intelligence reminds us, the Russians did not go away after the 2016 election," Mark Warner, the ranking member of the Senate Intelligence Committee, said in a statement. "Now that the Russian playbook is out in the open, we're going to see more and more adversaries trying to take advantage of the openness of our society to sow division and attempt to manipulate Americans."

Warner's committee is expected to try to get a copy of Coats' full report, though it won't be authorized to make it public.