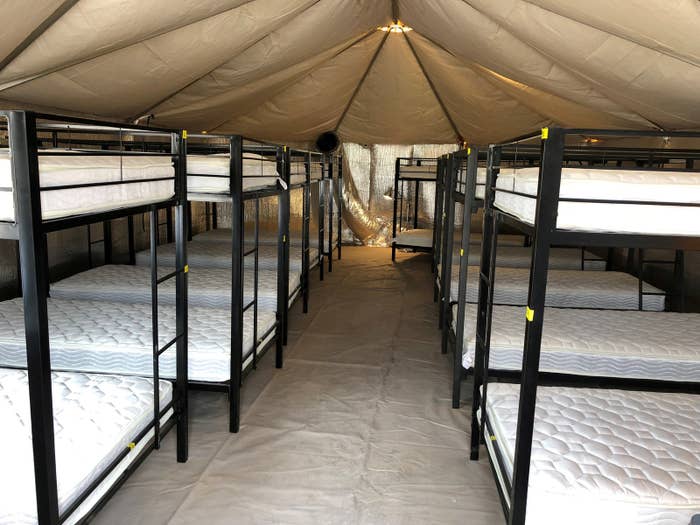 The US government agencies in charge of reuniting immigrant families separated at the border claim to have streamlined the process with a central interagency database that tracks the location of children and parents. But those agencies are unable, or decline, to describe that process, and aid workers helping families say they've seen no evidence of such a database.

In a fact sheet released over the weekend, the Department of Health and Human Services said that it and the Department of Homeland Security "have a process established to ensure that family members know the location of their children and have regular communication." That process, it said, was aided by "a central database which HHS and DHS can access and update when a parent(s) or minor(s) location information changes."
But neither agency was willing or able to describe that database, explain when it was created, or say how the information in it was obtained. A spokesperson for DHS declined to comment on the record and referred the question to HHS. A spokesperson for HHS directed BuzzFeed News to its Administration for Children and Families division. After repeated questions, an ACF spokesperson said she "did not have all the information readily available."
A conference call that HHS held Tuesday afternoon, ostensibly to discuss the efforts at reuniting children with family members, didn't address the database, and only four reporters were allowed to ask questions before the call was abruptly ended. HHS officials on the call did reveal that 2,047 children separated from their parents remain in HHS custody — that's six fewer than the number HHS announced it was holding a week ago.
Officials with organizations that work with undocumented immigrants expressed skepticism that any database exists that is designed to help connect parents with children.
"We are not familiar with the database that they're referring to, so I don't know that such a database already exists," said Manoj Govindaiah, the director of family detention services at the Refugee and Immigrant Center for Education and Legal Services, an advocacy group. "I'm not sure if it's an existing one or if they're trying to create a new one. I think if they are really interested in reuniting those families, they would make that information available to advocates and attorneys for those families who can help them in the legal process to make sure they get reunited."
Other advocates offered similar thoughts.
"The departments of Homeland Security and Health and Human Services have two separate systems not designed to communicate with each other," said Efrén Olivares, the racial and economic justice director at the Texas Civil Rights Project. "I don't think they have it centralized. HHS has one about the kids. CBP hopefully has one about the parents."

Leah Chavla, a policy adviser for Women's Refugee Commission, another group that assists immigrants, said that if a database exists, it is "still not sufficient."
"We're not aware of any database," she said. "What we are seeing, what's clear to us, is that CBP, ORR, and ICE are not really sharing information in any real, meaningful, comprehensive way for the purposes of reunification." ORR, the Office of Refugee Resettlement, is the HHS agency that takes charge of immigrant children once they've been separated from their parents. CBP and ICE are the two DHS agencies responsible for apprehending undocumented immigrants — Customs and Border Protection and Immigration and Customs Enforcement.

Natalia Cornelio, criminal justice reform director with the Texas Civil Rights Project, said a database or mechanism to keep track of parents and their separated kids should've been put in place before the immigration authorities started separating families.
It could lead to more cases of parents being deported without their son or daughter, Cornelio said, as was the case with a Guatemalan father.
"We have tracked down and confirmed that one parent we spoke to in May was deported in early June without their child, who remains in ORR custody in the states," Cornelio said on a call with reporters Tuesday. "We're concerned based on that fact that the government isn't being careful to not deport parents while their kids remain in the states."
The Government Accountability Office, which monitors US government performance, noted in a report made public April 28 that HHS and DHS "have agreed to establish a joint collaborative process for the referral and placement of unaccompanied children, but the process has not yet been implemented."
One possibility is that HHS's weekend statement referred to a repurposing of something known as the Unaccompanied Alien Children portal, which HHS designed in 2015 to track children who crossed the border alone and to help place them with sponsors in the United States.
In May, HHS gave DHS access to the database so that CBP and ICE agents could add "information necessary to conduct suitability assessments" from its law enforcement and immigration databases. The agreement seems to have been intended to add information about whether an unaccompanied child had any gang affiliation, but Wired reported that the portal does have a field where agents can add a parent's name and alien number.
But whether immigration agents have been instructed to make use of it to help keep track adults and their children — or even what training they've received — isn't known publicly. Emails requesting that information were sent to DHS, CBP, ICE, and HHS, but no response was received.
Flores reported from McAllen, Texas.