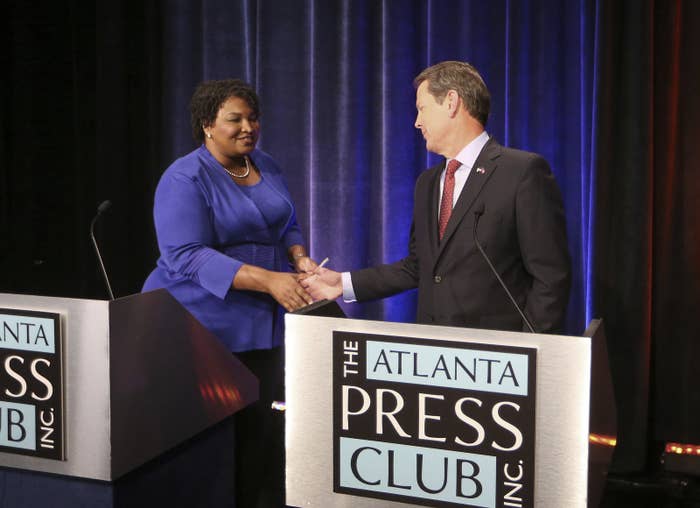 The 2018 governor's race in Georgia is the second election in which Lana Goitia has been old enough to vote. Her experience trying to do so already has her starting to doubt democracy itself.
A political science major at the University of North Georgia who juggles three jobs with classes on Tuesdays and Thursdays, she had a hard time finding time to drive home to Walton County, which had just a single polling place that offered early voting. The logical choice was to apply for an absentee ballot so she could vote for Democrat Stacey Abrams, a state legislator who is now competing to become the first woman African American governor in US history.
But Goitia was one of more than 600 Georgians who had their absentee application or ballot rejected because, under a law passed last year and implemented by Brian Kemp — who is both secretary of state and the Republican candidate for governor — her signature varied from what elections officials had on file.
"They pulled my signature from the DMV. That's on my driver's license that I signed when I was 16," Goitia told BuzzFeed News. The election officials rejected it after deciding the two signatures didn't match.
The ACLU sued Kemp over the handwriting tactic, and last week a district court found that the process was likely unconstitutional. But that's just one of many allegations that Kemp has created an unfair election.
On Friday, a court found that Kemp's office also acted wrongly when it threw out registrations for more than 50,000 voters, primarily African Americans, under an "exact match" law that won't accept a voter if the name on their registration doesn't perfectly match their name in other government databases. Election advocates, noting that Georgia exclusively uses antiquated, vulnerable machines that create no auditable paper trail, sued to have those machines upgraded in time for the election; a judge said there wasn't time. The ACLU also sued Kemp this year for closing most polling places in majority-black and rural Randolph County.
Former president Jimmy Carter even wrote an open letter to Kemp.
"In order to foster voter confidence in the upcoming election, which will be especially important if the race ends up very close, I urge you to step aside and hand over to a neutral authority the responsibility of overseeing the governor's election," Carter wrote.
"I don't feel like this current election is very fair at all. I think we have a huge conflict of interest," Goitia said of Kemp. "He gets to decide the rules, basically, for his own election. I don't think I've ever questioned the fairness of elections in Georgia before. But definitely this one."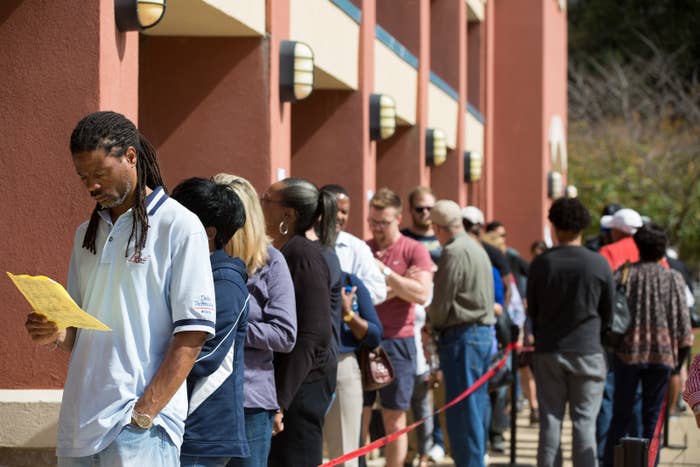 As the first election since Donald Trump's victory, amid detailed intelligence community findings that Russia had declared information warfare on the US political system "to undermine public faith in the US democratic process" — efforts Russia is still engaged in — the pressure is great this time to prove that the midterms are fair.

"My biggest concern is a foreign entity will take the opportunity after the election, the night of the election, to attempt to sow discord through social media by suggesting that something did not work as it should," Secretary of Homeland Security Kirstjen Nielsen said Friday.
But for many Americans, fears that the election won't be valid are entrenched already, and there's nowhere that's more apparent than in Georgia.
At the Gallery Café in suburban of Atlanta on Wednesday afternoon, two women sat at adjacent tables, each eating a salad. Asked about the election, they agreed on almost nothing, with one big exception: They both were reluctant to view it as legitimate if their side loses.
"It's harder [to trust], because one of the nominees is overseeing the process, so I think that takes a little of my trust out of the governor's race," Jenna Schulten, 37, who works commercial real estate, told BuzzFeed News. A liberal whose friends, family, and colleagues are mostly conservative, Schulten is disturbed by Kemp's oversight of a system that keeps people from voting.
"The race is so close, when you're talking about a difference of 50,000 votes or 100,000 votes, and he has the power to discredit some of those votes, it's a little tricky for me to understand that. I think he should remove himself from that process," she said.
Next to her, 55-year-old Wanda Dutton, a devoted Trump supporter, said she has heard of vote tampering and issues with Georgia's voting machines and fears it would be used against Kemp, whom she plans to vote for.
"You never know. There's so much tampering and stuff," she said. "They say people mess with the computers, or have gone in and people have voted that aren't registered to vote or even legal here to vote."
The idea that voter fraud is widespread was a common refrain for Trump, both before the election and after he won it while losing the popular vote, and it's persisted in conservative circles. Kemp has echoed that, claiming his work as secretary of state is necessary to make Georgia's elections "among the most secure in the nation," while those same policies have either made it more difficult for residents to vote or blocked them entirely.
The effect is that both sides fear that only their side can win legitimately. That's not to say there's an equivalence between the two. Trump's own commission created to investigate widespread voter fraud found no evidence before it abandoned its efforts, and Kemp was caught on tape last month bemoaning Abrams' strategy of maximizing voter turnout, which, he said, "continues to concern us, especially if everybody uses and exercises their right to vote."
"Georgia is the OG in voter suppression," said Fallon McClure, the Georgia director of Spread the Vote, a nonprofit that helps residents of states with voter ID laws obtain government documentation.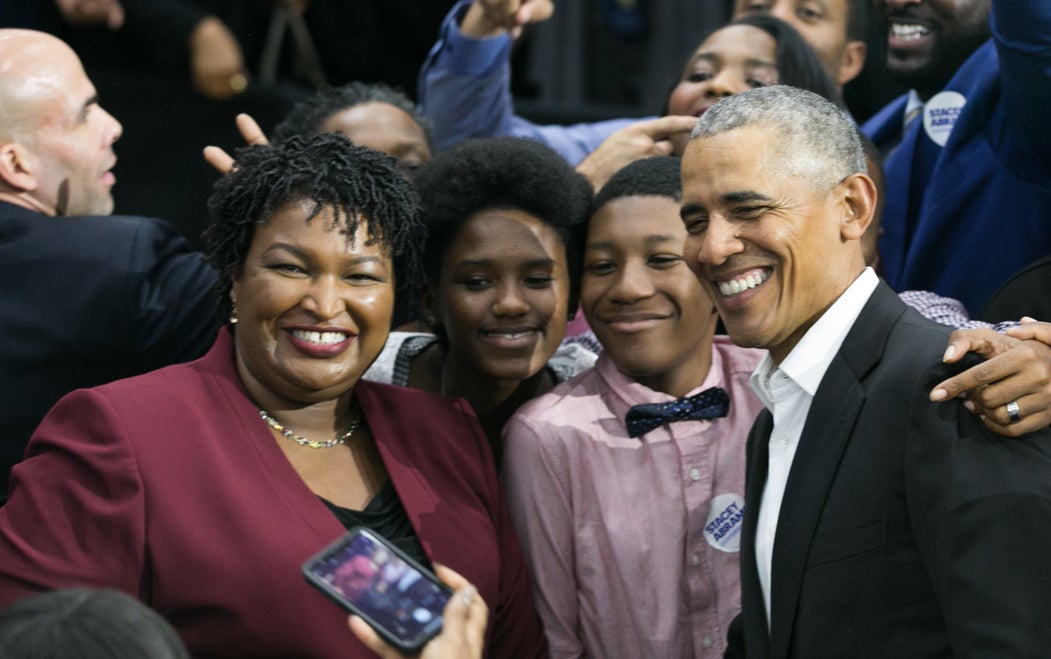 Georgia isn't merely one of the states that was affected by 1965's Voting Rights Act, which overturned laws that suppressed African American votes. Even before the Supreme Court ruled in 2013 that parts of the Voting Rights Act should no longer apply, Georgia had passed a voter ID law in 2006 that critics claim was intended to suppress African American votes. That's contributed to the belief that if Kemp beats Abrams by a narrow margin, it will be because Kemp has overseen the disenfranchisement of thousands of African American voters. "If Kemp wins by a very narrow margin, a lot of people are going to wonder would it have gone differently had some of those laws not been in place that dissuaded eligible people from voting," said Jason Rains, a graduate student at the University of West Georgia.
Fears that the election won't be fair hasn't kept Georgians from voting: Like in much of the country, early voting numbers outpaced the 2014 midterms. But it has dampened the enthusiasm of some — and not just Democrats.
"I just feel like it doesn't count, sometimes. I don't know. I just hear stories, like people, I guess you can call them conspiracy theorists, they say it really doesn't count, and I'm starting to believe that it's true," said Amanda Davis, a 29-year-old who lives in Marietta. She voted for Trump, but his presidency has soured her on politics, and she hasn't made plans to vote this year.
CORRECTION
The Voting Rights Act overturned laws that suppressed African American votes. An earlier version of this post misstated which act it was.