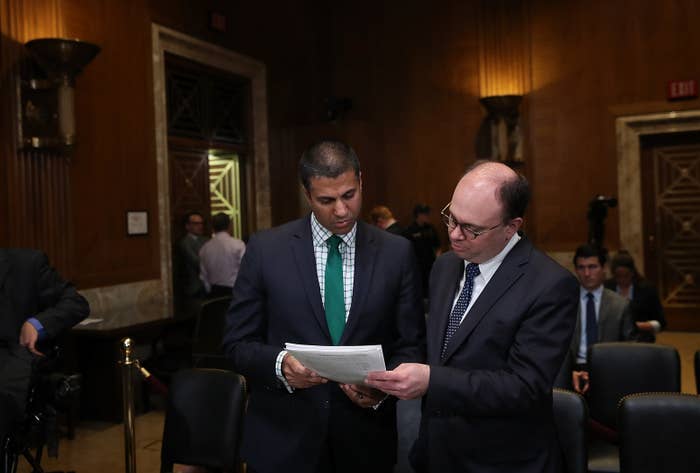 The Justice Department is investigating whether crimes were committed when potentially millions of people's identities were posted to the FCC's website without their permission, falsely attributing to them opinions about net neutrality rules, BuzzFeed News has learned.

Two organizations told BuzzFeed News, each on condition that they not be named, that the FBI delivered subpoenas to them related to the comments.
The reports are the first that federal investigators are taking in interest in the case, which was already subject to an investigation previously announced by the New York attorney general's office.
Both organizations had previously been subpoenaed by New York and said the scope of those subpoenas were similar.
Do you have information about fraudulent FCC comments? If so, please contact us. To learn how to reach us securely, go to

tips.buzzfeed.com

. You can also email us at tips@buzzfeed.com.
The comment scheme took place over the course of months beginning in April 2017 after the Trump administration's FCC chair, Ajit Pai, moved to overturn Obama-era rules enforcing net neutrality, a regulation that prevented internet providers from choosing which web traffic gets to flow at full speed.
The rule enjoyed broad public support, according to multiple polls, and required a period of public comment before Pai's change could go into effect. More than 20 million comments have since appeared on the site, with the New York attorney general's office estimating that up to 9.5 million of those were filed in people's names without their consent.
As part of the New York attorney general's previously announced investigation, the agency in October issued subpoenas to 14 organizations — 11 of which are either politically conservative or related to the telecommunications industry and opposed net neutrality, and three of which supported it. The offices of the attorneys general of both Massachusetts and Washington, DC, are supporting the New York investigation, and also issued subpoenas. Their participation has not been previously reported.
The federal subpoenas arrived a few days after the state ones, the two organizations told BuzzFeed News.
The size of the federal investigation is unclear: Other organizations that had received subpoenas from the state attorneys general offices didn't respond to requests for comment. The DC attorney general and the FBI did not reply to requests for comment.
Earlier this week, the FCC issued a decision on two Freedom of Information requests, filed by BuzzFeed News and the New York Times. In it, the commission voted not to release the records that the news organizations had requested: data from web server logs that could shed additional light on the suspicious comments.
"What is the Federal Communications Commission hiding?" Commissioner Jessica Rosenworcel asked in a dissenting opinion. "[I]nstead of providing news organizations with the information requested, in this decision the FCC decides to hide behind Freedom of Information Act exemptions and thwart investigative journalism."