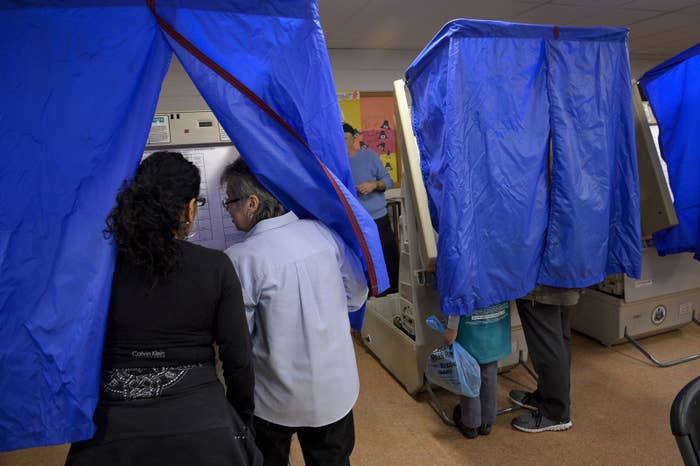 Amid fears their platforms will be used to spread disinformation intended to keep people from voting, Facebook and Twitter have created special avenues for states to flag such posts for removal.

The sites already forbid posting false information about how to vote, like that Election Day isn't Nov. 6 for everyone, that people can stay at home and vote by texting a phone number, or false claims about a state's voter identification laws.
But for the 2018 election, the sites have created a system that, at least in theory, anyone who sees false election claims online can use to alert state governments, which in turn can notify the platforms, which have teams in place to remove posts or, if appropriate, ban users.
"I don't know of any state monitoring Facebook or Twitter looking for stuff," Jim Condos, Vermont's secretary of state and president of the National Association of Secretaries of State (NASS), told BuzzFeed News. "Someone's going to probably report it to us and say, hey, is this correct?"
For Facebook, which began the process in October, it's straightforward. Staff at secretaries of states' and state election directors' offices have been given a particular email address that forwards to a dedicated Facebook staff to review and potentially remove it.
With Twitter, it's a little more complicated. Two organizations, NASS and the National Association of State Election Directors, its sister organization, have been given trusted status on the company's election issues portal, created this summer. If Twitter staff decide an account or string of accounts is part of a larger effort to deceive voters, it will delete them all.
Twitter hasn't given trusted access to individual states' employees, though. So if one state learns of tweets spouting false voting claims, their strategy is to alert NASS or NASED, both of which are small organizations and which will each have a single devoted employee tasked with logging into that portal and reporting the tweet. The company also proactively looks for such information as part of its anti-spam efforts.
"I wish Twitter was a little bit better because that puts additional work on our staff," Condos said. "There's enough confusion out there as it is."