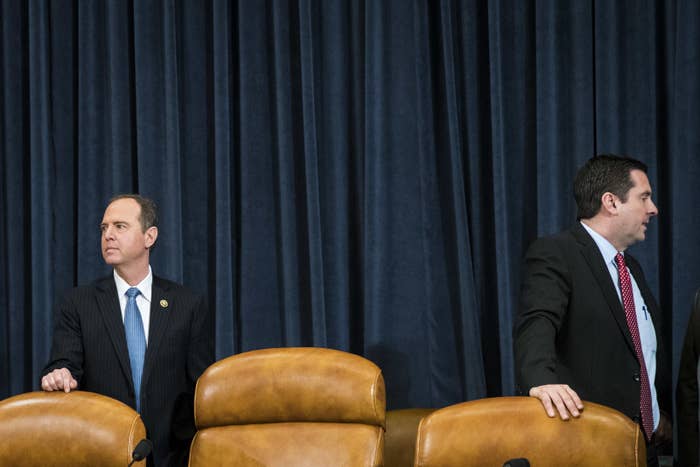 US political discourse on Twitter has devolved to the point that it is nearly impossible to tell what, if any, influence foreign-based bot networks have on its content, social media experts say.

On Tuesday, two top Democrats on congressional intelligence committees, Sen. Dianne Feinstein and Rep. Adam Schiff, asked Twitter to explain how a partisan hashtag, #ReleaseTheMemo, became remarkably popular on the platform. The request came after a watchdog project that monitors Russian-affiliated propaganda, Hamilton 68, found that the accounts and botnets it monitors had pushed the tag so much that it briefly became the top hashtag on the site.
"If these reports are accurate," Feinstein and Schiff wrote, "we are witnessing an ongoing attack by the Russian government through Kremlin-linked social media actors directly acting to intervene and influence our democratic process. This should be disconcerting to all Americans, but especially your companies as, once again, it appears the vast majority of their efforts are concentrated on our platforms."
But experts, including those from Hamilton 68, say the likelihood is low that Russian botnets played the principal role in driving the hashtag's spread.
"On Friday, #releasethememo was trending at a level we haven't seen with any hashtag since we launched Hamilton" in August, Bret Schafer, a spokesperson for the project, told BuzzFeed News.
"That said, it's important to put everything on the dashboard in context," he added. "Yes, Kremlin-oriented accounts were heavily engaged, but they likely represented a very, very small percentage of the overall engagement with the hashtag."
Twitter has agreed to respond to Feinstein and Schiff by Friday. Until then, the company offered no official assessment.
Internally, however, some Twitter employees are said to doubt that Russian accounts were boosting the message. They note the hashtag gained popularity around the time that the government was edging toward a shutdown, when partisan rhetoric was already high, and it was tweeted by a range of the American right's most popular figures, including Donald Trump Jr., Sean Hannity, and Alex Jones.
Indeed, according to Ben Nimmo, a fellow at the Atlantic Council's Digital Forensic Research Lab, the role of botnets in US political discussions make it almost irrelevant whether the botnets were Russian or American in origin.
"As a general rule, whenever you're getting a hyper-partisan message, bots are involved to some degree," Nimmo told BuzzFeed News. "I've not seen in the past years any political news that's gotten that scale without bots."
"The likelihood is there were Russian botnets, and far-right American botnets, and probably far-left botnets against it," he added.
John Kelly, CEO of Graphika, a social media analytics firm, said there's no contradiction between those who claim the hashtag's spread was the result simply of right-wing Twitter interest and Hamilton 68's conclusion that Russian botnets were amplifying the message.
"Both sides might be empirically correct," Kelly told BuzzFeed News. Then, referring to Russian botnets by a common social media term, he explained: "The Russian sock puppets could be boosting the hashtag, and the more numerous domestic Trump fan accounts could be pushing it also. They often act in concert, whether by design or coincidence."
Trying to determine who's leading whom — partisan Russian botnets, partisan American botnets, or partisan Americans — can be a circular exercise, he added.
Russian accounts posing as American ones must stay current with what's driving the political discussion to maintain their popularity, he said. "So it's to be expected their far-right sock puppets are calling for the memo's release," Kelly said. "Even when not leading the charge, they need to jump on the bandwagon with their assets to stay relevant to the target audience."
And the discussion of the memo — a Republican-drafted document that remains secret from the public and whose content is hotly contested by partisans on both sides — is the perfect vehicle for a bitter war on social media.
Republicans in the House of Representatives claim the memo shows that the FBI misled the Foreign Intelligence Surveillance Court in order to win a warrant to monitor the communications of a Trump campaign adviser, the latest in a series of attacks suggesting abuse of the Foreign Intelligence Surveillance Act in the FBI investigation of any Trump-Russia connection. Democrats say the memo is a hodgepodge of scattered, cherry-picked points attacking the FBI. Neither side can prove their argument because the memo, and its refutation, relies on highly classified information that the public and most members of the House of Representatives can't see.
Outside the House, however, Republicans are more circumspect.
Sen. Richard Burr, the Republican chair of the Senate Intelligence Committee, seemed to downplay the discussion of the memo. Asked by BuzzFeed News if he shared concerns over FBI abuse, Burr said, "I don't talk about what we're doing in the investigation." When asked what he thought about House Republicans talking about it publicly, Burr smirked and said, "They've talked about it since the beginning; that's their prerogative."
The Trump administration's Justice Department on Wednesday opposed releasing the memo. In a letter to House Intelligence Committee chair Devin Nunes, Stephen Boyd, the assistant attorney general for legislative affairs, urged Nunes to share the memo with Justice Department and FBI officials so that they can respond to its allegations before the committee votes to release it. "We believe it would be extraordinarily reckless for the committee to disclose such information publicly without giving the Department and the FBI the opportunity to ... advise the (committee) of the risk of harm to national security and ongoing investigations," Boyd wrote.
Hamilton 68's implication that Russian bots influence US politics echoes what has been a growing realization over the past year that social media played an important role in influencing the results of the 2016 election.
According to a number of reports and former employees, the Internet Research Agency, a St. Petersburg, Russia, "troll factory" loosely tied to the Russian government, set its sights on polarizing the 2016 US election, devoting entire teams of employees to create partisan "American" personas of all political stripes. Many of those had incendiary viewpoints and were popular among Americans discussing politics. A number were quoted as evidence of political attitudes in the US media.
Twitter initially downplayed the idea that their platform had been taken over by government trolls. But eventually, pressured by the public and members of Congress, it hired a third-party company to perform an audit and last year released a list of IRA trolls.
How comprehensive that list was and whether there's evidence of substantial other troll farms using Twitter for similar purposes is unknown. Similarly unclear is the effect social media trolls have had on other countries. In the UK, lawmakers have ordered Facebook, which previously said Russian trolls had no significant influence on its vote to leave the European Union, to conduct a more thorough search.

It was in the wake of Twitter purging what it identified as botnet armies that the nonprofit German Marshall Fund of the United States created Hamilton 68 to measure what continuing Russian influence operations were saying. The project shares the generalities of its methodology, but not specifics, and bases its assessments on the activities of overt Russian government information outlets, such as RT News and Sputnik, known Kremlin supporters on Twitter, and a private list it has compiled of what it considers pro-Russian trolls.
But it isn't just Russian bots roiling the waters. US Twitter users are front and center as well. Right-wing provocateur Alex Jones, for example, claimed to have been "leaked" the memo. It turned out the document he was touting wasn't the Republican House memo but a declassified court opinion that had been available on the website of the Office of the Director of National Intelligence for months.

Emma Loop contributed additional reporting to this story.