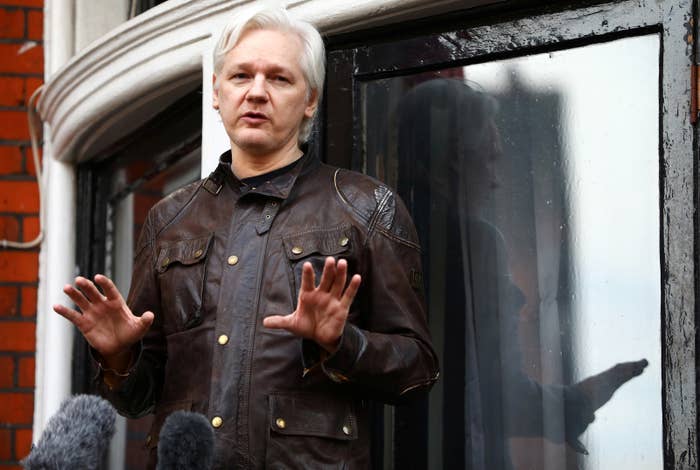 Charges reportedly filed against WikiLeaks founder Julian Assange, under seal but possibly unveiled accidentally Thursday night in a court document in an unrelated case, more likely revolve around hacking and conspiracy than the revelation of US secrets, legal experts say.

That's an important distinction. Press freedom experts worry that if Assange were prosecuted for publishing classified material under the Espionage Act, a law created during World War I to punish foreign spying, it could create a dangerous precedent for traditional journalists in the US who do the same.
In a statement Friday, the ACLU's Ben Wizner warned that "prosecuting a foreign publisher for violating US secrecy laws would set an especially dangerous precedent for US journalists, who routinely violate secrecy laws to deliver information vital to the public's interest." In 2013, the Justice Department concluded it would not charge Assange for exactly that reason.
But former prosecutors say there are many other charges that Assange could face that have to do with how WikiLeaks obtained hacked materials and would not raise the same kind of First Amendment issues that an Espionage Act case would.

"Perhaps more likely at this stage are charges alleging a conspiracy to hack into computers under the Computer Fraud and Abuse Act," Tom Rubin, a Stanford Law lecturer and former computer crimes prosecutor and assistant US attorney in the Southern District of New York, told BuzzFeed News.
Hanley Chew, a former computer hacking prosecutor in the Northern District of California, also sees the CFAA as a likely source for authority to prosecute Assange. "There's a number of other crimes that can be charged in relation to that," he told BuzzFeed News, and Assange wouldn't have had to do the hacking himself. "He could be charged with conspiracy," Chew said. "He also could be charged with aiding and abetting."
While Assange himself has never publicly been charged with hacking crimes since 1996, when he pleaded guilty in his native Australia to 25 charges of hacking the Canadian telecommunications company Nortel, his name and releases have repeatedly come up in conjunction with such charges against others in the United States.
In chats from 2012 obtained by journalist Emma Best, the Anonymous hacker group LulzSec privately referenced being in regular contact with WikiLeaks and claimed WikiLeaks had solicited them to hack targets in the Icelandic government. Those hackers later stole a cache of emails and files from the private intelligence firm Stratfor, which WikiLeaks put on its site, and which led to one of those hackers, Jeremy Hammond, receiving a lengthy prison sentence.
Later, when the US prosecuted Army private Chelsea Manning for unauthorized downloading of secret US information, the government claimed that Assange had directed Manning, though the Justice Department notably did not bring such charges against him when it weighed whether to accuse him of violating the Espionage Act. The downloaded files became the basis for a number of WikiLeaks' publications, most in coordination with prominent US news organizations.
Then, in 2016, according to an indictment issued by special counsel Robert Mueller's office this past summer, a person from WikiLeaks — presumed to be Assange himself — reached out to an online persona created and run by Russian military intelligence called Guccifer 2.0, asking for the emails it had hacked from the Democratic National Committee.
"[S]end any new material [stolen from the DNC] here for us to review and it will have a much higher impact than what you are doing," WikiLeaks wrote to a Russian agent, according to the indictment. A few weeks later, it got more demanding, saying, "if you have anything hillary related we want it in the next tweo [sic] days."
WikiLeaks published the emails later in July, and Assange publicly indicated that summer that his source was Seth Rich, a murdered DNC staffer, though Rich's parents have pleaded for conspiracy theorists to stop invoking his death. Privately, though, Assange was messaging Best, who had also been in contact with Guccifer 2.0, to say he wanted the hacked DNC files himself.
"[P]lease 'leave,' their conversation with them and us," Assange wrote to Best, in messages she provided to BuzzFeed News. He downplayed the idea he'd gotten them from Russia.
"[O]ther media groups are very likely to take a stupid initial angle," he told Best. "We don't know if its true. Possibly russians who knows blah blah blah," he wrote, imitating reporters who might take pause that the emails were part of a Russian government operation against the US.
Since 2012, Assange has holed up in the Ecuadorian Embassy in London, fearing that he would be extradited to the United States. For years, it's given him effective diplomatic immunity, though his presence and habits have annoyed Ecuador, and then Foreign Minister María Fernanda Espinosa called his stay "untenable" in January. Since then, Ecuador has imposed new rules for Assange's conduct at the embassy, including reportedly a requirement that he clean the cat box, and Ecuador's current foreign minister, Jose Valencia, has told reporters recently that that country is unaware of any US request for his extradition.
The apparent revelation that Assange has been indicted came in a filing in a case involving a criminal complaint by the US Attorney for the Eastern District of Virginia charging Seitu Sulayman Kokayi with coercion and enticing of a minor.
Assange's name appears in the three-page filing twice in sentences arguing against the unsealing of records, and the speculation is the attorney preparing the filing had copied those sentences from a similar filing about Assange, then failed to remove Assange's name and substitute in Kokayi's.
The Eastern District US Attorney's Office did not offer a detailed explanation. A spokesperson, Joshua Stueve, acknowledged only that "The court filing was made in error. That was not the intended name for this filing."
But both the Washington Post and the New York Times subsequently reported that sources had confirmed that Assange has been indicted. In its story, the Post noted that the assistant US attorney who filed the mistaken document, Kellen S. Dwyer, is also assigned to the Assange investigation.