A former manager of the Internet Research Agency, the Russian "troll factory" and propaganda operation accused of meddling in the 2016 election, has lived in the United States for the past two and a half months, according to a Russian news outlet.

Agata Burdonova, 31, was an English-language specialist who worked as a manager at the IRA, according to TV Rain, an independent Russian news agency that has broken a number of stories about the IRA. She moved to Bellevue, Washington, on Dec. 7, and has thoroughly documented her move on her social media accounts. She has posted pictures of her boarding pass and Russian passport, a selfie with her husband at Seattle-Tacoma International Airport, and photos of Seattle's Space Needle, a suburban American neighborhood, and several Washington parks.
TV Rain said she denied that she had worked for the IRA and refused to comment on her move to the United States. She did not immediately respond to questions sent by BuzzFeed News to her accounts on Facebook and on a similar Russian social media platform, VK.
Burdonova is not among the 13 Russians that the Department of Justice's special counsel has accused of violating a series of US laws in connection to the 2016 election. According to IRA documents obtained by the special counsel, one of the IRA's stated objectives was to conduct "information warfare against the United States of America."
Her former coworkers told TV Rain that Burdonova worked under Katarina Aistova, who was interviewed by the New York Times about the IRA in 2015 before she became the head of its media department. Burdonova posted a picture of herself with Aistova on Facebook and on VK and said she'd had a farewell party as she prepared to fly to the other side of the world.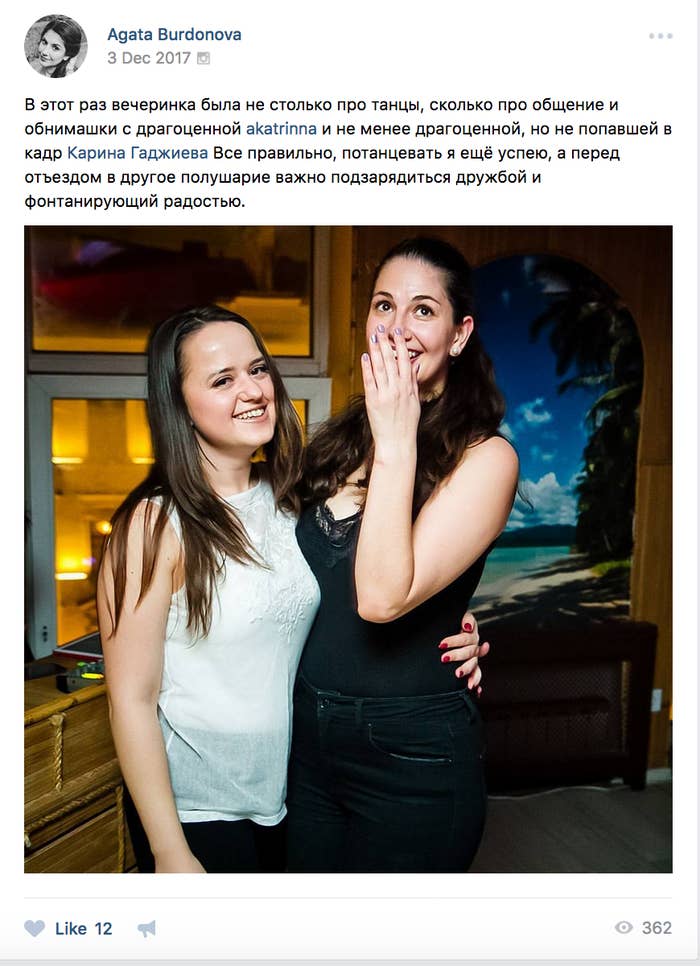 Though several IRA employees have taken short trips to the US to do work for the organization, it's not clear why Burdonova came to the US. On her first photo of Bellevue that she posted to VK, she used the hashtag, in English, #ExtendedStayAmerica. She has maintained the same LiveJournal blog since 2009, claims on VK that her occupation is a blogger, and has posted several photos of herself at home with a computer.

Burdonova's husband, Dmitry Fyodorov, posted on VK in June that he had been offered a job at Facebook, though he made no mention of taking such a job. A Facebook spokesperson told BuzzFeed News that despite online speculation, Fyodorov never formally took a job with the company.

"I can confirm that this individual is not and has never been employed by Facebook," the spokesperson said. "So no, we did not organize any kind of visa!"

News of the IRA first broke in 2014, after a Russian hacker collective known as Humpty Dumpty leaked documents describing its operations and how employees adopted fake online personas to creating social media accounts with the purpose of muddying online discourse, particularly within Ukraine and Russia. Its early English-language efforts largely consisted of posting pro-Russian messages from immature and often bizarre personas with names like Gay Turtle and Ass.

By 2016, however, the IRA's America operation had evolved into a major project, with a monthly budget of more than $1.25 million a month for operations and employees posing as dozens of political characters, often with extreme views that would regularly get cited in American media, according to special counsel Robert Mueller's indictment.
The IRA personas pushed a variety of political views, though conservative accounts received far more engagement online.
According to the indictment, the organization dispatched employees to the US to gather information for IRA activities. Two of the accused, Aleksandra Krylova and Anna Bogacheva, received visas and spent three and a half weeks in June 2014 traveling around California, Colorado, Illinois, Louisiana, Michigan, Nevada, New Mexico, New York, and Texas, the indictment said.
Two other IRA employees also applied for visas to the US for a similar operation, according to the charges. One, Robert Bovda, did not end up traveling to the US. The other, who is unnamed in the indictment, spent five days in Atlanta after Thanksgiving in 2014.
A spokesperson for the special counsel's office declined to comment on Burdonova's presence in the United States.
UPDATE
This story has been updated to include Facebook's comments about Fyodorov.