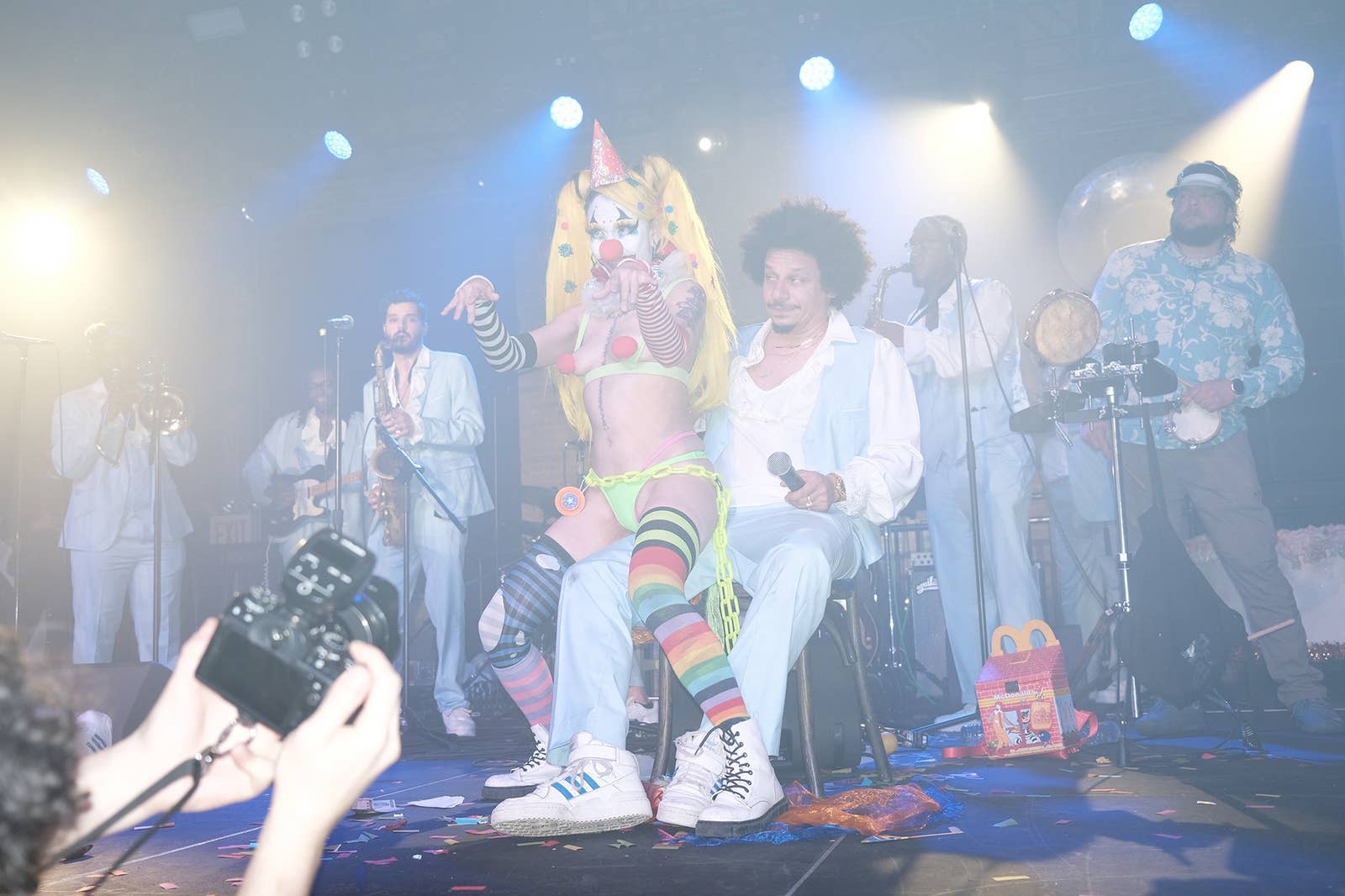 There have been a number of high-profile birthday parties for notable people over the years. In 1962, Marilyn Monroe famously sang a sultry "Happy Birthday, Mr. President" to John F. Kennedy at his Madison Square Garden birthday gala. Justin Bieber rented an entire Caribbean island when he turned 21, Kate Moss famously partied for almost 100 hours for her 40th, and Simon Cowell's 50th birthday bash cost him over $1 million.
This past weekend, comedian Eric André threw one for the books: an absolutely wild event to mark his 40th birthday at the Knockdown Center in Queens. With 3,250 tickets sold and lasting a whopping 12 hours, the event was unlike anything else. André, a comedian known for his sensational, chaotic antics, had a 40th birthday party that was as weird and epic as you'd expect — and then some. On the surface, it could be described as The Eric André Show come to life, with throngs of costumed revelers and special guests that included some characters you might recognize from social media, like Crackhead Barney and Spider Cuz, along with performances from various comedians, including Felipe Esparza and Ardie Fuqua, rappers JPEGMafia and Zelooperz, and a DJ set from Peanut Butter Wolf.
The night was laid out as a fully immersive experience, as if one were stepping into André's brain. One TikTok account described it as a "fever dream."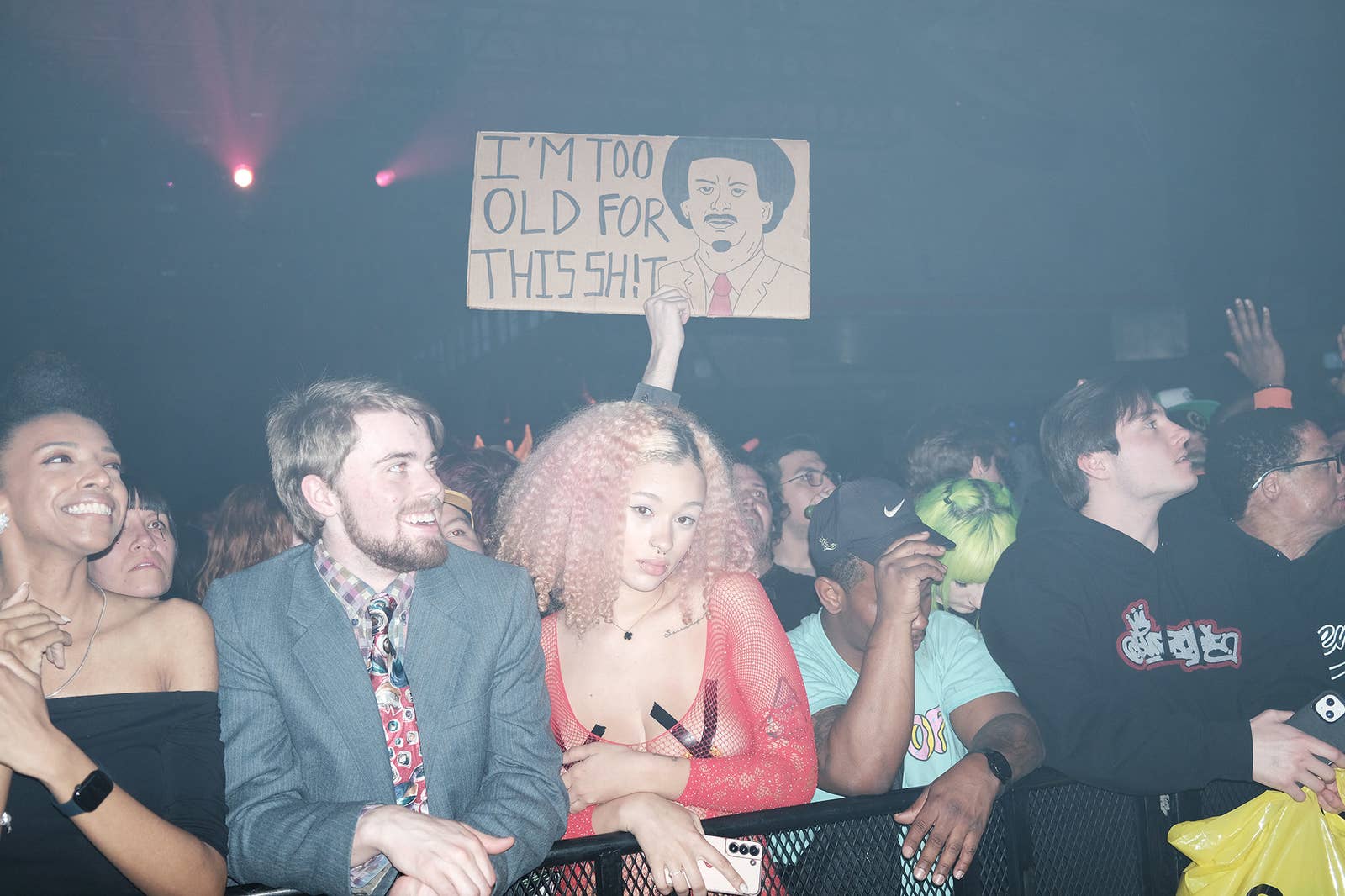 Just about every corner of the sprawling Knockdown Center was used for something unique. If you went to one area, you may find people getting spanked in the BDSM dungeon, while a small dance party with a DJ went on next door. You may get your portrait done by a live caricature artist or chill out at the petting zoo, which featured some very chilled-out goats and sheep. Throughout the night, various stage performers in different parts of the venue did everything from playing with fire to swallowing super-long party balloons, the ones used to make balloon animals. Outside, an enthusiastic full marching band with baton twirlers was dressed as if they were performing for a parade in a small town. One small room in the venue was even dedicated to a variety of bands playing noise music that graced the stage at full volume.
While André himself walked around the premises greeting excited fans and posing for selfies, a group of André lookalikes was spotted throughout the night. You couldn't even check your coat without encountering three women dressed as strippers, standing behind a table covered with fake money and fake cocaine.
The venue also boasted a half-pipe for attendees who came prepared with their skateboards. And this is only a fraction of what the evening brought. In no particular order, here's a list of the best things that BuzzFeed News encountered at André's 40th birthday party. (Spoiler alert: Emily Ratajkowski was nowhere to be found.)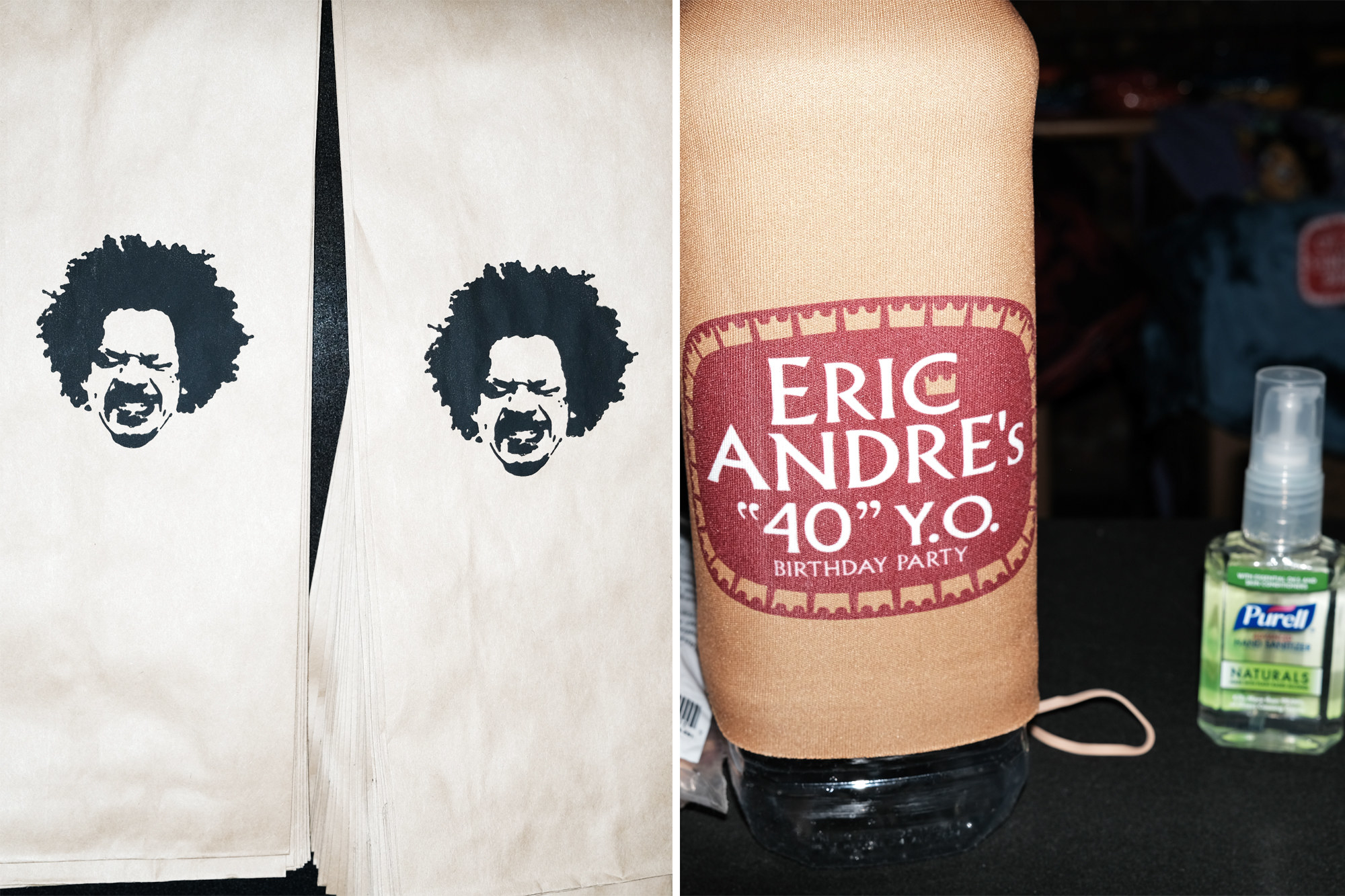 The BDSM play area
When I was sent the show's lineup from a publicist before the event, I saw that "BDSM" was listed among the party's featured activities. Given it was André's birthday, I wasn't entirely surprised but honestly didn't know what to expect. At one point in the night, I was walking past an outdoor dance area with its own DJ and noticed people going in a small cavelike brick entrance. Voilà! I suddenly found myself in a dimly lit dungeon with multiple Doms/Dommes flogging, spanking, and tying up enthusiastic participants as a crowd cheered. "The dungeon reminded me of being at a club in Berlin," said Shannon Herlihy, who was a spankee. "With the red lighting, the assurance of consent involved in any flogging/spanking and the kinky fun, this was one of my favorite spots to be."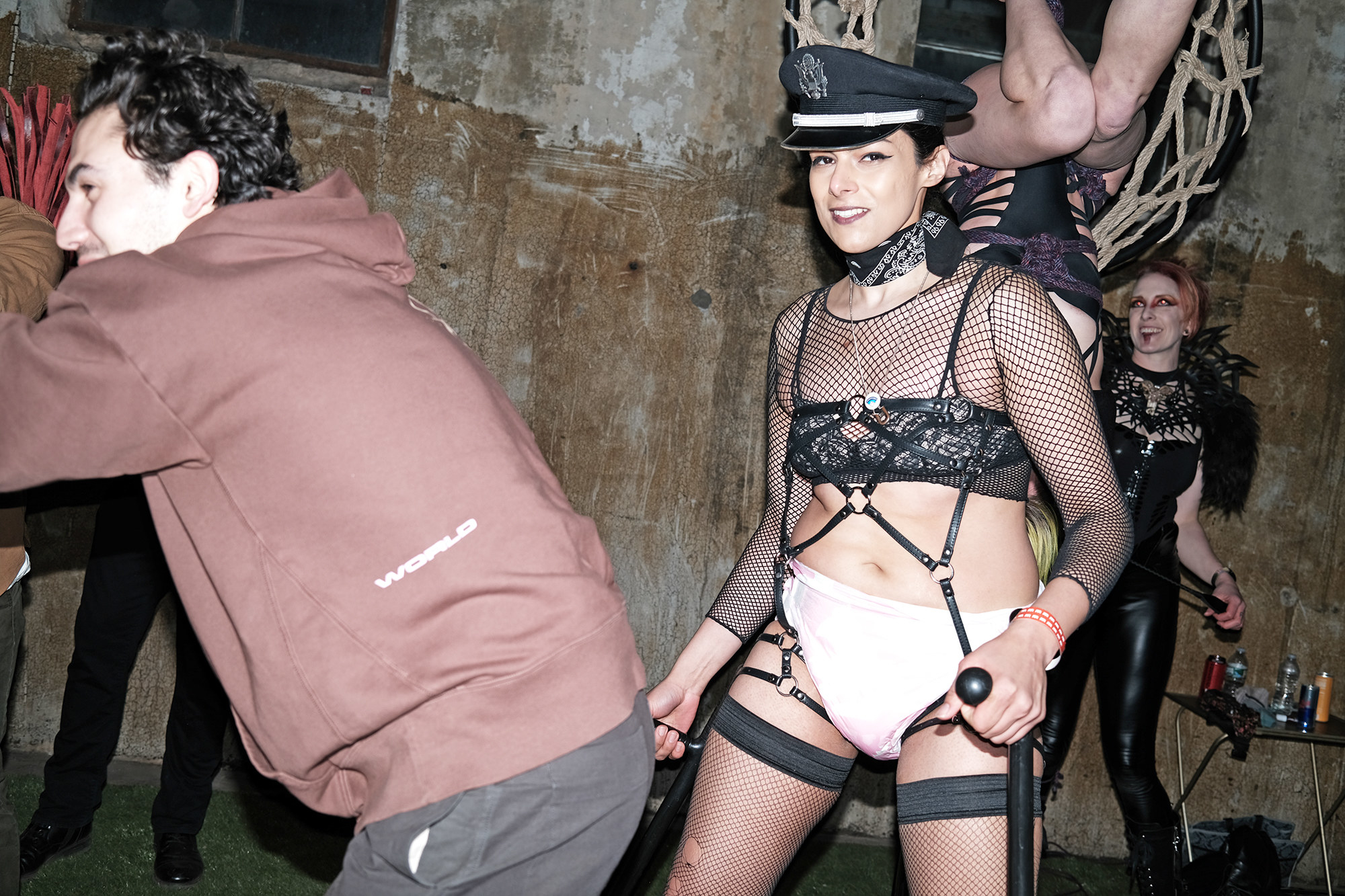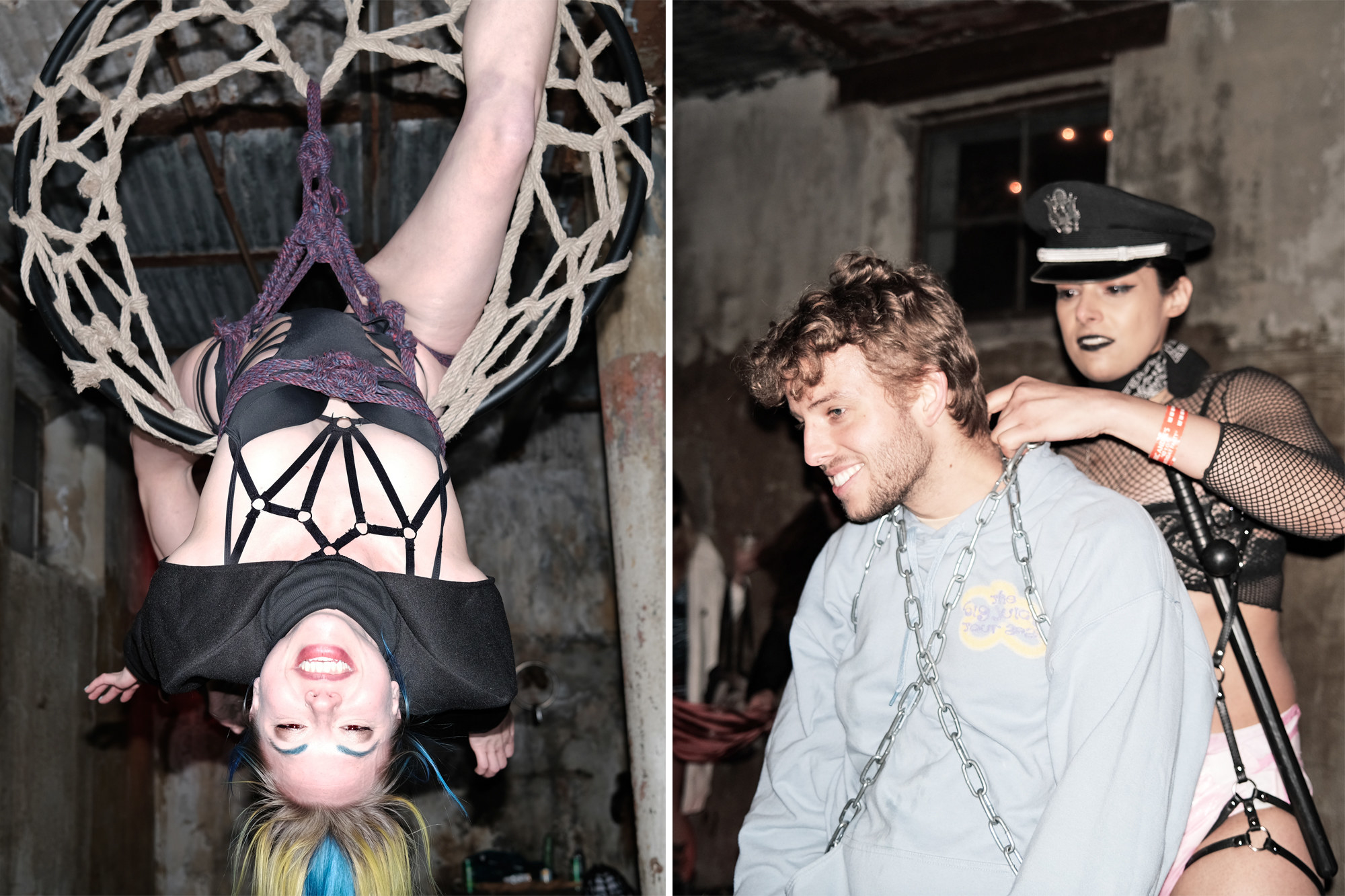 The many Eric André clones
Walking around the venue grounds, one was bound to notice several André lookalikes. Staying true to what the real André was wearing, they all wore a three-piece powder blue suit with a ruffled white shirt. Fooling attendees at first glance, the lookalikes could be spotted mingling with each other and snapping selfies with guests. Before the night started, André posted a photo of five of them striking a Charlie's Angels–type pose. "It's like Where's Waldo!" André exclaimed onstage after inviting a few of them up to share the mic.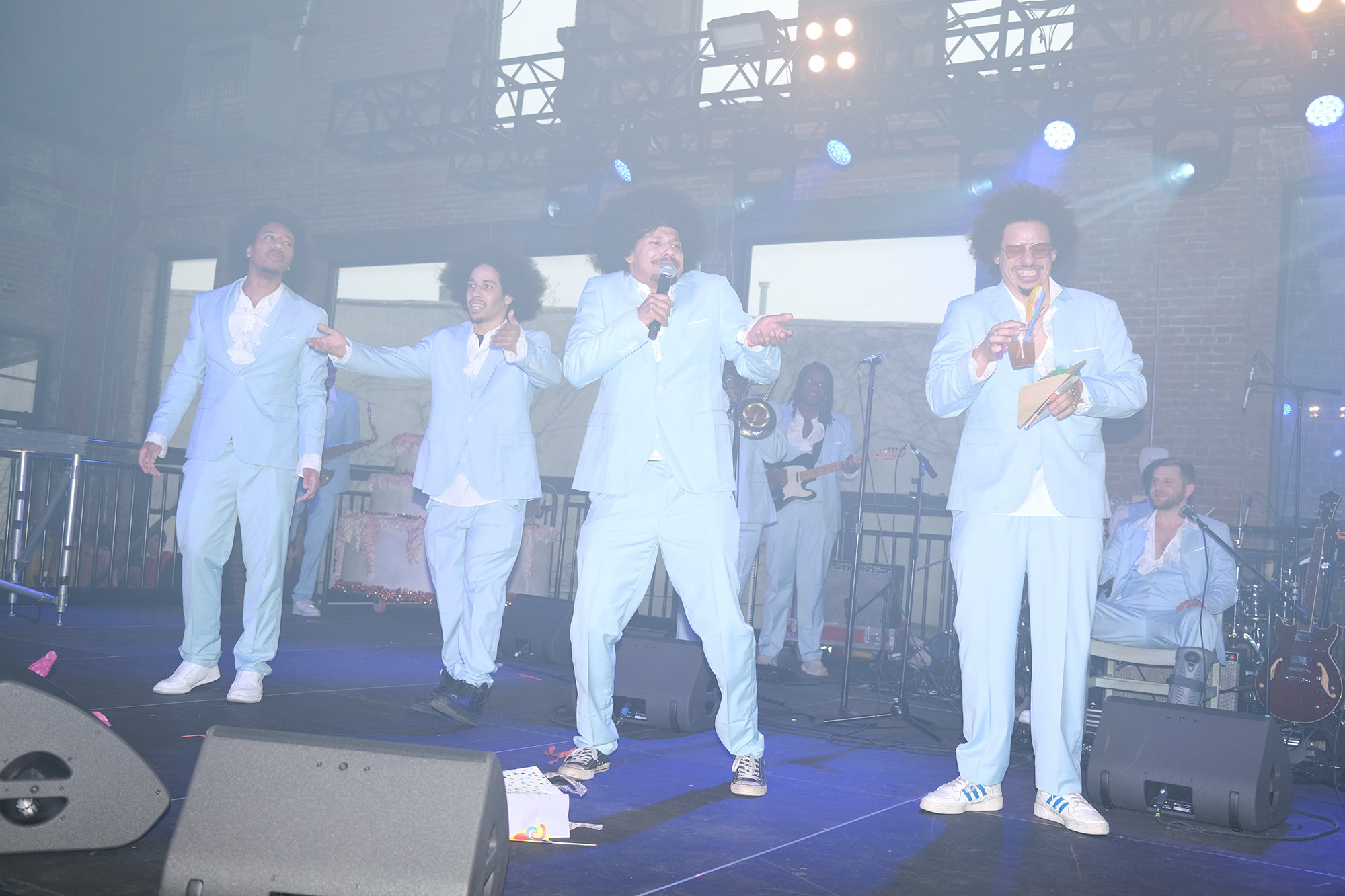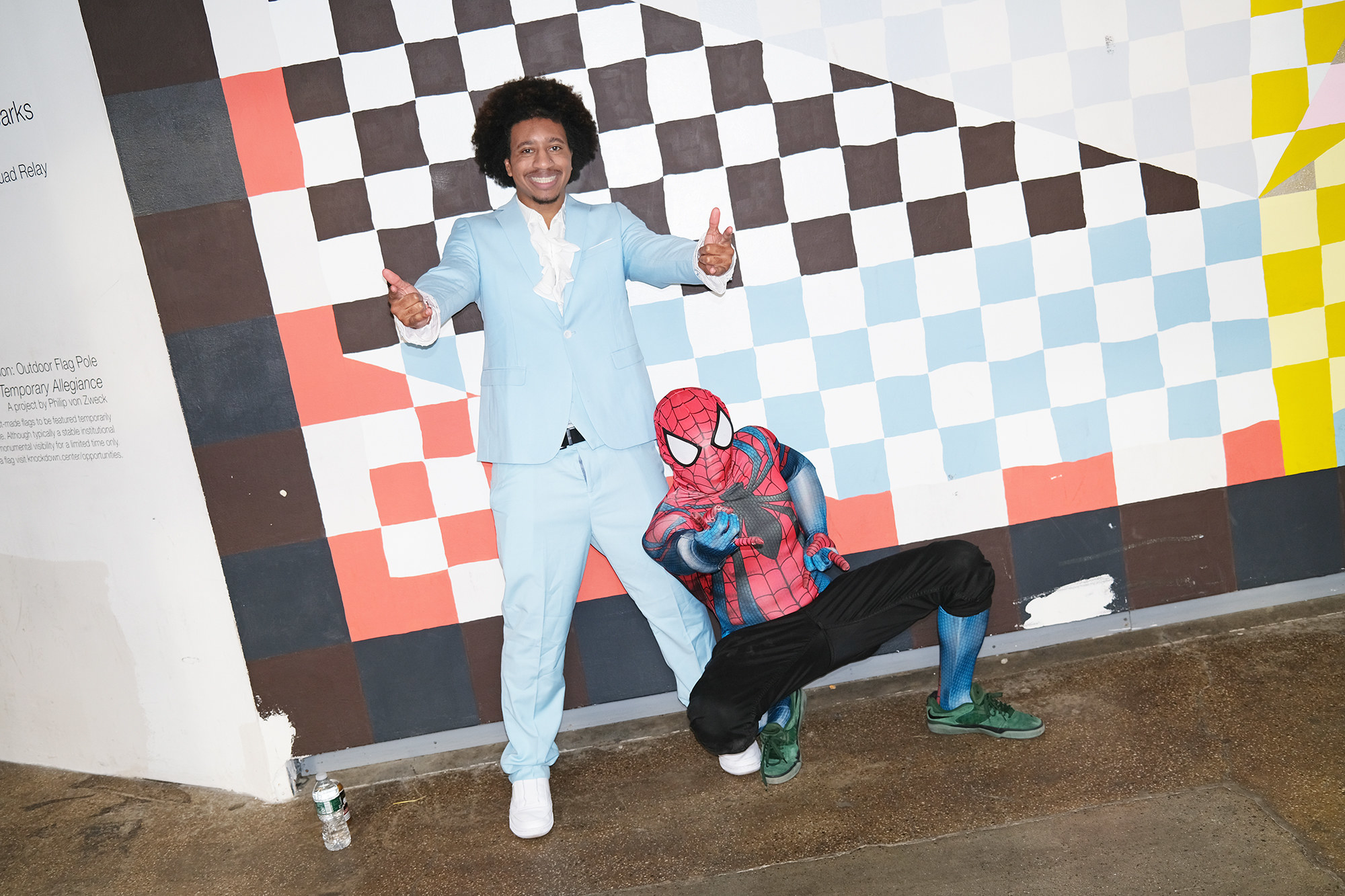 A petting zoo
Outside the Knockdown Center, there was a small fenced-off area that featured a petting zoo with several goats and sheep. Fans flocked to the cuddly animals, as it was the perfect area to decompress from wilding out inside the main event space. While roaming around, André entered the petting zoo to interact with animals as scores of fans cheered him on and wished him a happy birthday.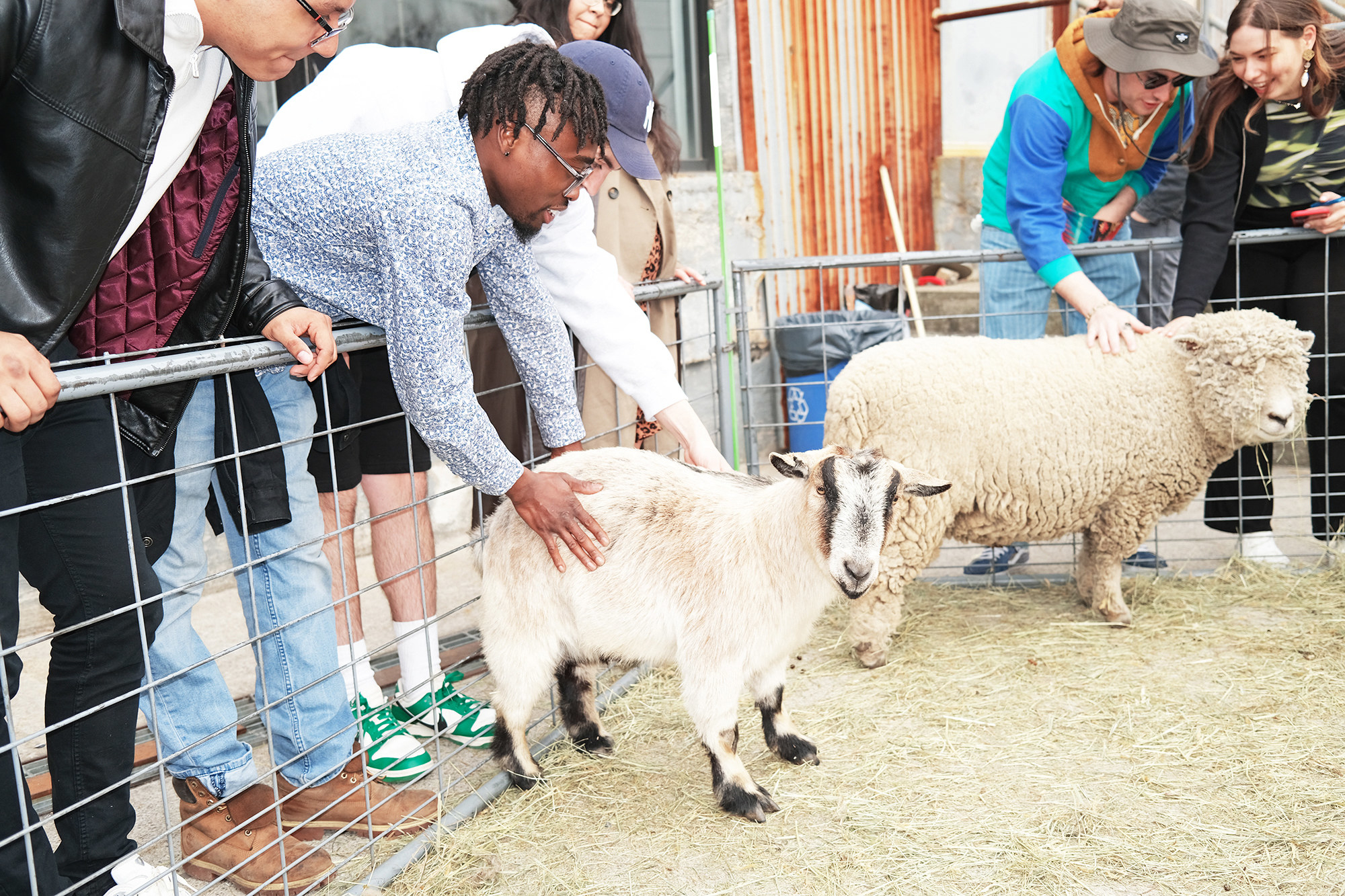 The 'fits
At times, André's birthday party looked like it fell on Halloween, as several guests came dressed in costume as characters from The Eric André Show or just as something completely random. Up in the front row, a person wearing a chicken mask could be seen headbanging, as others wore weird masks, dressed as clowns, or wore shirts that said "Legalize Ranch," in tribute to André's famous sketch. A number of people had shirts with outlandish slogans or cannabis leaves, while others threw on their special merch from the evening with André's face on them.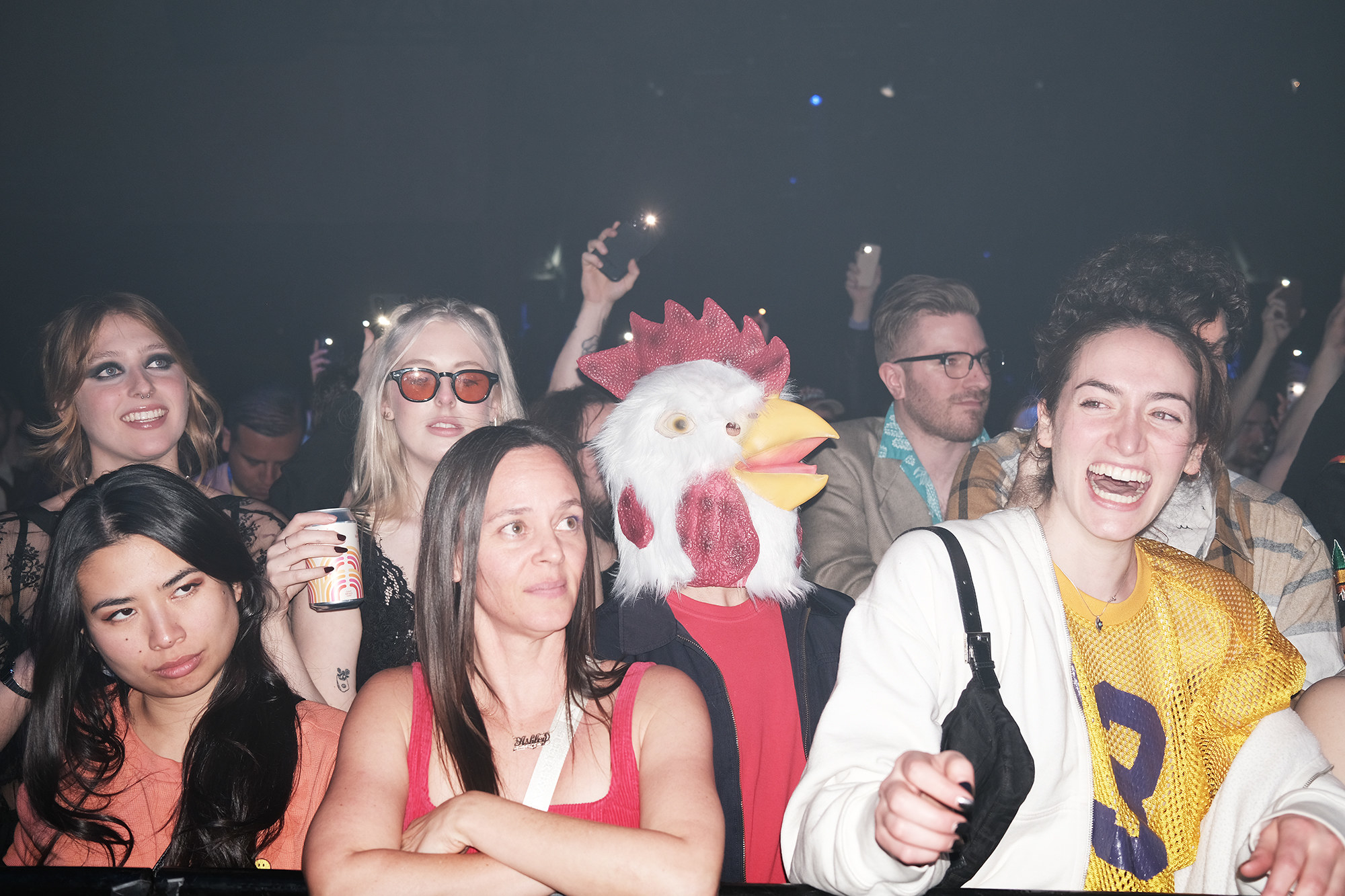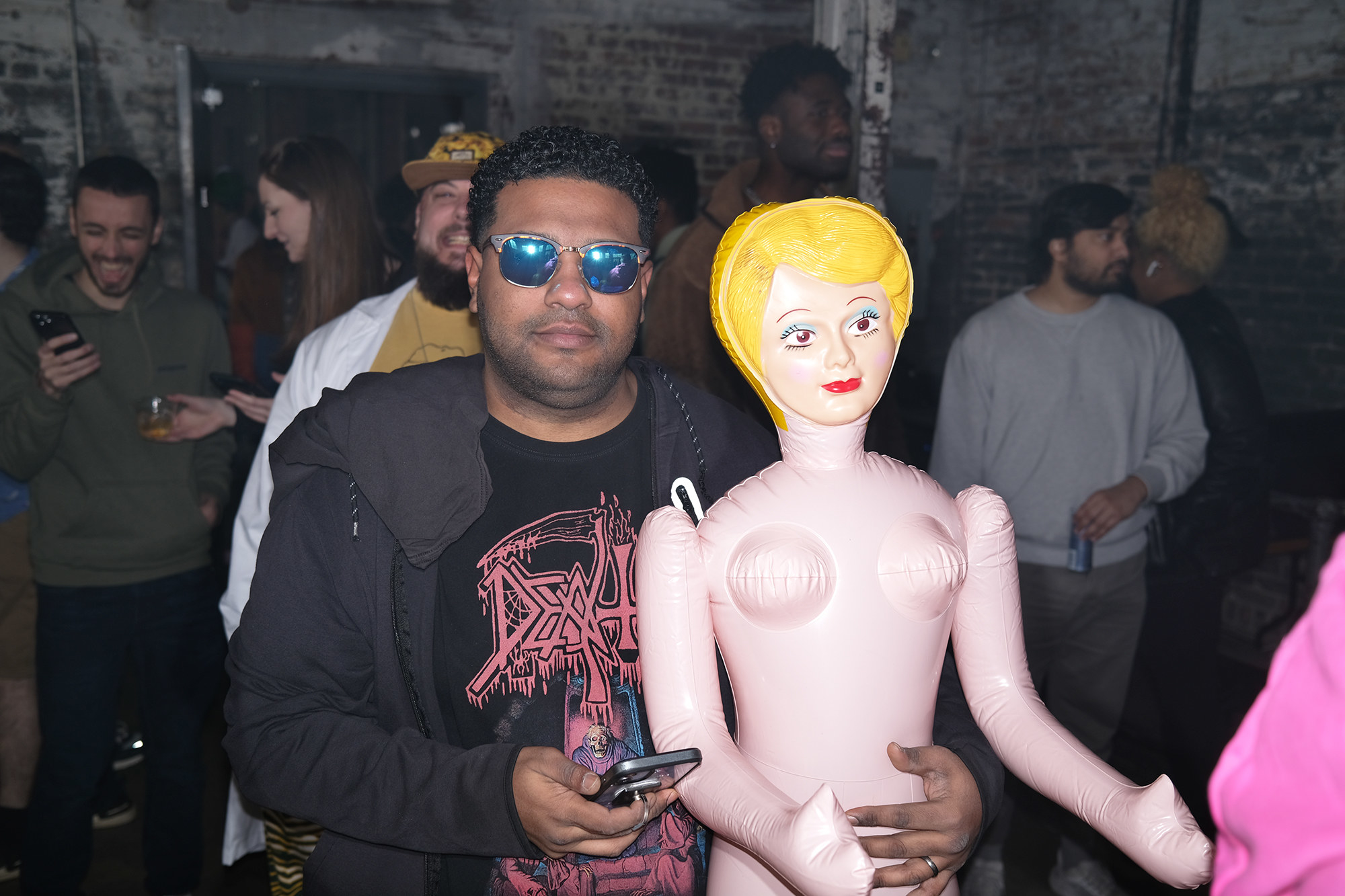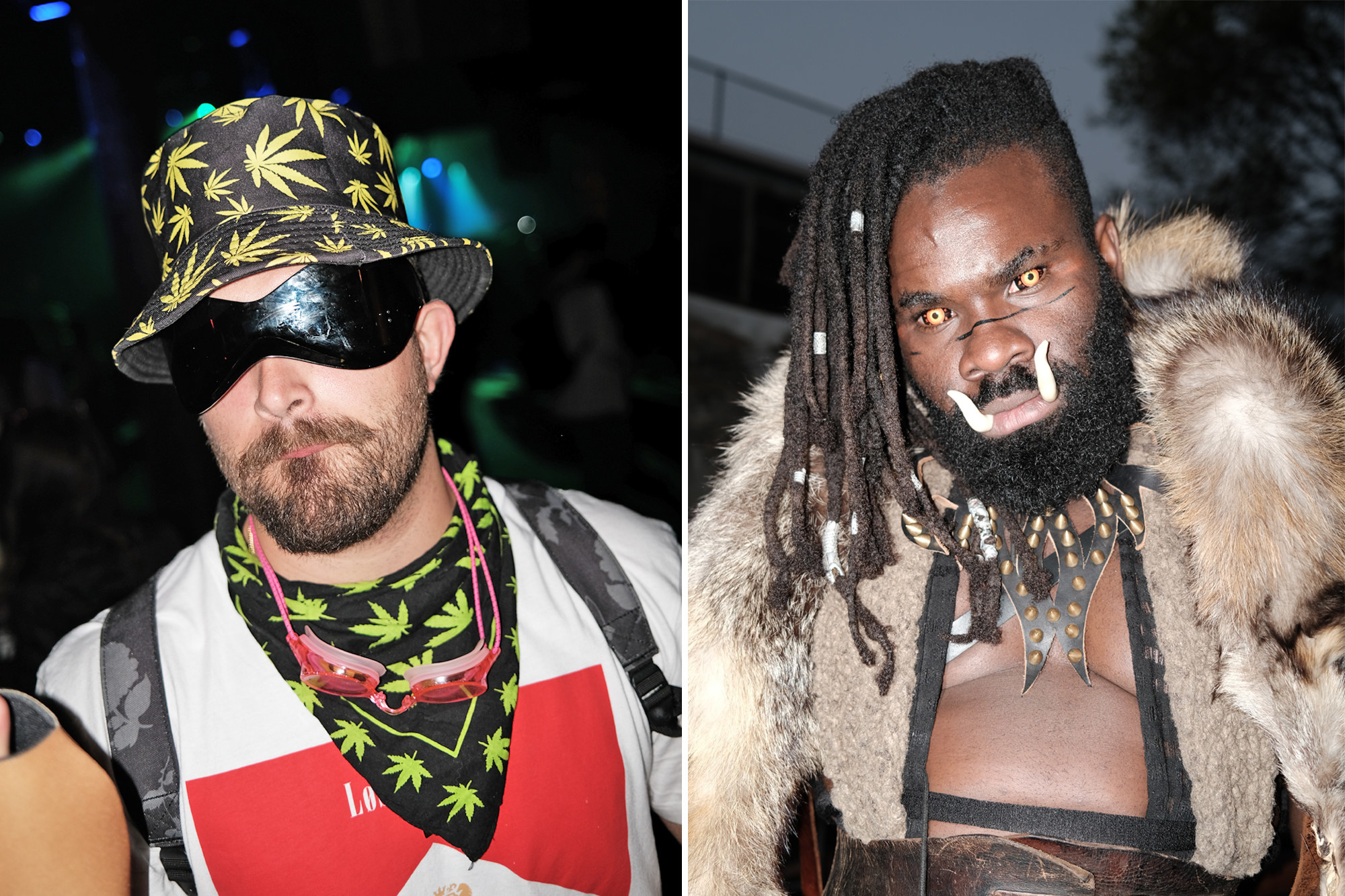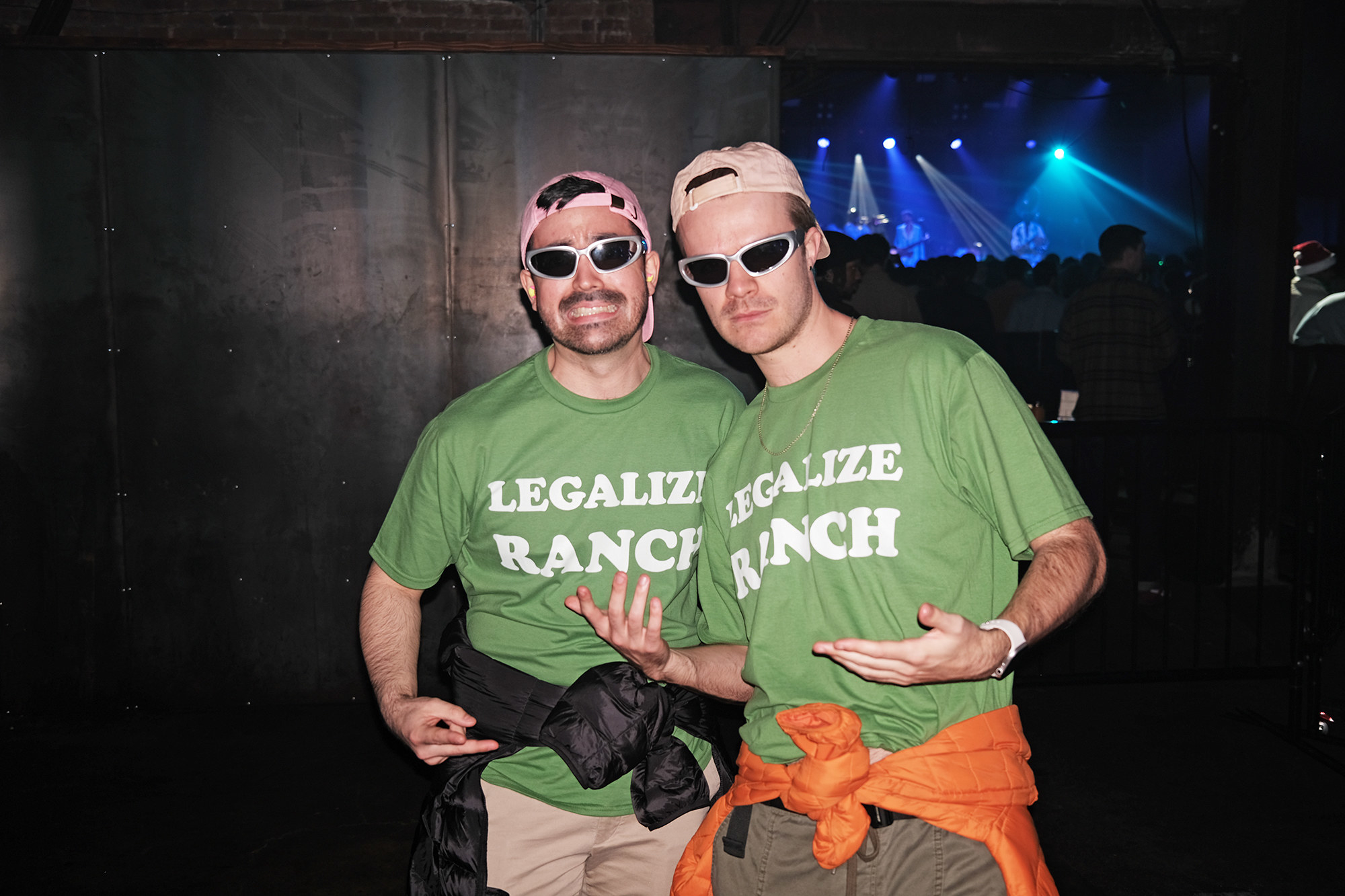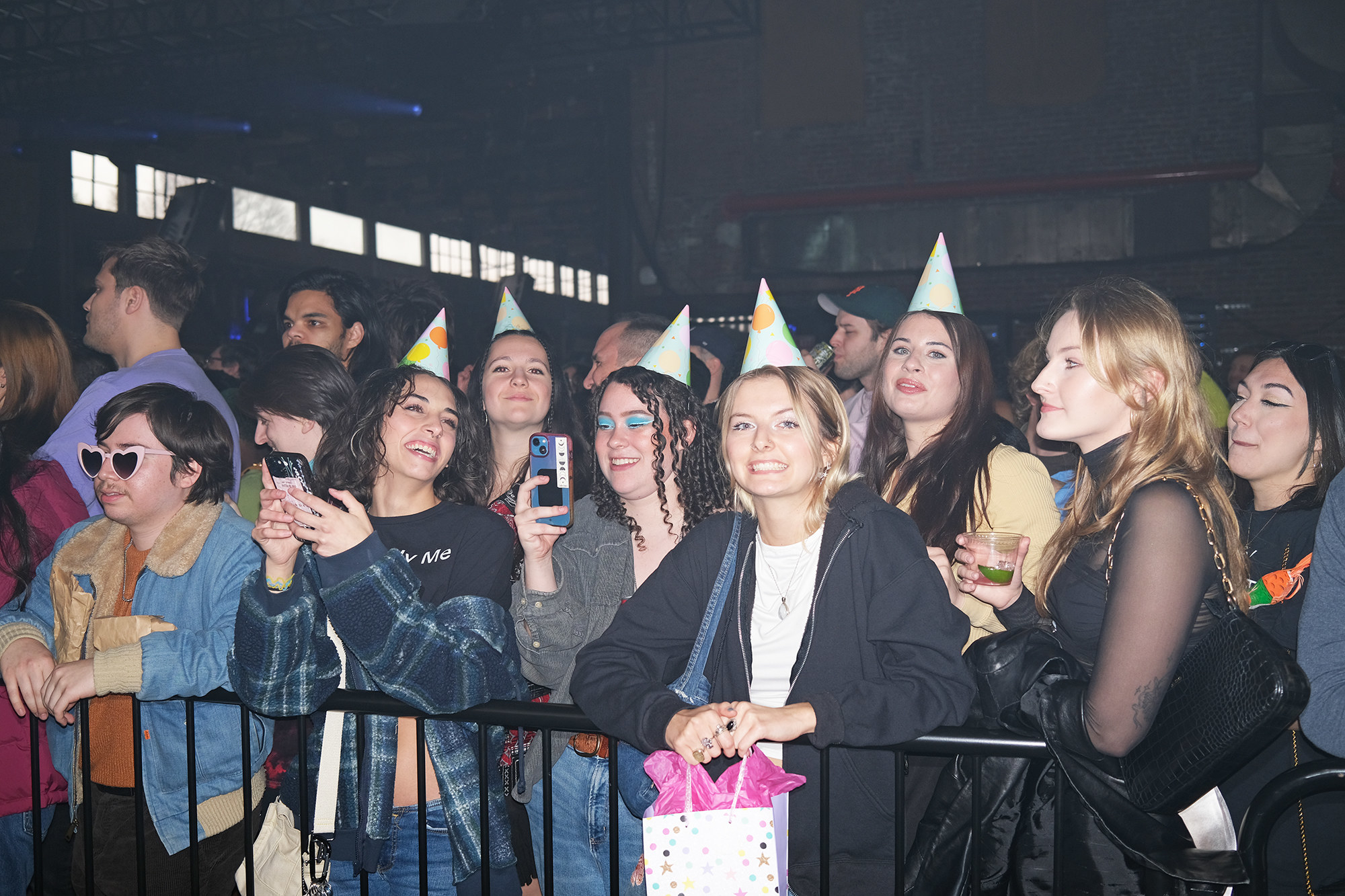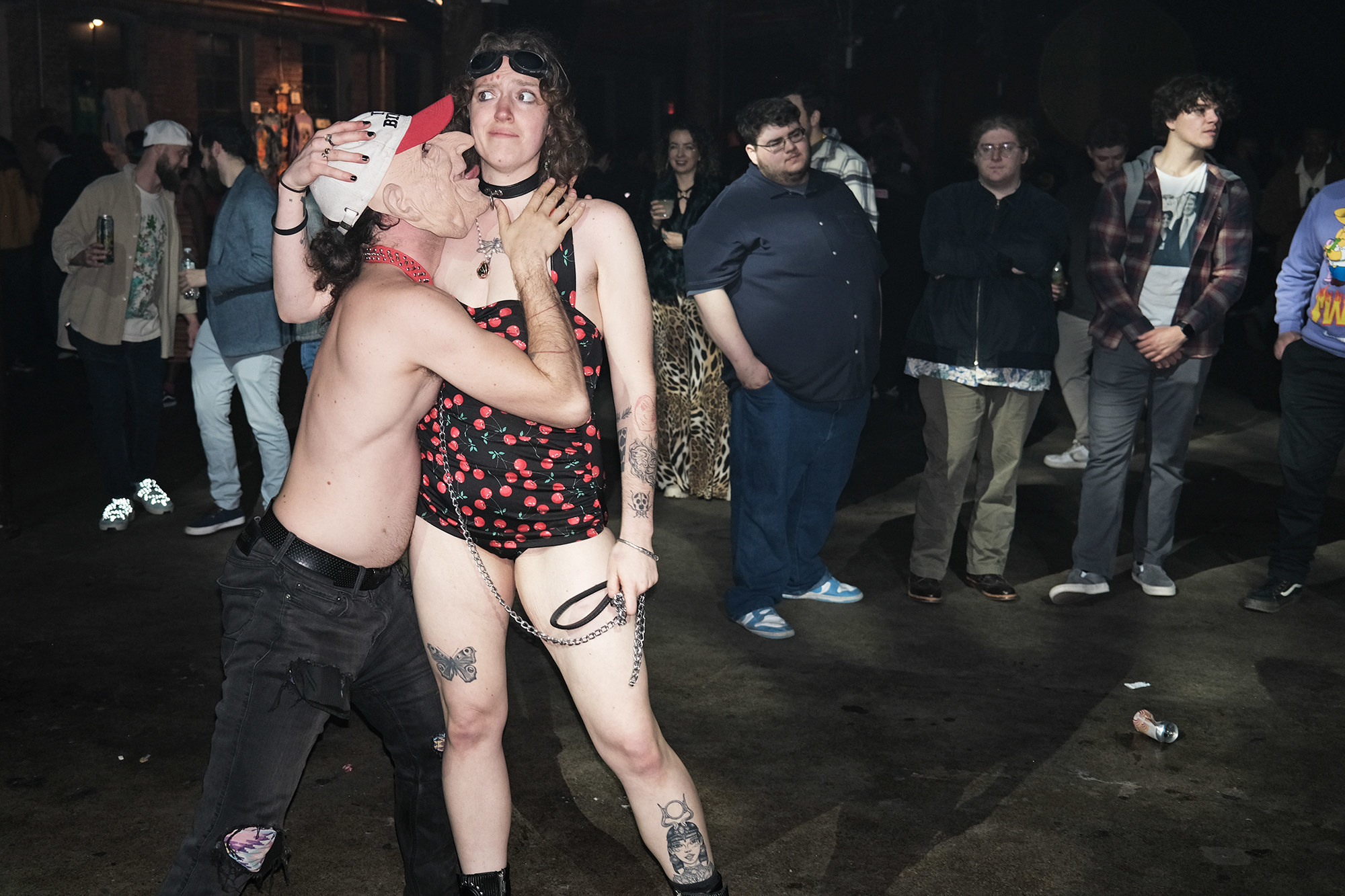 The colorful ball pit
Like any good birthday party, André's party included a ball pit for the adult attendees to enjoy. In a room that was separate from the main space, scores of folks dove in to either just chill within the pit of colorful plastic balls or viciously battle each other in a scene similar to the chaos that you'd find in a '90s McDonald's PlayPlace. Near the ball pit were a tattoo artist and caricature artist, both of whom had long lines all night.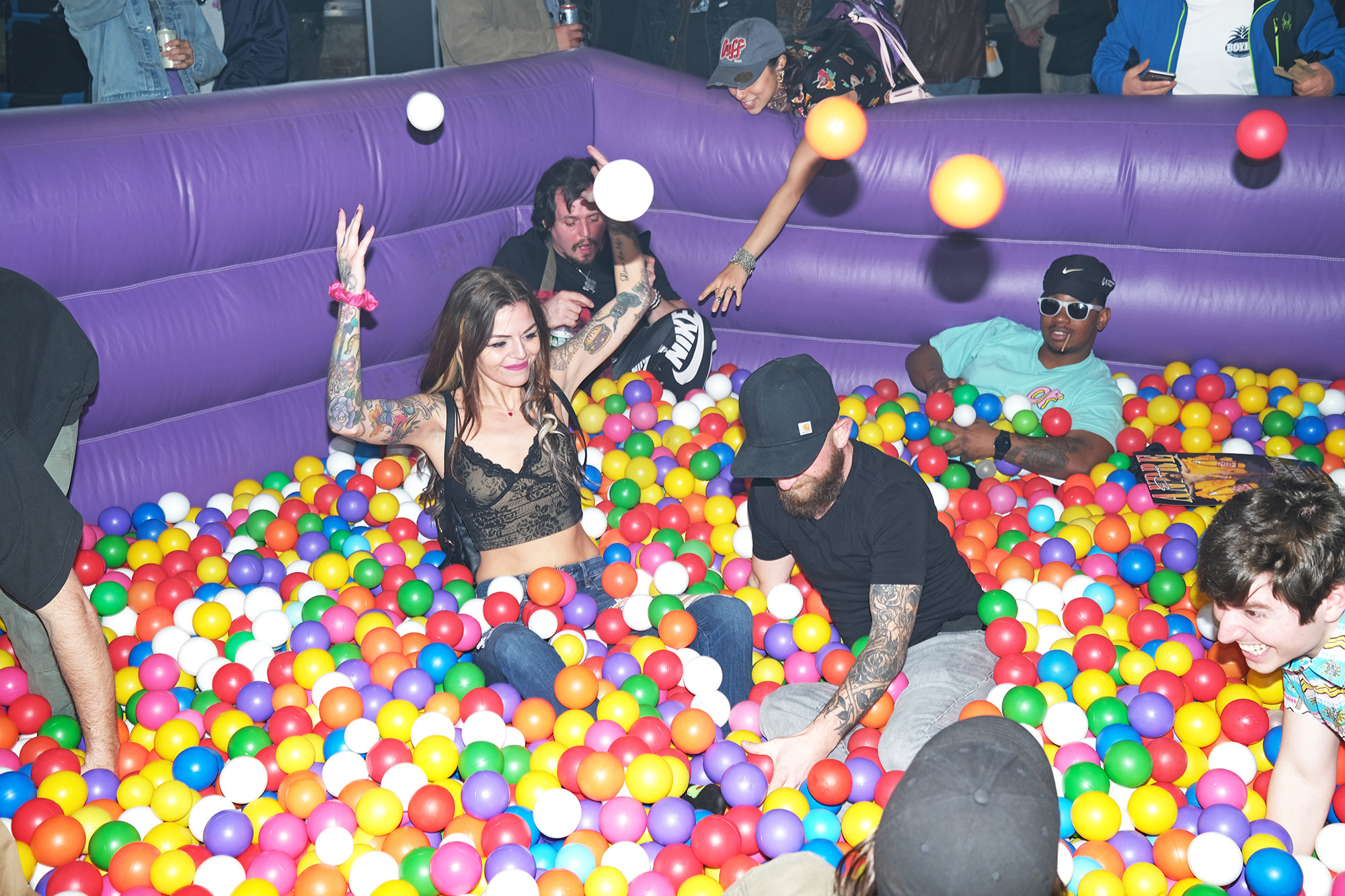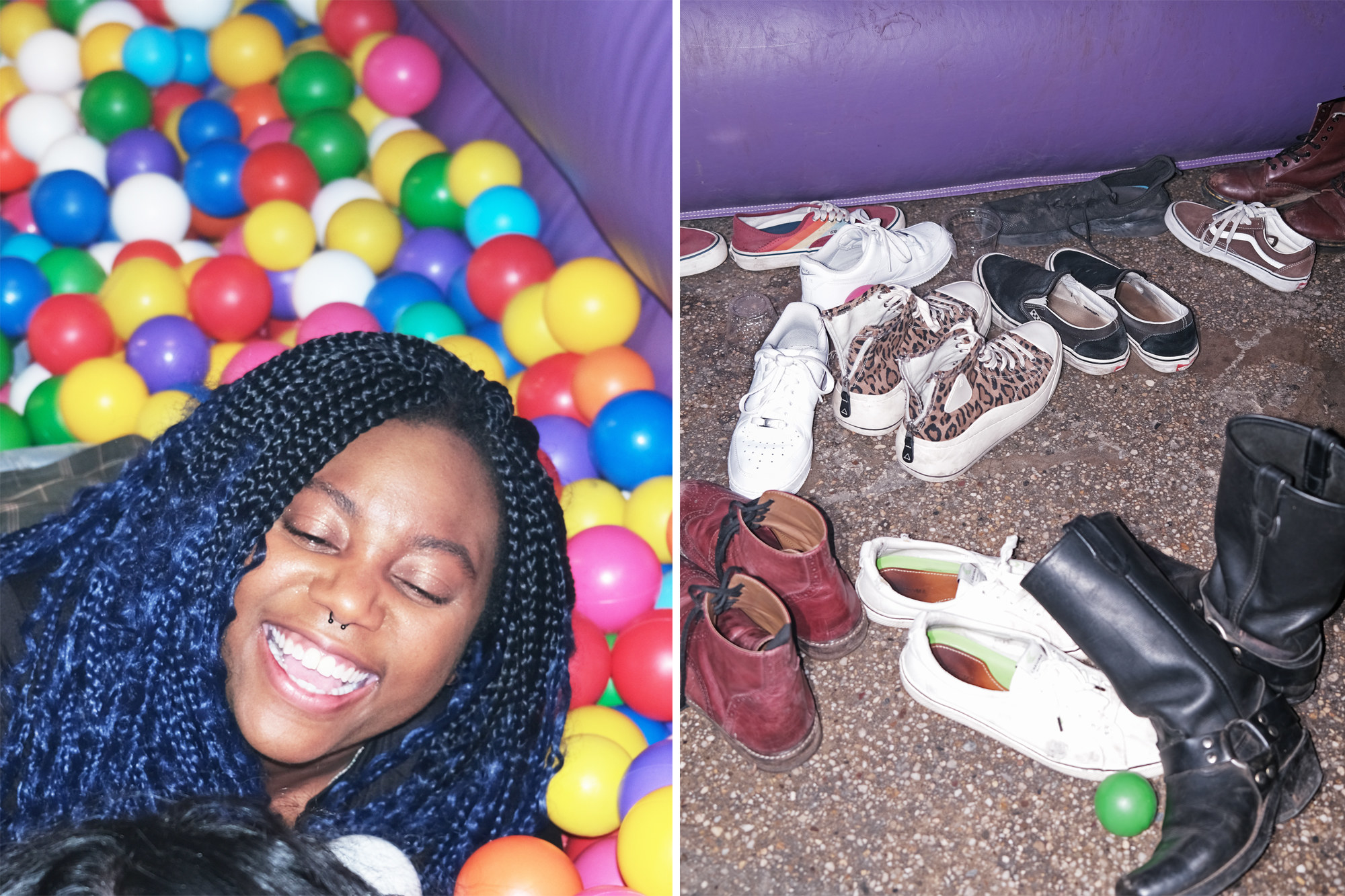 AWFUL Wrestling
In a nod to the spirit of The Eric André Show, there was a wrestling ring outside Knockdown Center, where multiple matches took place; it was something like a knockoff WWE Monday Night Raw. Led by Arts Wrestling Federation Urban League (AWFUL) Wrestling, who describe themselves as the "world's premiere wrestling parody comedy show," the spectacle featured a variety of amusing characters and storylines, including a wrestler nicknamed the Gentrifier. "You couldn't even tell what was real and who were actors," one Instagrammer wrote.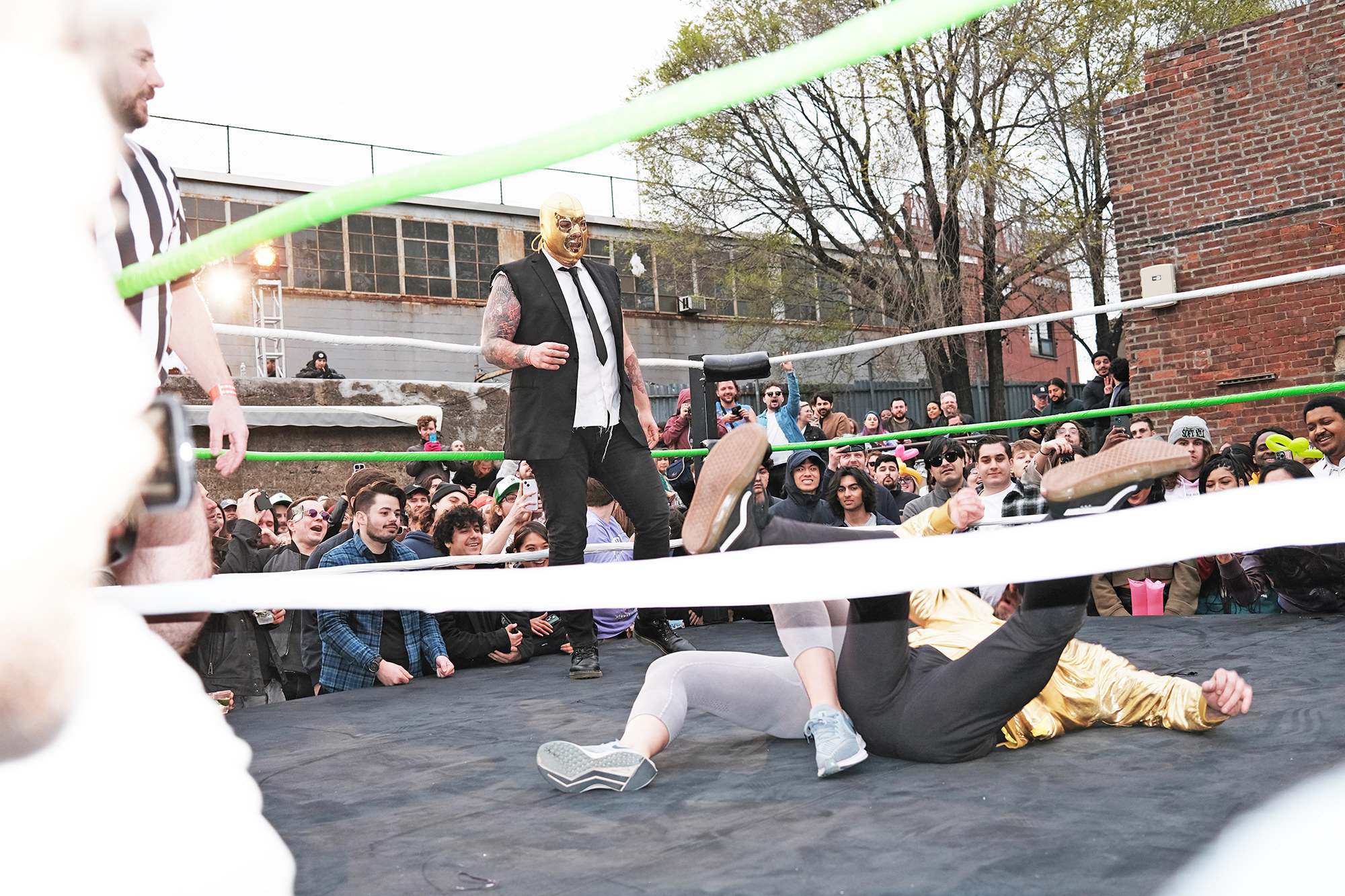 Live karaoke with Snacktime
Hailing from Philadelphia, the evening's house band Snacktime certainly kept the energy up and the party going all night. Between the show's various sets, André would reemerge onstage and take part in several live karaoke performances. Songs covered included Vanessa Carlton's "A Thousand Miles," Wild Cherry's "Play That Funky Music," Smash Mouth's "All Star," and Outkast's "Hey Ya!" At times, André would throw his wireless mic into the audience for fans to join in on the singing, and he'd hop offstage to duet with them.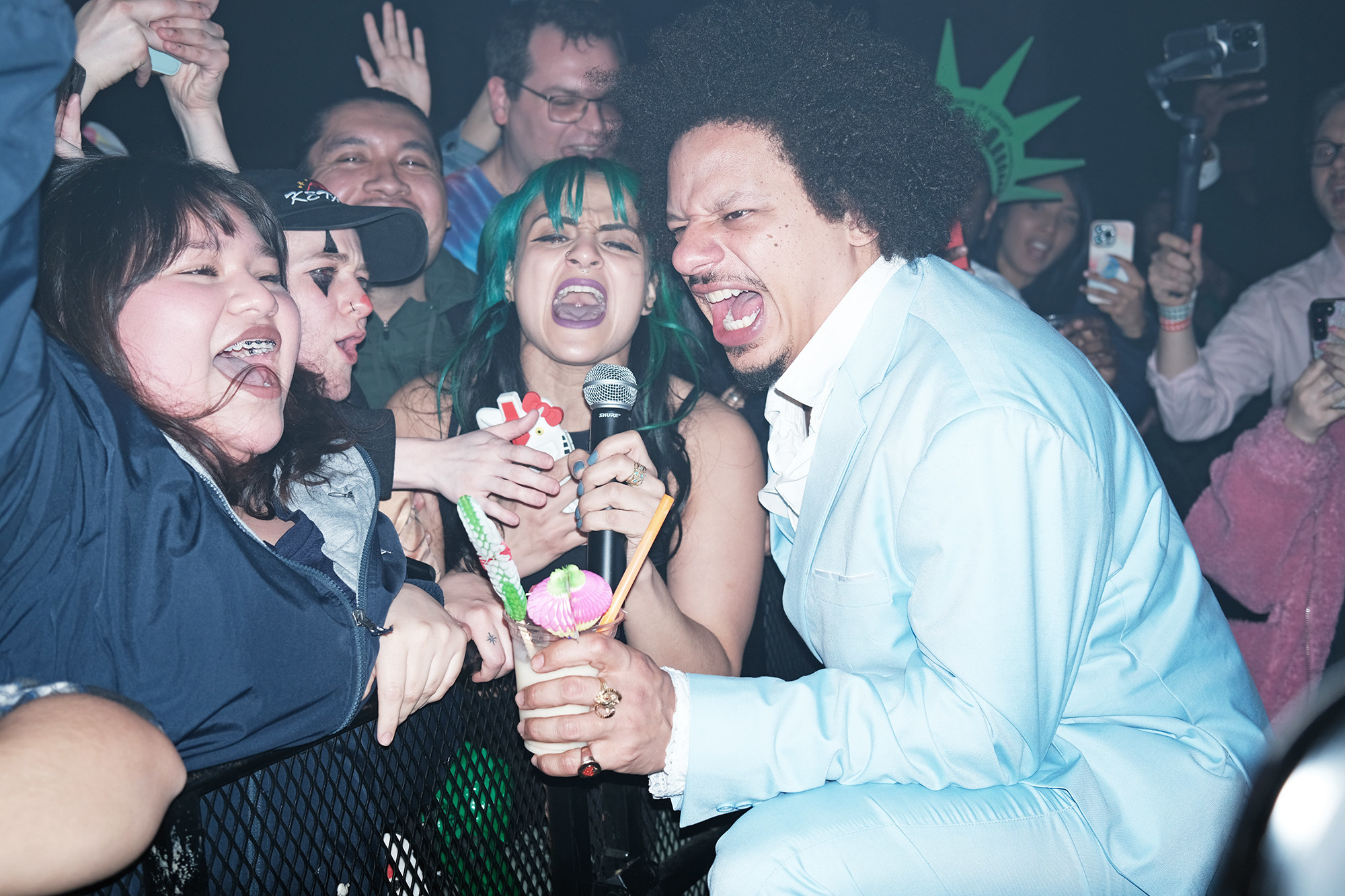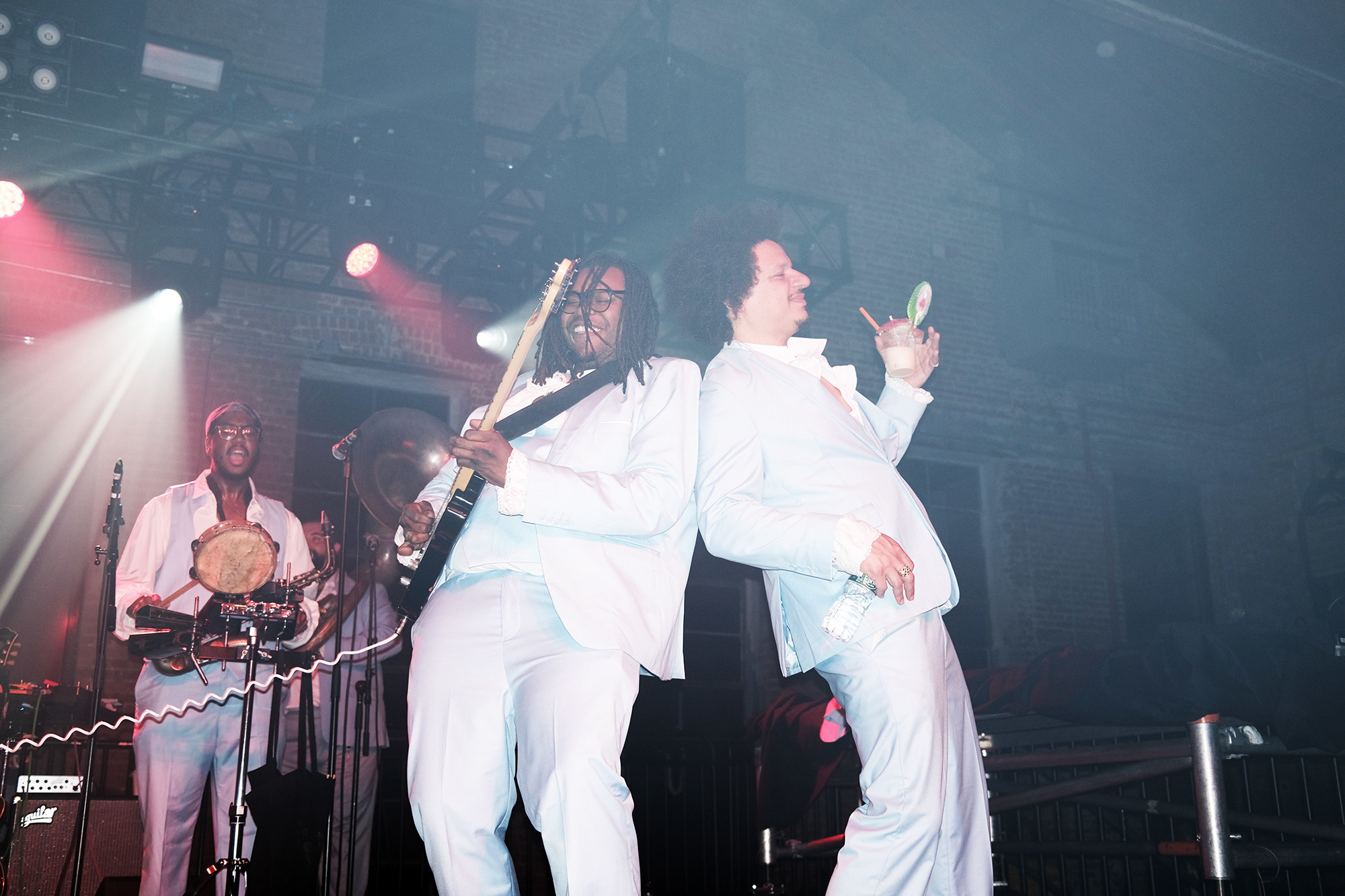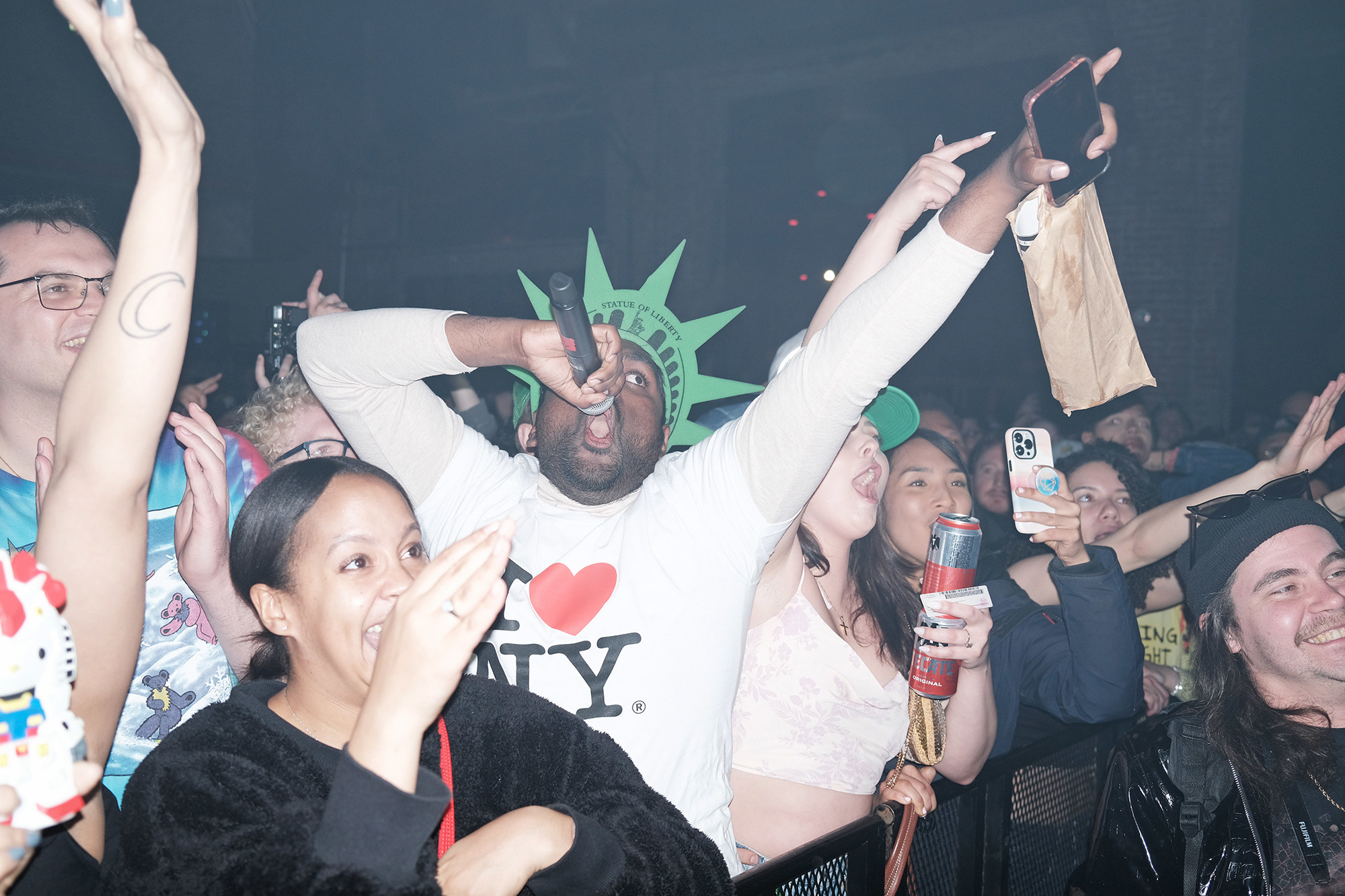 Indoor halfpipe
André, who's had decks with art created using his image, is no stranger to the skateboarding community. To honor this, a half-pipe was installed in the venue on which several skaters did tricks all evening. "The whole experience was like a movie!" said Jersey Dave, who just came to the event to skate with friends. "Best night out I've had in a long time."
Internet personality Spider Cuz tried out the half-pipe and got bodied; in other words, he immediately lost control of the board and fell off, hitting his head.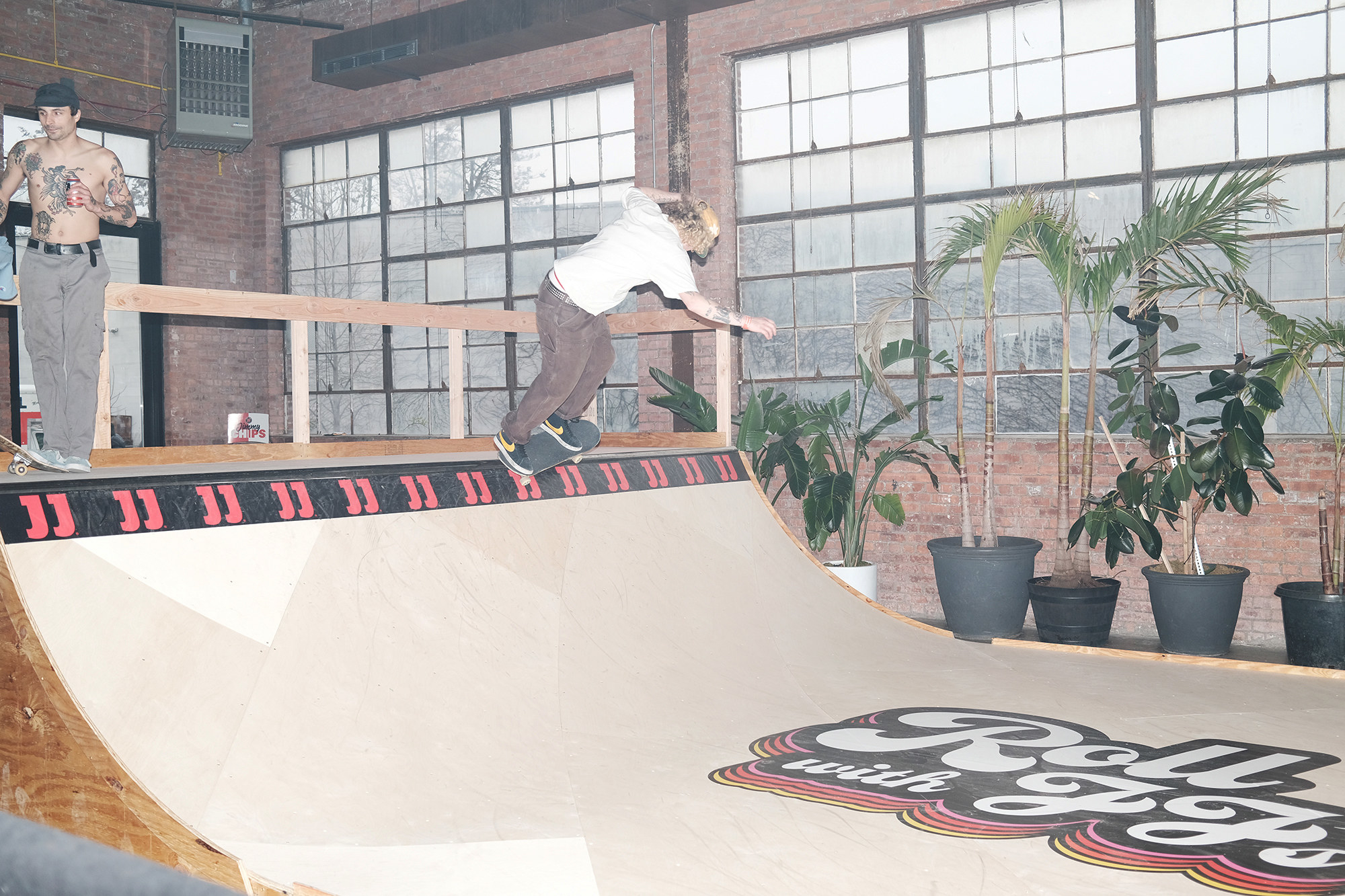 "Cocaine" and Strippers
André's birthday party of course wouldn't be his party without a group of strippers, fake money, and imitation cocaine (which was just flour). Three women dressed as strippers hung out near the coat check, behind a table that was covered in "cocaine" and piles of fake bills sporting André's portrait (the monetary value of each banknote was $69). There was even a glass booth nearby, in which one could step in and try to catch the fake money as air blew it around.
"Prince" and "George Clooney" joined Eric André onstage
Toward the end of the event's main festivities, the lights in the Knockdown Center all simultaneously turned purple, and two names were announced as coming to the stage: Prince and George Clooney. Well, it wasn't exactly the real deal, but instead two very convincing impersonators. Decked out in purple garb and sunglasses, "Prince" and the house band Snacktime performed an electric rendition of "Purple Rain" with André singing backup. Clooney's doppelgänger did a perfect job of just awkwardly standing to the side of the stage dressed in a suit, occasionally sharing the mic for the chorus. "Performing at Eric André's birthday party was like falling down the rabbit hole to Wonderland, it was epic!" Prince impersonator Arlin Padilla, who's been a tribute artist for the late musician for 15 years, told BuzzFeed News.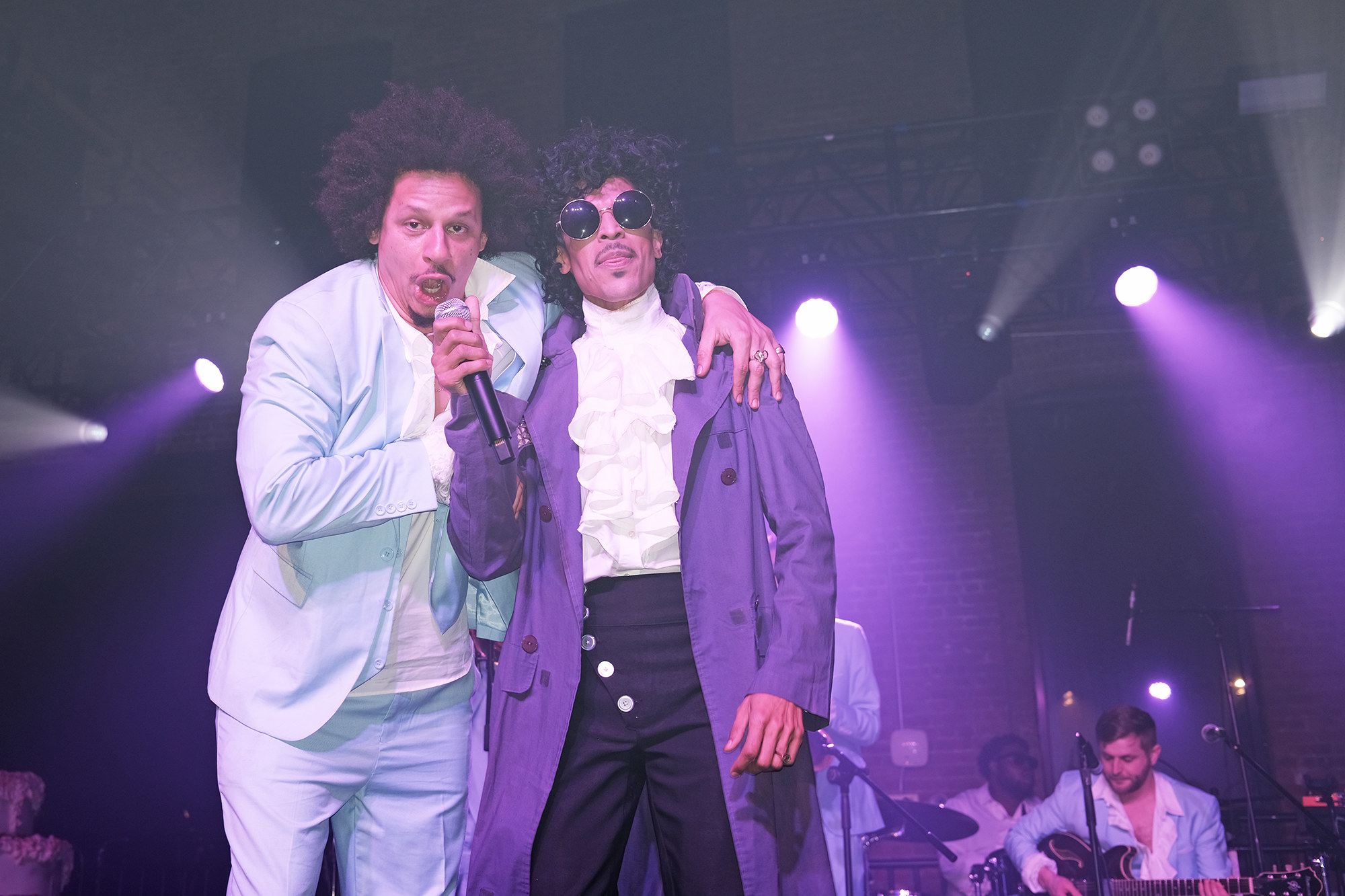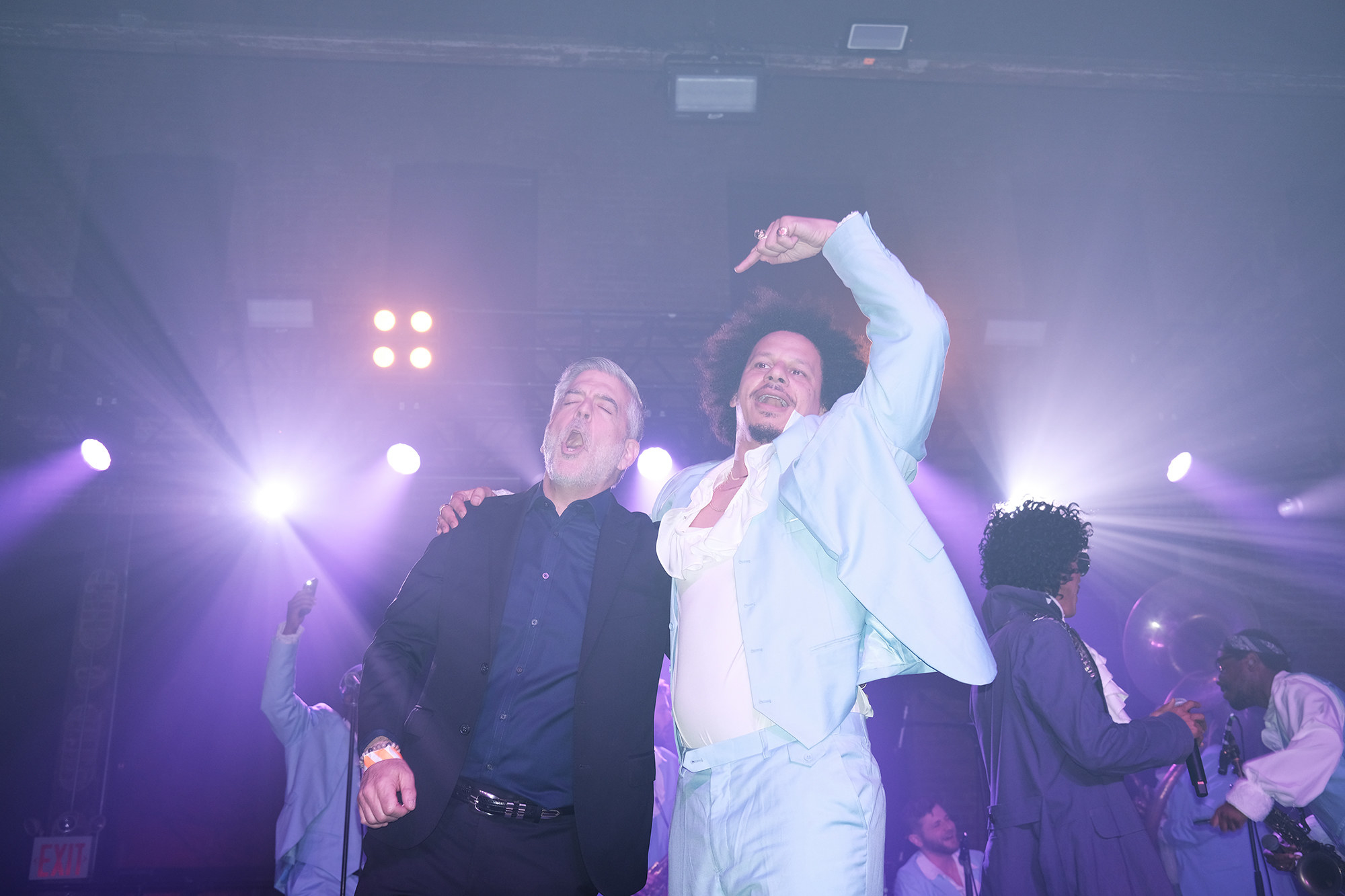 Eric André bursting out of a human-size cake
Shortly after midnight, a very large cake was wheeled onstage to a still-energized audience. Simultaneously, a piñata in André's likeness was lowered by a rope. Before you knew it, a hyped André burst out of the cake and started attacking the piñata, which was filled with confetti, cigarettes, candy, and condoms. After he was done attacking the piñata, he got on the mic to thank everyone for coming and participating in "the best birthday ever." While Snacktime played some background jams, André proceeded to get a lap dance from a stripper dressed as a clown. He grabbed one of the cigarettes off the stage, borrowed a lighter, and lit the cigarette, mouthing, "I don't even smoke!" to the audience.