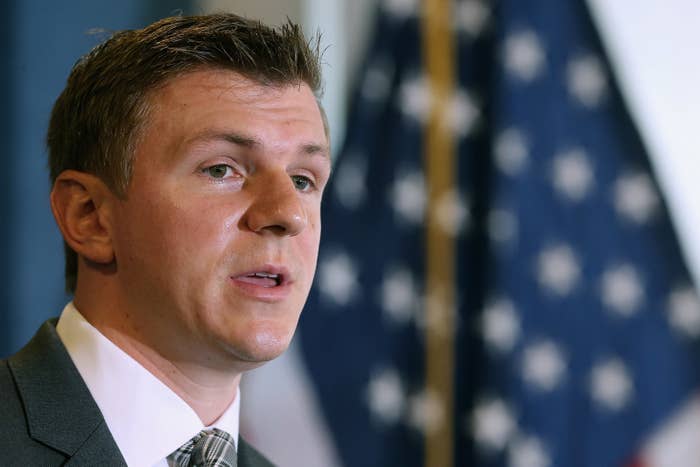 Earlier this week, the Washington Post exposed a woman who works for right-wing activists after she lied about being a sexual assault victim in an attempt to discredit journalists investigating Alabama Senate candidate Roy Moore.
Unheard from in the ensuing debate have been the people whose money makes Project Veritas, a group led by conservative activist James O'Keefe, possible. Until now, little has been known about the group's financing, beyond a donor advised fund tied to high-profile conservative donors like Charles Koch and Betsy DeVos. But BuzzFeed News has identified about $280,000 that arrived in Project Veritas's coffers from smaller donors — a tomato tycoon, a retired finance executive, an interior decorator — from all over America.
Donors to tax-exempt organizations are usually kept secret, but BuzzFeed News used Citizen Audit, a service that digitizes nonprofit financial filings, to identify additional donations between 2014 and 2016. ThinkProgress, a news site that is project of a progressive advocacy organization, identified some additional donors. It is an incomplete picture of how Project Veritas raises all its money, totaling $3.7 million in 2015, and does not include those who contribute directly to the nonprofit rather than through a foundation.
Almost half of the contributions in 2015, the most recent year available, came from an entity called Donors Trust, a fund that directs money to organizations that promoted "limited government, personal responsibility, and free enterprise." Donors Trust, which is not required to disclose where its contributions come from, has been tied in the past to powerful conservative interests. President Donald Trump's personal foundation also donated $20,000 to Project Veritas in 2015.
When BuzzFeed News reached out to smaller donors, it found that many still support Project Veritas after the Washington Post reported on Monday that a woman who appears to work with the organization posed as a sexual assault victim in an attempt to trick journalists.
Some donors said they had their doubts about the Post's account — even though some of the encounter was captured on video and O'Keefe sent a letter to donors about the effort.
Garnet Giles, who has a home health care agency in Hawaii, said: "I don't have a lot of confidence in what the Washington Post writes." He also wasn't sure whether he would even have a problem if the story was accurate. He said and his wife would weigh the evidence and come to a conclusion at a later date. He berated a reporter for publishing any information about his donation. "That's biased," he said.
"I don't think that was one of Jimmy's brighter ideas," said Robert Morris, who runs Old Stones Foundation based in Connecticut, but he said he plans to continue supporting Project Veritas. He estimated he's donated about $22,000 over the past few years.
Some said the recent operation had given them pause.

Chris Rufer, a tomato tycoon who lives in California, funds the Foundation for Harmony and Prosperity, which seeks to "persuade people to act, in all aspects of their lives, in concert with social principles that advance Human Happiness, Harmony and Prosperity." Through the foundation, Rufer has donated at least $12,000 to Project Veritas in recent years.
Rufer said he hadn't read the Washington Post story but "wouldn't think that pretending to be a victim and defaming another person would be good."
"Being a woman, I am very concerned about anything that seems to expose but not be the truth about abuse against women," said Barbera Thornhill, president of the Hale Thornhill Foundation. Thornhill, who works in commercial design and lives in Los Angeles, said she began supporting the organization after it released videos that exposed problems with immigration enforcement.
Jerry Roland, a retired CFO who lives in New Jersey, said he donates to Project Veritas because it is "uncovering dishonesty and the things the media won't say." He did not respond after a reporter emailed him a copy of the Post's report.
William Frick, who lives in Florida, said he donates because Project Veritas "exposes the welfare state." He said he found it hard to believe the Post's account, and there are always "three sides to a story." But he added that "if they sent a woman in who said she was sexually assaulted and she wasn't, that wouldn't be right."
O'Keefe, the founder of Project Veritas, first gained national attention for video recordings he made of employees of ACORN, a liberal organizing group, purportedly discussing illegal activities. In 2010, he was sued over the videos, apologized for the series and paid a $100,000 settlement.
After BuzzFeed News reached out to Project Veritas for comment, O'Keefe tweeted that a donor was going to give an additional $25,000 after "hearing we upset Buzzfeed … We'll call the new hire the 'Kendall Taggart' undercover fellow at @Project_Veritas."