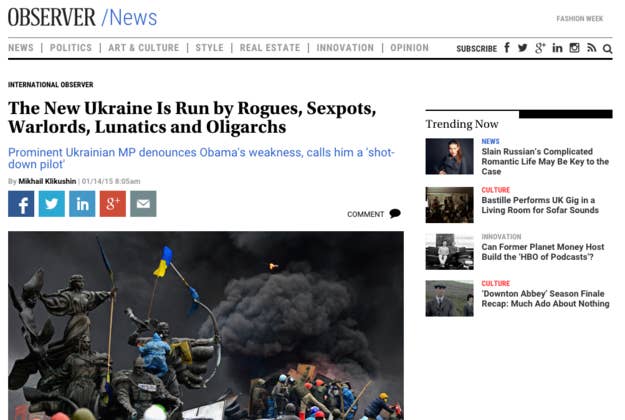 A New York Observer writer who has written several pieces that fall in line with Russian government propaganda refused to answer questions about his work when approached by a BuzzFeed News reporter at his house in New Jersey.

The Observer, which is owned by Donald Trump's son-in-law and close advisor, Jared Kushner, has stood by the articles written by Mikhail Klikushin, but labeled them 'Opinion' after a BuzzFeed News story raised questions in March of last year.

Klikushin's lack of an online presence and his name, unusual in Russian, has raised eyebrows. He received a graduate degree in Russian history before emigrating to the United States, according to his bio on the Observer's site, and has written more than 50 articles for the outlet since November 2014. But beyond the Observer, he has almost no other presence online or in public records.

BuzzFeed News tracked him down at his home in late July to ask about the sources for questionable claims in his articles and who funds his work. We found a man matching his photo on the Observer's site, but when a BuzzFeed reporter identified herself, he quickly tried to close the door. He accepted a note through a crack, but never got in touch to provide additional information.
One of Klikushin's stories blamed the murder of opposition leader Boris Nemtsov on his love life, a line floated by Kremlin-owned Russia Today as well as Life News, an outlet with very close ties to Russia's security services. Other articles he has written target Kremlin's foes, including former State Department spokesperson Jen Psaki and former Georgian President Mikheil Saakashvili.
The Observer has faced allegations that it is biased for publishing stories and taking positions that could help the owner's father-in-law, Donald Trump.
Ken Kurson, editor-in-chief of the Observer, previously denied those allegations and has stood by Klikushin's stories. Last year, he told BuzzFeed News that he edited several of them himself. He also said the writer was a paid contributor, but when asked about Klikushin last month and again on Tuesday, Kurson said he was unpaid.
Ben Smith and Miriam Elder contributed reporting.