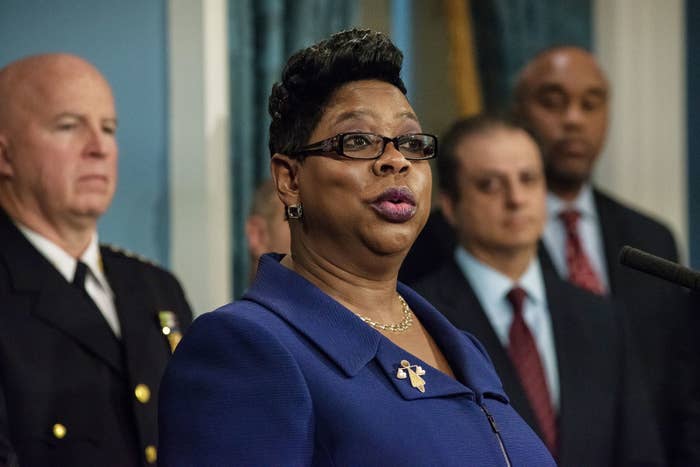 The Bronx district attorney's office will not say whether it was aware Lt. Paul Gaglio, an NYPD officer, has been accused of lying under oath or what if any impact that may have on criminal cases he was involved in.
Surveillance footage from a local business shows the lieutenant forcing an 11-year-old girl to the ground in 2015, BuzzFeed News reported on Monday. In a sworn affidavit, he said the two of them had slipped on ice.
An independent police oversight agency investigated the case and determined that Gaglio should be brought up on disciplinary charges for excessive force, BuzzFeed News learned after reviewing confidential NYPD documents. The investigators also raised concerns that in describing the incident, Gaglio had lied, a violation of department rules that, absent exceptional circumstances, is supposed to result in firing.
But Gaglio wasn't fired. In August 2016, then-commissioner Bill Bratton shut down the disciplinary hearing and determined Gaglio should face no penalty whatsoever. He now helps to patrol Yankee Stadium.
False accusations from an officer can send an innocent person to prison. To ensure that doesn't happen, officers are supposed to be held to a high standard. Prosecutors are legally obligated to hand over evidence that might exonerate a defendant, such as information that could cast doubt on the officer's credibility.
But it's unclear whether the Bronx district attorney's office has provided defendants with information about the allegations against Gaglio in any past cases he was involved in, or if it plans to do so in the future. A spokesperson for District Attorney Darcel Clark declined to comment in response to several questions from BuzzFeed News.
Following the publication of the BuzzFeed News investigation, defense lawyers expressed outrage that Gaglio had been allowed to stay on the force and that the department's interpretation of state law makes it difficult to get access to officers' disciplinary records.

"It's unconscionable and unsafe for the community that Lt. Paul Gaglio still walks the beat, and even more appalling that the NYPD continues to shield him and all the others who behave just like him from any deserved punishment," said Anthony Posada, supervising attorney of the Community Justice Unit at the Legal Aid Society. "Lt. Gaglio's use of violence and misconduct is another example on a laundry list underscoring the culture of impunity that exists at the NYPD."
Phil Walzak, an NYPD spokesperson, said the department determined the officer had not used excessive force or lied under oath, after reviewing the video and other statements. He also pointed out that Police Commissioner James O'Neill, who took charge in September 2016, announced the creation of an independent panel of federal prosecutors to scrutinize the disciplinary process. "A lot of the issues that have been raised in the public dialogue on discipline are being addressed in the panel's work," said Walzak.
On Facebook, Gaglio has shared anti-gay memes, images denigrating Islam, and posts demeaning black people. (The posts were deleted after BuzzFeed News inquired about them and have prompted an NYPD investigation.)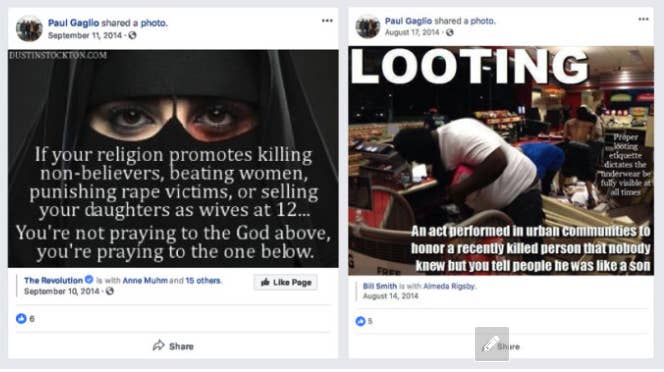 NYC Council Speaker Corey Johnson said he found the case "deeply troubling" and added, "It goes to the heart of why I have always called for more transparency in the NYPD disciplinary process."
"These stories are part of the reason why we called for an in-depth independent investigation with unfettered access to the police discipline records," Donovan Richards, chair of the New York City Council's Public Safety Committee, wrote in a statement to BuzzFeed News. "We are looking forward to the release of the Blue Ribbon panel report with recommendations and we hope to see a thorough response by Commissioner O'Neill that includes rooting out any officers who allow racism and homophobia to impact their responsibility to protect and serve all New Yorkers."
State lawmakers have also introduced legislation that would give the public greater access to police misconduct records, although their efforts stalled in the last session. "I don't think the NYPD has a long or consistent history of sufficiently disciplining its officers," said Dan Quart, a state assemblymember and criminal defense attorney who has pushed to ensure public access to police body-camera footage. "There has to be an adverse outcome for an officer who lies."
Advocates also called for the department and state lawmakers to increase transparency around how officers are disciplined.
"The legitimacy of the NYPD's disciplinary system is completely undermined by the secrecy that surrounds it," said Chris Dunn, an associate legal director with the New York Civil Liberties Union. "Accountability is impossible when the public is kept in the dark about officers who use excessive force, lie in court, or otherwise abuse their power."
Mark Winston Griffith, a spokesperson for Communities United for Police Reform, an alliance of activist groups, also weighed in: "All New Yorkers should be horrified by what NYPD Lt. Paul Gaglio has done. Gaglio joins a growing list of NYPD officers who have faced zero disciplinary consequences for police misconduct and harmful actions against New Yorkers who are simply trying to live their lives."