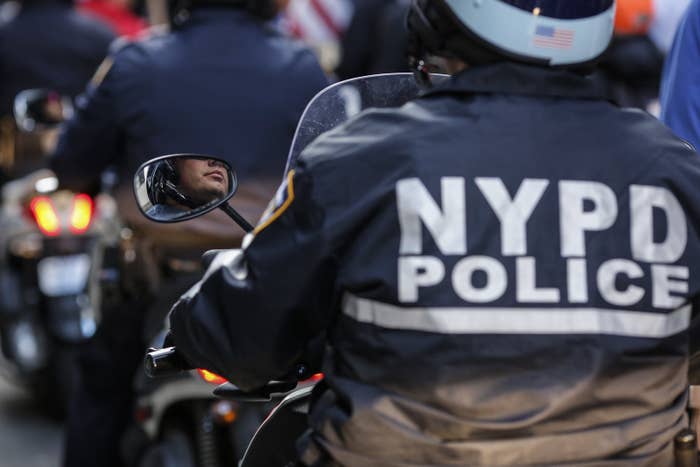 In a major policy shift, the NYPD announced Wednesday it planned to begin releasing bare-bones reports of police misconduct, but its lawyers maintained it is unable to provide the public with more detailed disciplinary information due to state secrecy laws.
The basic reports will summarize, in brief, the misconduct cases, but will not include officers' names, police told the New York Daily News.
At a court hearing Wednesday, the NYPD argued that while the mayor and other city officials would like to provide the public with more information, their hands are tied by state law.
The secrecy law in question, Civil Rights Law Section 50-a, "does not adequately address the public interest in transparency and accountability for those in positions of public trust. But the remedy for that problem is in the Legislature, not the courts," lawyers for the NYPD wrote in a court filing.
The lack of transparency about how the NYPD disciplines its officers has been a subject of intense public scrutiny for Commissioner James O'Neill and Mayor Bill de Blasio in recent weeks. It comes after BuzzFeed News published an investigation earlier this month that found hundreds of officers who committed the most serious offenses — from lying to grand juries to assaulting innocent people — had been allowed to stay on the force. The investigation was based on a cache of internal disciplinary records that currently remain secret under the NYPD's interpretation of state law. They were provided to BuzzFeed News by a source who requested anonymity.
The current legal fight in state appeals court began in May 2016 after the Legal Aid Society, the largest public defender organization in the country, requested copies of documents that for decades hung on a clipboard at the NYPD's press office. The records, known as "personnel orders," explained the outcomes of disciplinary trials as well as the names of officers who had been transferred to new assignments.
But after the Legal Aid request, the clipboards suddenly disappeared.
The NYPD, which initially claimed it was saving paper, now says making the disciplinary findings available even to that limited degree would be a violation of the 1976 law. Legal Aid sued the department for the records' release.
In June 2017, a lower court judge ruled that the department had properly kept the records secret as the state law requires.
In its appeal, Legal Aid argued Wednesday that, while they do not believe the records can legally be kept secret, there is nothing that prohibits the department from voluntarily releasing these records, even if they aren't required to release them under state law. The department disagreed.
The appeals court will make a decision on the case in the coming months.
In addition to the legal fight, state legislators are considering changes to the state secrecy law, with two bills currently pending: one bill that would modify the law around police personnel records and another bill that would repeal it.