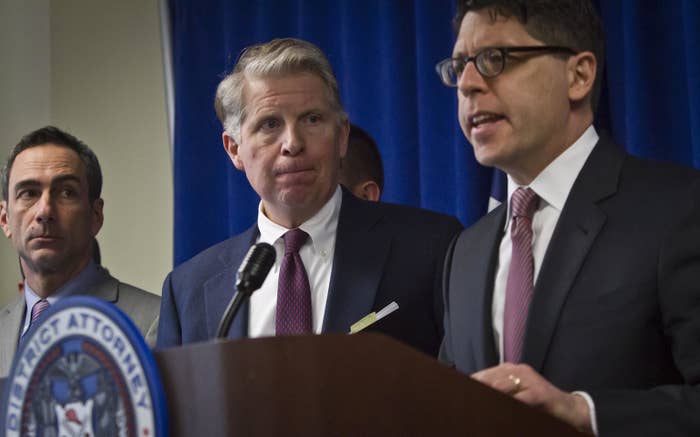 A report exposing how New York City police officers escaped punishment after they were accused of lying in official statements was killed by the city's Department of Investigation, multiple current and former employees of the office said.
Giving false evidence is a serious offense that, barring exceptional circumstances, is supposed to result in termination. But the report described how some officers escaped serious punishment for lying during investigations into their conduct, sources said. In one excerpt reviewed by BuzzFeed News, an officer was found to have lied about using force when arresting a man who later died in police custody, but the officer faced no disciplinary action.
A BuzzFeed News investigation published earlier this year found dozens of officers were kept on the force despite making misleading or inaccurate statements in official records to grand juries, district attorneys, or internal affairs investigators.
The inspector general investigation into a similar topic was quashed without explanation in 2016 after staff had worked on it for months. The official who shelved it, the former Department of Investigation head Mark Peters, was in the news earlier this month after he was abruptly fired by Mayor Bill de Blasio for overstepping his authority and trying to take over an agency overseeing the public schools. Peters accused de Blasio of getting rid of him because he was aggressively releasing damning reports that exposed problems at the NYPD and other city agencies.
Current and former employees of the agency that Peters headed said he frequently involved himself in the work of the NYPD inspector general's office, which is within the Department of Investigation. The inspector general's office was created by the city council in 2014 to monitor police practices and ensure the NYPD respects civil rights. Though it was intended to operate with wide latitude, the Department of Investigation has control over what it is allowed to investigate, whether it can issue subpoenas for police records, and its budget.
In addition to shelving the report about officers' lying, Peters — according to staff — tried to control the inspector general's public communications. They also said they were discouraged from scrutinizing the NYPD's use of a controversial gang database, despite repeated requests from advocates and city council members that they look into it.
In an interview Sunday, Peters declined to discuss his oversight of the NYPD inspector general. "It's not appropriate for me to comment on DOI investigations," he said.
The Department of Investigations and the mayor's office declined to comment.
A city council committee will hold a hearing this afternoon on whether to confirm the mayor's choice to replace Peters, Margaret Garnett, currently the executive deputy New York attorney general for criminal justice. Some council members said they plan to question her about how she would oversee the NYPD inspector general.
"We need an independent office that can do police oversight work even when it's hard," said Brad Lander, one of the New York City council members responsible for the creation of the inspector general's office. He said he plans to ask the nominee about both the report and the gang database, as well as how she will ensure the "standing, integrity, and resources of that office going forward."
Under Peters' watch, the NYPD inspector general's office, headed by long-time police oversight expert Phil Eure, published several explosive reports. One found that the NYPD had routinely understaffed its Special Victims Division, compromising sexual assault investigations. Another revealed the department was underreporting use of force by its officers. Both reports were vehemently disputed by the NYPD, though it announced changes in their wake.
Peters also repeatedly clashed with Mayor de Blasio, culminating in Peters' firing on Nov. 16. An outside investigation into Peters' attempt to take control of monitoring the city's public schools found that he abused his authority, was "cavalier with the truth," and made "a false and menacing statement" in an attempt to "cow a subordinate into submission." Peters said he only meant to strengthen oversight of city schools, though he recognized in retrospect that some of his statements and actions were "imprudent."
Amid the controversy over his firing, Peters' management of the NYPD inspector general's office has received little attention.
Former and current staff said they were troubled by the decision to shut down the report about whether the department adequately punishes officers for false statements. They were not given a reason the report was killed in 2016, and since it was shelved, no reports on the topic have been published, despite public calls from advocates and public defenders for the inspector general to look into whether the department effectively disciplines cops who lie.
In the case study reviewed by BuzzFeed News, department prosecutors overruled internal affairs investigations who recommended the officer be brought up on disciplinary charges and potentially face termination. But prosecutors declined to take action, saying that putting the officer on trial could not happen unless they could prove that the officer had "an intent to deceive an investigative body."
The NYPD declined to comment for this story, but an official had previously said the department takes action to fire officers when necessary. But it "is not interested in terminating officers that don't need to be terminated. We're interested in keeping employees and making our employees obey the rules and do the right thing," he said.