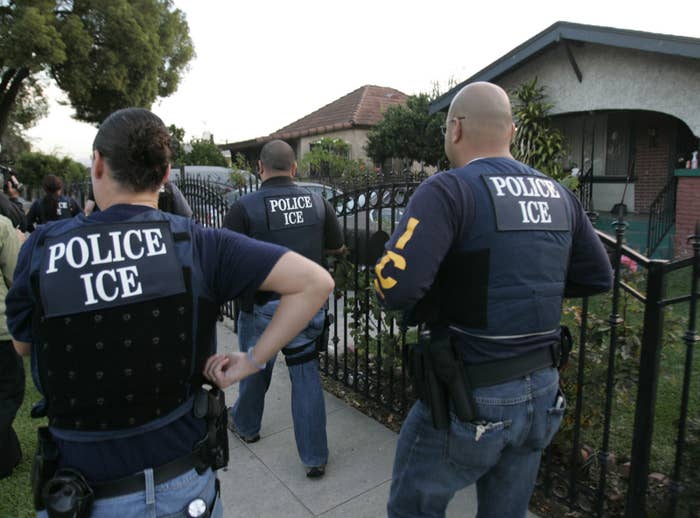 After a campaign in which Donald Trump promised to end illegal immigration, his victory over Hillary Clinton sent waves of optimism through the ranks of the federal Immigration and Customs Enforcement agency this week.
"A collective sigh of relief was breathed Wednesday morning," said one deportation officer based in Texas who, like others reached by BuzzFeed News, requested anonymity because they were not permitted to speak to reporters.
Another deportation officer working on the southern border said he hopes Trump will end the "catch-and-release" approach. Right now "I feel like I'm not even working for immigration, I feel like I'm working for a travel agency," he said. "Welcome to America, here's your bus ticket, now go on your way."

"I signed up thinking I was going to enforce immigration laws," he continued. "Hopefully he is going to fix that."
The Immigration and Customs Enforcement union, which says it represents 5,000 federal immigration officers, endorsed Donald Trump in late September, the first time it has ever weighed in on a presidential election.
The union did not respond to requests for comment, but a previous statement posted on Trump's website said:
"Our officers come into daily contact with many of the most dangerous people in the world — cartel members, gang members, weapons traffickers, murder suspects, drug dealers, suspects of violent assault — yet ICE Officers are unable to arrest or are forced to release many of the most dangerous back into U.S. communities due to unscrupulous political agendas and corrupt leaders. The unconstitutional executive orders of President Obama, embraced by Hillary Clinton, have forced our officers to violate their oaths to uphold the law and placed every person living in America at risk — including increased risk of terrorism.
Trump promised voters he would take an aggressive stance against illegal immigration by constructing a wall on the southern border, which he said Mexico would pay for, and by "removing the more than two million criminal illegal immigrants from the country."
Latino and immigrant leaders have vowed to fight those policies.

Of the dozens of officers BuzzFeed News reached out to, five agreed to be interviewed. Most of them said they hope Trump will immediately repeal an executive action signed by Obama in 2014 that prioritized the deportation of convicted criminals.
It makes no sense to describe only some undocumented immigrants as criminals, said the Texas deportation officer, since everyone who crosses the border without permission is violating the law. "Illegal immigration is not a victimless crime," he said. "What about all the others lowering the quality of life for communities they live in, devaluing housing, lowering education?"
Two other officers, however, said that the focus on "the worst of the worst" makes sense.
"Border patrol agents are human," said a second detention officer based in Texas. "It starts to weigh on you when you see family units and stories of people who want to come here and want to make good."
Some officers hoped Trump would increase enforcement in the nation's interior, not just on the borders, and crack down on the asylum and refugee process. "I think our system is being gamed," said one deportation officer in the Oregon area.
Another, who has worked in the department during three different presidential administrations, said he was skeptical about any politician's promises. More than anything else, he said he hopes whoever is brought in to run the agency will ask people on the ground what needs to happen.
"There are a lot of people within border patrol that have really good ideas and solutions to the problem," he said. "In 20 years though I've never been asked, 'hey what do you think?'"