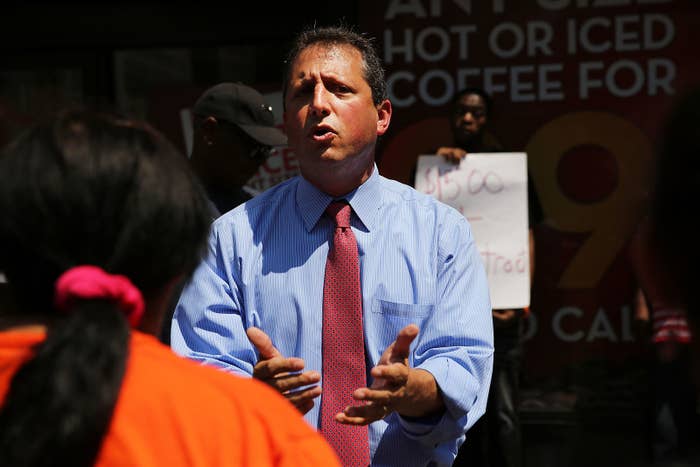 New York City Council members Monday bluntly told the nominee to run the agency responsible for rooting out corruption in city government that the office must be more transparent with the council about its work, particularly when it comes to overseeing the NYPD.
Several council members also pointed to a BuzzFeed News story, published Monday morning, that reported that the former head of the agency, Mark Peters, had shelved a report exposing how police officers escaped punishment after they were accused of lying in official statements. Peters declined to comment.
Margaret Garnett, who is currently the executive deputy New York attorney general for criminal justice, was nominated by Mayor Bill de Blasio to serve as the next commissioner of the Department of Investigation. The appointment requires council approval, and while Garnett is expected to be confirmed to the post, many council members took the opportunity to stress that they want independence and resources for the NYPD Inspector General, which is housed within the Department of Investigation. They also said they want more communication on problems the department is uncovering.
"The council has a right to know. We have an oversight function over city agencies and I see it as the role of DOI to ensure we have enough information," said council member Ritchie Torres, chair of the committee on oversight and investigations. He added that "the greatest fear I have" is that "there are investigations that are undertaken, but that neither the public or the city council will ever know what the results of those investigations were."
Council member Adrienne Adams said she found Peters' decision to shelve the report about officers accused of making false statements "baffling" and "extremely disturbing." She asked how Garnett would protect the Office of NYPD Inspector General.
Garnett said she needed more information, but shared the council member's concerns. If confirmed, she said, one of her first tasks will be to meet with the NYPD Inspector General, Phil Eure, about ways he may have been constrained.
"For me the only relevant standard for the issuance of DOI reports is: 'Are they truthful?' and 'Do they meet the highest professional standards?' I don't think other considerations are relevant to that decision," she said.
Brad Lander, one of the council members responsible for the legislation that created the police oversight body in 2014, noted that the office has published numerous hard-hitting reports in just five years. But he added that he's concerned that the office has not yet written anything on false statements or a controversial gang database. Both he and City Council Speaker Corey Johnson asked Garnett to take up the topics.
Lander also referenced allegations made by Peters that the NYPD had refused to produce documents and directed witnesses not to appear for interviews with his agency. He asked Garnett what she would do if department officials refused to cooperate.
She answered that "all agencies, including the NYPD, have an obligation to cooperate with DOI's investigations and a failure to do so or act with obstruction and resistance is really a dereliction of the public's trust and confidence in those leaders."
Near the end of his questions for the nominee, Lander made Garnett promise to read BuzzFeed News' previous investigation into the NYPD disciplinary system, which found dozens of officers were kept on the force despite making misleading or inaccurate statements in official records to grand juries, district attorneys, or internal affairs investigators. She pledged to do so.
Garnett appeared to have strong support from the city council members present and is likely to be confirmed for the position, possibly as early as Wednesday.