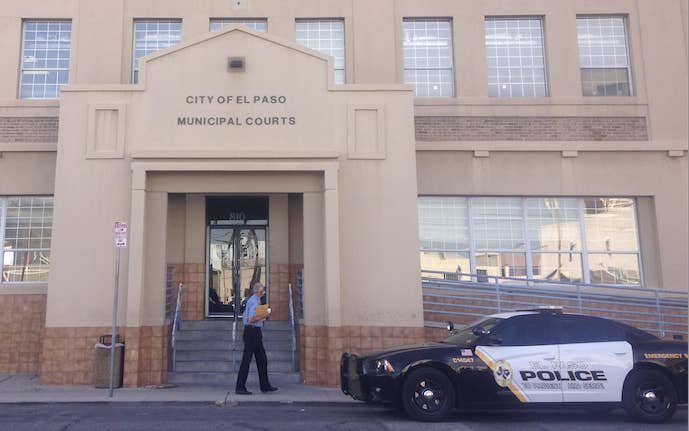 The El Paso City Council today moved today to curb the practice of routinely locking people up for unpaid traffic fines without first assessing whether they can afford to pay them.
The move comes in response to a BuzzFeed News investigation that found city judges were illegally jailing people for their traffic tickets, causing some to lose jobs and suffer other economic harm.
In a unanimous vote, the council moved to require the municipal court to report monthly on the number of people who were jailed for traffic offenses and to provide proof that judges had conducted required financial assessments before locking them up.
In addition, city staff will post more information about defendants' rights and change the court's hours of operations to make it easier for people to get to their court hearings without having to take off work or school. They will also translate more court notices into Spanish.
Texas law and two unanimous U.S. Supreme Court decisions bar courts from jailing people simply because they are too poor to pay their fines. But BuzzFeed News found that, with no public defenders present, traffic court judges in El Paso and elsewhere around the state routinely flouted the law, locking up people for days, weeks, and sometimes even months because they did not pay fines they could not afford.
BuzzFeed News reviewed 100 of the court's case files for people jailed for at least five days in 2014. Not a single one indicated that the judge had considered — or even inquired about — the defendant's ability to pay before locking them up.
In response to the story, Councilwoman Claudia Ordaz brought the matter before the council in October, asking city staff to review the practices of the municipal court and report back within 90 days.
"I genuinely think this is going to make a difference," Ordaz said, adding that she was "really upset" to read about how El Paso was jailing people who were too poor to pay.
As the issue has gained attention in the city, more people seem to be becoming aware of their rights. Richarda Momsen, the municipal clerk, said at the hearing that the number of people asking for community service instead of jail has doubled in the recent weeks.
Also in recent weeks, Texas Appleseed, a nonprofit legal group based in Austin, sent 1,000 letters to people with outstanding warrants, directing them to workshops offered by the local Legal Aid organization to help educate people on how to get their warrants recalled, or get on a payment plan or do community service.
Advocates have also criticized the city for requiring people to pay 25% of what they owe up front before they get on a payment plan — which they said was "completely impossible for many lower-income individuals." To date, the city has not lowered the up-front payment requirement, according to the court's website.
Daniel Robledo, the presiding judge of the municipal court, did not immediately respond to a request for comment, but previously said he did not believe he was always required to assess a person's ability to pay, though if someone acts responsibly and shows up to court, he's more understanding.
When informed that Texas law says the opposite, Robledo said, "That's a good point. That's a very good point."

UPDATE:
After the story was originally published, Robledo emailed the following statement: "The Judges, staff and personnel for the Municipal Courts, for the City of El Paso, Texas, have always striven to make sure that all legal procedures and principals [sic], provided under our Constitution, are firmly in place to provide Justice and Equality to anyone who has cases before these Courts."