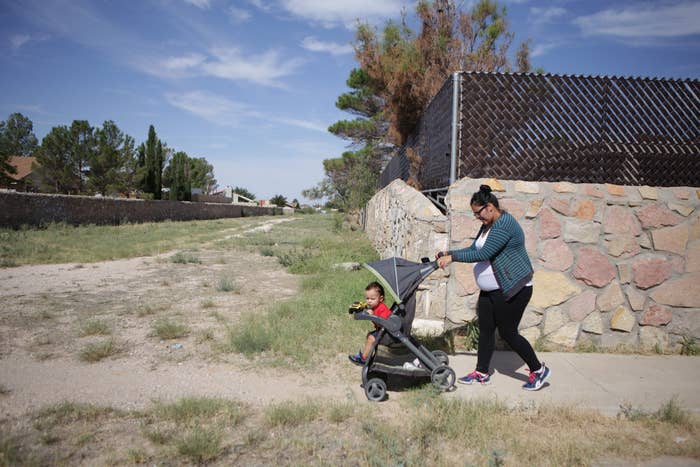 The city of El Paso continues to violate the rights of people who cannot afford low-level fines, even after a BuzzFeed News investigation exposed major issues last fall, according to a lawsuit filed today.
In a federal complaint, the Texas Civil Rights Project alleges that El Paso officials have "exhibited deliberate indifference to correcting these known constitutional failings by refusing to make any effort at real reform."
The lawsuit centers on a city policy, adopted in 2006, that requires people with outstanding fines to make a 25% down payment before they can get on a payment plan. For people with multiple tickets, that can easily amount to hundreds of dollars. The court's website now says that if a defendant cannot afford the down payment, the court is authorized to accept less. But televisions in the courtroom and the payment plan application still say 25% payment is required, a lawyer for the plaintiffs said.
Prompted by the BuzzFeed News investigation, lawyers from the Texas Civil Rights Project began looking at El Paso's practices and concluded that the reforms that officials proposed in January were inadequate. "The city has not gone near far enough to address the problems," said Brian Jacobi, a lawyer at the advocacy organization, which is based in Austin. "This is an issue of fundamental fairness for poor Texans."
The two plaintiffs in the suit, Carina Canaan and Levi Lane, were profiled in the BuzzFeed News investigation that found El Paso municipal court judges had routinely jailed people for unpaid traffic tickets. State law and two U.S. Supreme Court decisions bar courts from jailing people simply because they are too poor to pay their fines. Judges must first assess whether defendants have the money to pay, and if they do not, judges must offer them the chance to perform community service instead.
Canaan has never earned more than $8 an hour, according to the lawsuit. She started driving to school before she was old enough to have a license and quickly racked up $3,000 in tickets. She spent 10 days locked up to pay them off, while pregnant with her first child, but still owes additional fees that make it impossible to get her license.
Lane could not afford to keep his car insured and registered, but he said he had no choice but to keep driving: Public transportation shut down before his shift at a pet food factory ended. He racked up five tickets, totalling more than $3,400 in penalties, and was finally arrested. He could have avoided jail time if he had paid the fines on the spot, but he made only $8 an hour and had outstanding student loan debt. He was sentenced to three weeks in jail, during which he lost his job.
The lawsuit seeks an order prohibiting the city from jailing people who are unable to pay as well as compensation for people who have previously been jailed under those circumstances.
The city of El Paso did not immediately respond to a request for comment.
Though it is El Paso judges who impose the jail sentence, El Paso's city council created the 25% down payment requirement. In an interview last year, presiding Judge Daniel Robledo told BuzzFeed News he did not support it. "I think that's wrong," he said. "In fact anybody that goes out there, anybody that's in my court, to me there's no such thing as 25%."