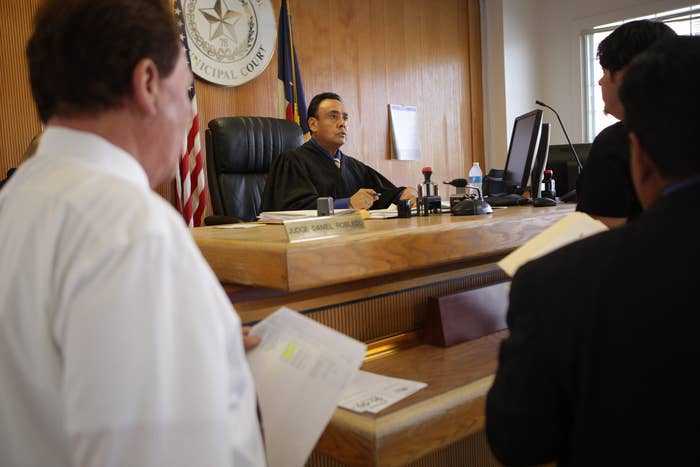 The city of El Paso must stop committing widespread constitutional violations when jailing people for traffic fines, a group of legal advocates demanded Friday.
The practice was exposed in a recent BuzzFeed News investigation that found El Paso city judges routinely flout the law, locking people up for days and weeks for unpaid fines without considering their ability to pay. Many of those locked up said they couldn't afford their debts.
"Aside from being inhumane and illegal, incarcerating indigent El Pasoans for not paying fines is wasteful and counterproductive," the advocates said in a letter to the council on Friday signed by representatives from four separate organizations: the American Civil Liberties Union of Texas, Texas Appleseed, the Civil Rights Clinic at the University of Texas School of Law, and the Texas Fair Defense Project.
In addition to multiple unanimous Supreme Court rulings, Texas state law explicitly requires that before locking people up for unpaid fines, judges must look into their finances and offer them community service if they're too poor to pay. The BuzzFeed News investigation found that judges in El Paso and elsewhere around the state often failed to do so. Reporters reviewed 100 case files from El Paso's court of people who had been locked up for five days or more; none showed any evidence that judges had considered whether the defendants were too poor to pay.
In their letter, the advocates noted that a "flurry of lawsuits" have been filed against other courts around the country for similar violations and suggested ways that the court can better protect people's rights. "Other jurisdictions, in response to research uncovering similar practices, have voluntarily reformed their debt collection practices," the letter said.
Advocates also criticized the city's practice of requiring people to pay 25% of what they owe up front before they can get on a payment plan — which they said was "completely impossible for many lower-income individuals," the advocates wrote.
The El Paso City Council was already set to discuss court practices at a meeting next Tuesday. "This is something that we really need to look into," Rep. Claudia Ordaz told BuzzFeed News. Ordaz put the issue on the council agenda after reading the article.
El Paso Mayor Oscar Leeser and Municipal Court Presiding Judge Daniel Robledo did not immediately respond to messages seeking comment sent late Friday afternoon. Earlier, Robledo told BuzzFeed News that he tried to offer people alternatives when they showed up to court, but refused to do so if they missed their court hearings. Informed that this is contrary to Texas law, he replied, "That's a very good point."
If you have a story about being jailed for unpaid fines, please contact the reporters at the addresses below.