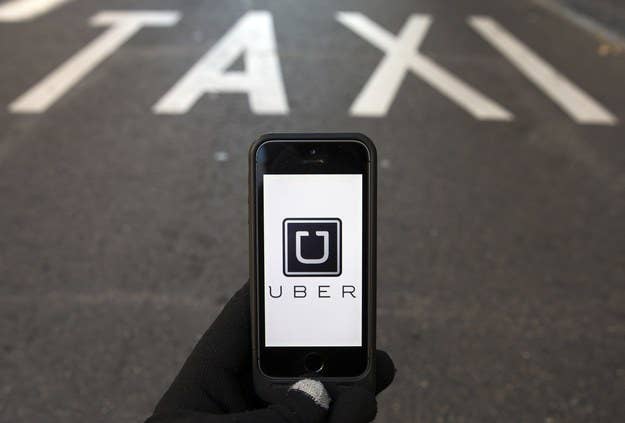 Uber is steering drivers to purchase auto insurance that leaves them uncovered when they're trolling for fares and that often forces them to flout the law by lying when they register their automobiles, according to documents, interviews, and an Uber presentation attended by a BuzzFeed News reporter.
The transit giant has been advising California drivers interested in its low-cost UberX service that personal, rather than commercial, insurance is sufficient to fully cover them and their vehicles. But insurance companies insist that's not the case, and they have refused to pay when Uber drivers have gotten into accidents while on the job. In some instances, Uber's secondary insurance doesn't cover drivers either, effectively leaving them on the hook for medical bills and car repairs.
There's another problem: To qualify for a personal insurance policy in California, a car must be registered with the Department of Motor Vehicles as being for personal use, not commercial use. To get personal insurance, drivers purchasing new vehicles they plan to use for UberX often lie on official state forms that ask whether the vehicle will be driven commercially, according to registration documents, drivers, and auto dealers. Working with lenders, Uber has developed leasing and loan programs that have guided drivers to register Uber vehicles for personal use only.
The DMV says that is improper. "There's not a shade of gray on it," said Andrew Conway, branch chief of registration policy at the DMV. "If you use the vehicle for commercial purposes, even occasionally, it has to be registered as commercial."
He added that anyone who registers Uber cars as personal vehicles is "making a false statement on the report of sale, knowingly."
Insurance is one of the biggest issues at play in the ballooning ridesharing business. Uber, the industry leader, now operates in 53 countries and more than 120 U.S. cities, providing upwards of a million rides per day as it competes with traditional taxi and limousine services, as well as other mobile-app-based services such as Lyft.
As Uber and competing services grow, the San Francisco Chronicle, Forbes, The New Yorker, and other publications have written about the industry's insurance problems. While most of the focus has been on drivers acting alone to conceal their activities from insurers, BuzzFeed News has found that Uber steers some drivers to purchase policies that put them at risk, and that leads them to register their vehicles incorrectly.
While Uber offers limousine services that carry commercial insurance, much of its growth has been fueled by the UberX program, which allows virtually anyone to use their own car for hire. Some drivers have little experience with passenger transportation and rely on Uber to direct them on critical issues including insurance.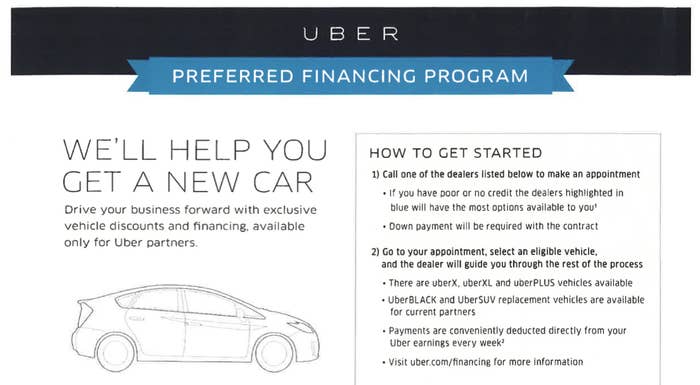 On a recent rainy Friday morning, Uber drew current and would-be UberX drivers to a Los Angeles auto dealership with the promise of free pizza and the opportunity to get a new car through its financing programs. (In fact, no pizza was provided.) More than a dozen men and women attended the session, one of many that the company has been holding around the country in recent months.
As Uber employee Alanna Nass clicked through a PowerPoint, a would-be driver asked what insurance is required for UberX. Nass was unequivocal. "You don't need commercial insurance," she said. "When you're on an Uber trip, you're covered by us."
In fact, while Uber has expanded the scope of its own insurance policies over the past year and now carries $1 million in liability protection, there are still significant holes in its coverage.
Uber's policy covers drivers once they have been matched with a fare and when they are carrying paying passengers.
But there's a period of time when Uber's insurance may cover third parties but does not cover its drivers at all: when they are logged into the Uber app, waiting to be matched with a fare. During this trolling period, Uber leaves drivers in the lurch.
Uber maintains that isn't a problem, because drivers' personal insurance will cover the trolling period. The company's website claims that "during the time that a ridesharing partner is available but between trips, most personal auto insurance will provide coverage." In response to queries last week, Uber maintained that "when the app is on but no ride has been accepted, many personal policies provide coverage."
Not so, say Allstate, State Farm, Progressive, and Geico. Those companies insist that their policies do not cover ridesharing activities of any type, including when the driver is logged in to the app but has not been matched with a fare. Indeed, they have denied such claims, and some have begun canceling policies of people found to be driving for rideshare services.
If an insurance company determined that a driver got in an accident while trolling for a fare, it could decline to pay, leaving the Uber driver entirely responsible for any medical treatment that he might need. The driver would also have to pay for any damage to his or her own car.
What's more, anyone not in the Uber car injured during such an accident could also be at financial risk. That's because Uber's third-party bodily injury liability insurance for the trolling period, which kicks in if the driver's policy won't pay, is capped at $50,000 per person — far less than what a serious injury might cost in medical bills.
Lyft carries insurance that is very similar to Uber's, the company said, including a secondary policy in the trolling period with medical liability up to just $50,000 per person.
In online forums, UberX drivers involved in accidents during the trolling period frequently seek advice on their insurance. In many cases, other Uber drivers advise them to lie to their insurers to avoid losing their personal policies altogether. And some drivers have said they concealed their commercial activities when applying for insurance in the first place.
Chris Shultz, deputy commissioner of the California Department of Insurance, said law enforcement officials are increasingly concerned that the way rideshare companies advise their drivers to handle insurance could "force otherwise law-abiding people to commit insurance fraud."
The state has been encouraging carriers to develop special "hybrid" policies that would explicitly cover rideshare activities, but so far only one policy is available nationwide, and none in California.
Of course, there is already a product on the market that would put all insurance concerns to rest: commercial livery insurance. Required for taxis and limousines, as well as the limo-style UberBlack service, it provides round-the-clock protection — including collision, uninsured motorist, and medical. But because it costs between 3 and 10 times more than personal auto coverage, many drivers say it's unaffordable under UberX's current rate structure.
The high cost of commercial insurance creates a dilemma for Uber, which has been aggressively recruiting UberX drivers in order to flood markets with thousands of drivers and win market share from competitors. Simply put, advising drivers to purchase commercial insurance could lead many of them to decide against working for Uber in the first place.
In the past year, Uber has begun expanding its recruiting push by partnering with lenders to provide loan and lease programs to help drivers with bad credit get new cars. But some of those programs encourage drivers to register their cars for personal use and obtain personal insurance, documents and interviews show.
In July, Scott Eddy of San Diego acquired a 2014 Toyota Avalon Hybrid through the leasing program Uber runs with lender Santander Consumer USA. Laid off from his IT job five years ago, his credit had been severely damaged, and he'd previously had a car repossessed.
The Uber program requires no credit check. Eddy, eager to work, signed a lease obligating him to pay more than $1,200 a month for 52 months, or a total of more than $66,000 for a car with a sticker price of $41,000. The lease contract requires him to use the car "exclusively for business and commercial purposes as a livery vehicle to meet riders' requests conveyed through Uber during the term of the lease."

A line on California's Application for Registration of New Vehicle form — which is signed by the purchaser, lender, and dealer — asks whether the car "will be used for hire or to provide a service of transporting passengers in conjunction with a business." If marked yes, the vehicle is registered as "commercial" and receives commercial plates. If marked no, it's registered "automobile" and receives personal plates. Eddy's registration is marked "automobile," meaning for personal use only.

"It's hinky," said Eddy, who said the dealer filled out the paperwork and that he didn't realize how the car was registered until it was brought to his attention by a BuzzFeed News reporter. Eddy says he has a personal insurance policy. "I keep my fingers crossed. But given what I make doing UberX, there's no way I could afford commercial insurance anyhow."
The dealership, Kearny Mesa Toyota in San Diego, did not return repeated phone calls from BuzzFeed News. A spokesperson for its parent company, Penske Automotive Group, did not respond to a request for comment. A Santander spokesperson declined comment.
In written responses to BuzzFeed News, Uber said: "We expect drivers to be truthful when reporting the circumstances of claims whether they are reporting the loss to us, to our insurer, or to their own insurer."
The company did not address the DMV's position that it is improper to register a car for personal use that one intends to use for commercial purposes. Instead, the company said in a statement that drivers in the UberX program "may register the vehicles as personal vehicles."
Uber added that the California Public Utilities Commission, which regulates the industry, allows "drivers to use personal vehicles with personal registration on the UberX platform." The company also referred to legislation in California, signed by Gov. Jerry Brown in September, which Uber said affirmed that drivers in services such as UberX "may use personal vehicles with personal registration."
But a spokesman for the CPUC said that registration issues were outside the purview of that agency. Moreover, the new bill, which doesn't go into effect until July 1, 2015, doesn't appear to address that issue. It doesn't mention registration at all, and explicitly states that a "personal automobile insurance policy will not provide coverage" for commercial ridesharing unless it includes a provision specifically allowing for that."
Brian is another UberX driver who leased a car at Kearny Mesa Toyota under the same Uber program. He declined to give his last name for fear of reprisal from Uber.
"When I spoke to the dealer, I asked whether it would be registered as a commercial vehicle and they said it would, so I was surprised" to discover that it had been registered for personal use, he said. He added, "I'm not exactly sure how the insurance works, to be honest."
One California dealer who requested anonymity said that his staff had been trained by Santander to register cars in the program as personal use. A document emailed to dealers by Santander as a template for filling out the California DMV application clearly shows the relevant box marked in a way that would register the vehicle for personal use only.
John Han has been a San Francisco taxi driver for 13 years. So when he was approved for a four-year, 23% interest rate loan through Uber partner Exeter Finance at Walnut Creek Toyota, he said, "I wanted to make sure the insurance was squared away. The dealer provided him a list of carriers offering personal auto insurance and "said I needed to register it as a personal car," said Han.
Han, who wanted commercial coverage, walked away. "Uber just wants to get people on the road fast," he said. "And then it's all on the driver. It's his problem."
Don Davis, director of Walnut Creek Toyota's custom finance department, told BuzzFeed News he would call back but never did. Exeter did not reply to a request for comment.
All told, BuzzFeed News documented more than a dozen new vehicles sold through Uber's finance and lease programs that had been registered for personal use in California.
The DMV's Conway said that drivers using personal autos for commercial purposes could be ticketed by police, and the agency said while it would not comment on the specific issues regarding Uber's finance programs, knowingly making false statements on a DMV document is "prosecutable as a criminal offense" and could lead to administrative sanctions against dealers.
During the recent financing meeting at the Los Angeles dealership, Uber's Nass reassured potential drivers that personal insurance was all they needed.
"A lot of insurance companies don't get this yet, because they're kind of antiquated and they don't understand how Uber works," she said. She flashed a slide showing projected weekly insurance costs of $30 for UberX drivers, just a fraction of the cost of a commercial policy.
When the presentation concluded, attendees were encouraged to talk to several other Uber representatives in the dealership lobby, while a flock of hopeful car salesmen stood at the ready.
Contact the authors of this story at ken.bensinger@buzzfeed.com and johana.bhuiyan@buzzfeed.com.