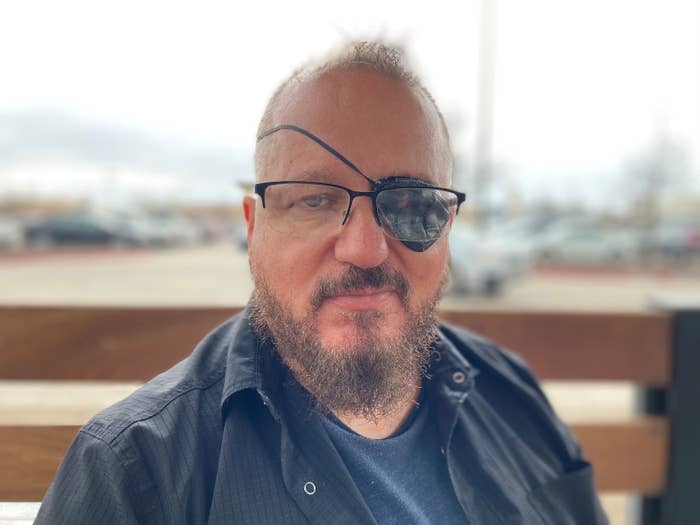 Federal prosecutors have charged Oath Keepers founder Stewart Rhodes and 10 others associated with the armed extremist group with seditious conspiracy, the first such charge to come out of the sprawling investigation of the Capitol insurrection since it began just over a year ago.
Rhodes, 56, was arrested on Thursday shortly before noon local time in Little Elm, Texas, about 35 miles north of Dallas. A second man, Edward Vallejo, 63, was arrested in Phoenix, according to the Department of Justice. The other nine defendants have all previously been charged in the Oath Keepers conspiracy case pending in Washington, DC, federal court.
According to the indictment, which was handed up by a grand jury on Wednesday and sealed until the following day, Rhodes conspired "to oppose by force the lawful transfer of presidential power" by stopping Congress's certification of the Electoral College on Jan. 6.

He and the other defendants, prosecutors claim, "coordinated travel across the country to enter Washington, DC, equipped themselves with a variety of weapons, donned combat and tactical gear, and were prepared to answer Rhodes's call to take up arms at Rhodes's direction."

Attorney Jonathan Moseley, who represents another member of the Oath Keepers, said he was on the phone with Rhodes when the FBI called on the other line asking the group's founder to come outside so he could be arrested. Kellye SoRelle, the Oath Keepers' general counsel, said she is working to find a criminal defense attorney to represent Rhodes. She called the arrest "all part of the show" and said he did not have enough funds to hire representation.
In the immediate aftermath of the assault on the US Capitol, the acting US attorney in Washington, DC, at the time, Michael Sherwin, announced that a task force had been formed to explore more serious charges in connection with Jan. 6, including seditious conspiracy.

But although more than 725 people have since been charged with a variety of misdemeanors and felonies for their involvement in the events of Jan. 6, a number of whom are facing conspiracy charges related to obstructing Congress's attempts to certify the Electoral College, none has previously been charged with crimes related to sedition — which amounts to inciting a rebellion against the government.
The charge carries a maximum penalty of 20 years in prison. It's a rarely charged offense. Federal prosecutors last tried to pursue it in a 2010 indictment involving members of a militant group, and a judge ended up acquitting the defendants of the sedition count two years later.
Rhodes, whose first name is Elmer but who goes by his middle name, founded the Oath Keepers in 2009. Known for the distinctive patch he wears to cover up an eye he lost from an accidental self-inflicted gunshot wound, he is a former Army paratrooper and graduate of Yale Law School who was later disbarred from practicing law. He worked briefly for former member of Congress Ron Paul and rose to prominence as a frequent guest on Alex Jones' Infowars program, as well as for leading the Oath Keepers members into a series of charged political events, including the 2014 confrontation between cattle ranchers and federal law enforcement in southern Nevada known as the Bundy standoff.
Rhodes, originally from Nevada, lived for years in Montana, but since separating from his wife in 2018 has lived an itinerant life. He settled most recently in Granbury, Texas, where SoRelle, the Oath Keepers' attorney, is based. A longtime libertarian and critic of political figures on both sides of the aisle, Rhodes became more closely aligned with former president Donald Trump in the lead-up to and wake of the 2020 election, casting doubt on the results of the election and calling on members of the Oath Keepers to attend protests and gather in Washington on Jan. 6.
The original conspiracy case filed against members of the Oath Keepers in late January 2021 has grown to nearly two dozen defendants. In the process, it has danced around Rhodes' involvement in their activities, referring to him as "Person One" in court filings. Nine of the 17 defendants in that case were also charged with seditious conspiracy in the new indictment.

According to the 48-page, 17-count indictment, Rhodes began preparations for an apparent rebellion on Nov. 5, 2020, just two days after the presidential election, when he invited other Oath Keeper members to a leadership chat on the messaging platform Signal. "We aren't getting through this without a civil war," Rhodes wrote at the time. "Too late for that. Prepare your mind, body, spirit."
Over the following weeks and months, prosecutors allege, he employed increasingly fiery language to encourage the group's members to prepare for conflict and, ultimately, to travel to Washington. "It will be a bloody and desperate fight," he wrote on Signal on Dec. 11. "We are going to have to fight. That can't be avoided."
Between Dec. 30 and Jan. 2, Rhodes bought some $12,000 worth of firearms and accessories, including a shotgun, night vision goggles, and large amounts of ammunition, the indictment alleges. On Jan. 3, he departed Granbury, Texas, for Washington, stopping twice en route to spend an additional $10,500 on an AR-15 platform rifle, scopes, more ammo, and other accessories. And in the two weeks after Jan. 6, he spent an additional $17,500 on such items.
It's not clear where Rhodes stored such items while in Washington. The indictment details his work to help coordinate a so-called Quick Reaction Force, or QRF, composed of members of the Oath Keepers and associates from Florida, North Carolina, and Arizona who stowed their weapons in a Comfort Inn in Arlington, Virginia.
One of those individuals, according to the indictment, was Vallejo, a member of the Oath Keepers chapter in Arizona and a self-described "activist" who served as an alternative delegate for the state's Republican Party and attended the 2012 Republican National Convention. In a message sent to another member of the Oath Keepers on Jan. 4, he referred to the Comfort Inn as the "allied encampment." Appearing on a podcast early on Jan. 6, he discussed the possibility of "guerilla war," noting "there are people who are prepared, have the will, have the facilities to do more than taunt."
Although Rhodes is not accused of entering the Capitol, prosecutors now say he entered "restricted grounds" on Jan. 6 by standing outside the building while it was being stormed, and they detail how he directed the movements of people who ended up penetrating the complex. Amid the chaos, Rhodes reacted to incoming messages that were claiming members of antifa were pushing past the Capitol Police.
"Nope. I'm right here," Rhodes responded. "These are Patriots."
Later that night, the charging document claims, Rhodes joined several other members of the Oath Keepers celebrating the day's events at a restaurant in Vienna, Virginia. Amid the festivities, he sent out an encrypted message: "Patriots entering their own Capitol to send a message to the traitors is NOTHING compared to what's coming."
Given the encrypted nature of the Signal chats Rhodes engaged in, it's not clear how prosecutors were able to gather their evidence. Federal agents seized Rhodes' phone last May, and he sat for an interview with the FBI in July. In September, the government also used a search warrant to seize attorney SoRelle's phone. That warrant identified "seditious conspiracy" as a possible crime being investigated.
Meanwhile, four other alleged members of the Oath Keepers have pleaded guilty and agreed to cooperate with the Justice Department, presumably sharing their phones with investigators. Although little has been heard from those people, last month, prosecutors said they were continuing to help the government.
The new indictment effectively splits the Oath Keepers defendants into separate cases. The original case, which charges conspiracy to interfere with Congress's activities but not seditious conspiracy, is slimmed down to seven defendants.
Rhodes, meanwhile, faces the sedition-related charge, along with the other conspiracy count, alongside Kelly Meggs, Kenneth Harrelson, Jessica Watkins, Joshua James, Roberto Minuta, Joseph Hackett, David Moerschel, Brian Ulrich, and Thomas Caldwell. Rhodes and seven of the other defendants were also charged with obstruction for deleting electronic records in the wake of Jan. 6.
Prosecutors have also secured a separate new indictment against a previous Oath Keepers defendant, Jonathan Walden, who is charged with obstructing Congress and illegally being at the Capitol, but he does not face any conspiracy allegation.
It was not immediately clear what impact the new charges will have on the court's schedule. Shortly before the holidays, US District Judge Amit Mehta rejected efforts by the defendants in the Oath Keepers case to get the conspiracy charges tossed out. The judge had planned to begin trial on one group of Oath Keepers in April, with a possible second trial in July. It now seems likely that the first trial date will no longer be at play.

Unlike many of the charges brought against alleged Capitol rioters so far, which have focused on the physical criminal acts committed that day — such as assaulting police, disrupting Congress's certification of the election results, and simply illegally being in the Capitol — sedition deals with a person's intent to go against the US government.

The felony offense makes it a crime to "conspire to overthrow, put down, or to destroy by force the Government of the United States, or to levy war against them, or to oppose by force the authority thereof, or by force to prevent, hinder, or delay the execution of any law of the United States, or by force to seize, take, or possess any property of the United States."
In a public address last week marking the one-year anniversary of the Capitol attack, Attorney General Merrick Garland signaled that people who hadn't gone into the Capitol could still face prosecution for any involvement in the insurrection. "The Justice Department remains committed to holding all Jan. 6 perpetrators, at any level, accountable under law," he said, "whether they were present that day or were otherwise criminally responsible for the assault on our democracy."
The Oath Keepers, along with the Proud Boys, have been a point of focus for the select congressional committee investigating Jan. 6. In November, the committee subpoenaed Rhodes to provide documents and a deposition, citing "credible evidence of" his involvement in the Capitol insurrection.
According to Moseley, Rhodes was scheduled to appear before the committee on Feb. 2. The attorney represents Kelly Meggs, one of the other members of the Oath Keepers who is now indicted for seditious conspiracy, and had hoped Rhodes could be a witness for his client in the case. At the time the FBI called on Thursday, Moseley and Rhodes were discussing whether the group leader would answer the committee's questions or invoke the Fifth Amendment, the lawyer said. It took a few minutes for Rhodes to go outside, he added, because he was not yet dressed at the time.

"I am incredibly relieved," said Tasha Adams, who filed for divorce from Rhodes in early 2018, claiming that he had been physically and emotionally abusive to her and their children. "I feel like I just set down a heavy weight that I have been carrying. The weight of constant fear, of always looking over my shoulder to make sure my kids are safe."