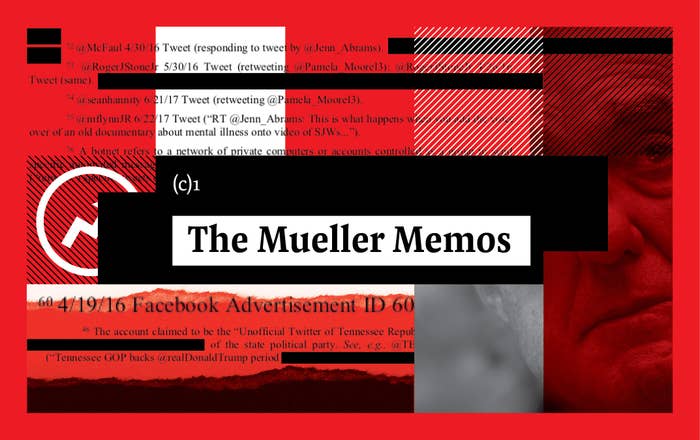 The federal government on Friday released a special bumper crop of interviews conducted as part of former special counsel Robert Mueller's investigation into Russian interference in the 2016 election and alleged attempts by President Donald Trump to obstruct that inquiry.
Each month, the Justice Department releases hundreds of pages of FBI records to BuzzFeed News and CNN in response to a lawsuit filed under the Freedom of Information Act. Collectively, the documents show what hundreds of people told the special counsel's office behind closed doors during its two-year probe, which began in May 2017.
A timely element just four days before the presidential election: The FBI interview summary of Trump's former deputy campaign manager Rick Gates contains some interesting details about how the Trump campaign viewed polling data in 2016.
"As early as March 2016, states were categorized as 'must hold,' 'battleground' and 'potential.' States were put into one of these categories based upon polling data. Manafort was a strong believer in polls," the interview summary said.
According to what Gates told the FBI, the campaign believed "the best chance for Trump to win traditionally Democrat states was to focus on those states with a large contingency of blue-collar Democrats."
"Historical data along with earlier polling data was used to whittle the states down. Then Brad Parscale's digital campaign was used to focus in those states," the interview summary said, adding that his digital "model" was cheaper and provided the campaign with crucial details about millennial and elderly demographics, which allowed the campaign to "micro-target specific groups."
Gates said he brought Parscale to New York to work with Trump's pollster Tony Fabrizio, Kellyanne Conway and Cambridge Analytica, which claimed to be able to conduct "psychological polling."
Gates said by August 2016, Jared Kushner had "directed campaign resources to concentrate on Florida and Pennsylvania."
Trump's pollster identified Wisconsin as a "steal state" early on while Pennsylvania was "fool's gold," meaning Trump was unlikely to win in the state. (Trump won Pennsylvania by 44,292 votes in 2016 and Wisconsin by 22,748 votes.)
Trump believed he could win Florida because of his "business connections," the interview summary said.
Gates sent Kilimnik, who the Senate Intelligence Committee identified as a Russian intelligence officer, internal data from Fabrizio's polls. He told the FBI Manafort instructed him to do so.
Thousands of pages of these documents — witness interview summaries, known as 302s — have been released to date.

Today's oversize batch has a special provenance: These 302s were sent to 16 other government agencies, from the CIA to the Secret Service to the Internal Revenue Service, for vetting to ensure their release would not interfere with ongoing investigations or threaten national security. Though the documents have been heavily — if not completely — redacted, their release, on the eve of a presidential election, provides further insight into the workings of the Mueller probe, extending far beyond the 448-page final report it produced in 2019.
In addition, a federal judge, ruling in another case brought by BuzzFeed News, found last month that the Justice Department had improperly redacted significant portions of the Mueller report. The judge ordered the government to unredact and publish those portions by Nov. 2.
To date, the Mueller probe has produced 37 indictments and seven convictions; it has also led to numerous other criminal investigations ongoing around the country. Trump has consistently tried to discredit the investigation, with the president frequently dismissing it as a "witch hunt."
Trump has found significant support in that effort from his attorney general, Bill Barr, who overlooked major findings of the probe when he announced its conclusion in March 2019. Barr has since intervened in cases related to the investigation, among them the prosecutions of political consultant Roger Stone and former national security adviser Michael Flynn. Barr also tapped a US attorney in Connecticut, John Durham, to investigate the origins of the Russia inquiry; the results are expected later this fall.
BuzzFeed News sued the FBI and the Department of Justice under FOIA for access to the hundreds of 302s compiled during the course of the Mueller investigation; that litigation was subsequently joined by CNN. While Mueller's final report drew heavily on those 302s, much of the content of the typewritten summaries for every single interview conducted by the investigators has never before been revealed to the public.
BuzzFeed News has challenged some of those redactions in court and is also pursuing multiple lawsuits asking the government to release a large volume of other documents generated by the special counsel's office, including memoranda, talking points, financial records, and legal opinions.