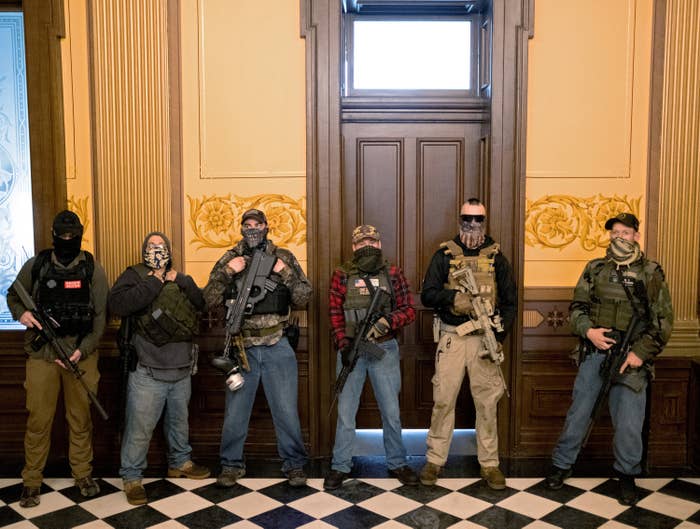 A group of men who allegedly plotted last year to kidnap Michigan Gov. Gretchen Whitmer practiced how to storm the state's Capitol and discussed attacking Secret Service convoys with a 37 mm projectile launcher, according to documents filed in federal court Wednesday.
The new details were revealed as part of a plea agreement filed when one of the six defendants in the case, Ty Garbin, agreed to cooperate with the ongoing federal investigation of the sensational scheme. Although the men have been in custody for months, the case has found new relevance in the wake of the Jan. 6 assault on the US Capitol in Washington, DC, an event that was, in some ways, presaged by the interrupted Michigan plan.
Garbin, a 25-year old aviation mechanic from Hartland, Michigan, pleaded guilty to one count of kidnapping conspiracy Wednesday morning. He is the first of six men charged in federal court to cooperate, although prosecutors have offered other defendants in the case similar deals, according to sources familiar with the matter.
The judge presiding over the case, Robert Jonker, took care to remind Garbin that as a result of his guilty plea, he would no longer be allowed to own firearms. Garbin, whose nickname among the plotters was "Gunny," had an extensive collection of weapons, including AR-15 assault rifles and silencers. He was also alleged by prosecutors to have manufactured guns without serial numbers, although he was not charged for that crime.
"You can't lawfully own a firearm, ever again," Judge Jonker told him.
Authorities busted up the plot in October, charging six of the men in federal court with kidnapping charges and eight other men in Michigan state court with related crimes related, though not with actively participating in the conspiracy to kidnap a sitting governor. All other defendants in the case have pleaded not guilty.
The scheme collapsed in part because several confidential informants had already penetrated the group, as well as at least one undercover FBI agent. When five members of the group, including Garbin, met in Ypsilanti, Michigan, to buy explosives from the agent on Oct. 7, law enforcement swooped in to arrest them. Although the governor was never hurt, the plot raised fears across the country about increasingly violent expressions of radical right-wing beliefs.
Prosecutors have relied on extensive audio and video recordings made by informants, as well as information obtained through search warrants served to Facebook and other social media platforms, to build their case. Garbin's plea agreement builds on what was already publicly known about the plan.
According to that document and other filings in the case, Garbin was a member of a group called the Wolverine Watchmen whose members linked up with two other like-minded individuals last June and began planning actions against the state government at a time of mounting anger over COVID-19 lockdowns. The men used social media, including Facebook, as well as encrypted messaging services to recruit and organize. They referred to elected officials as "tyrants" and expressed desires to provoke a civil war and potentially overthrow the government.
Whitmer, a Democrat, was a particular target of their ire, apparently because of the lockdown she imposed starting in March to control the spread of the coronavirus in the state. The restrictions provoked anger among many Michigan residents, resentment that was stoked in April when then-president Donald Trump tweeted "LIBERATE MICHIGAN!" Soon thereafter, the Wolverine Watchmen, who allegedly had discussed killing police officers prior to that time, shifted their attention to the state's elected officials.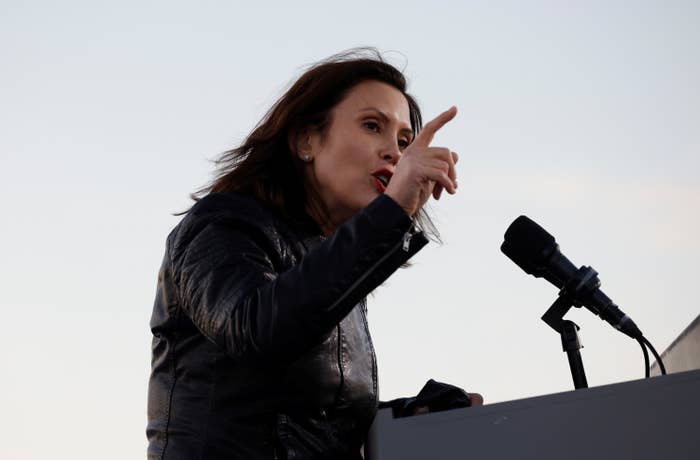 One of the defendants, Adam Fox, initially pushed the group toward a plan to storm the state Capitol in Lansing, barricade the doors, and then execute state legislators on live television, according to affidavits and court filings in the case. According to Garbin's plea agreement, the men specifically discussed hanging the public officials and using Molotov cocktails and improvised explosive devices as a distraction at the time of the assault.
In subsequent training exercises in both Michigan and out of state, a second man, Barry Croft, allegedly introduced homemade explosives and heavy armament into the scheme, attempting on multiple occasions to construct bombs using gunpowder, shrapnel, and fireworks.
Fox told Garbin and other members of the Wolverine Watchmen that Croft wanted to "restore our Constitutional right by any means," according to the plea agreement.
In July, the conspirators traveled to Cambria, Wisconsin, to conduct what they called "field training exercises" with militant extremists from other states. Once there, the plea agreement said, they used plywood, shipping pallets, and a door frame to build what they called a "shoot house," according to the plea agreement, and then "practiced breaching it with firearms to simulate assaulting the Capitol or elsewhere."
The group eventually dropped the plan to take the Capitol in favor of what they considered a more manageable scheme to kidnap the sitting governor at her vacation home beside a lake in rural Michigan. The next question was when to take action, with Garbin arguing they should wait until after the presidential election, and Fox pushing for it to happen before that date, according to Garbin's plea agreement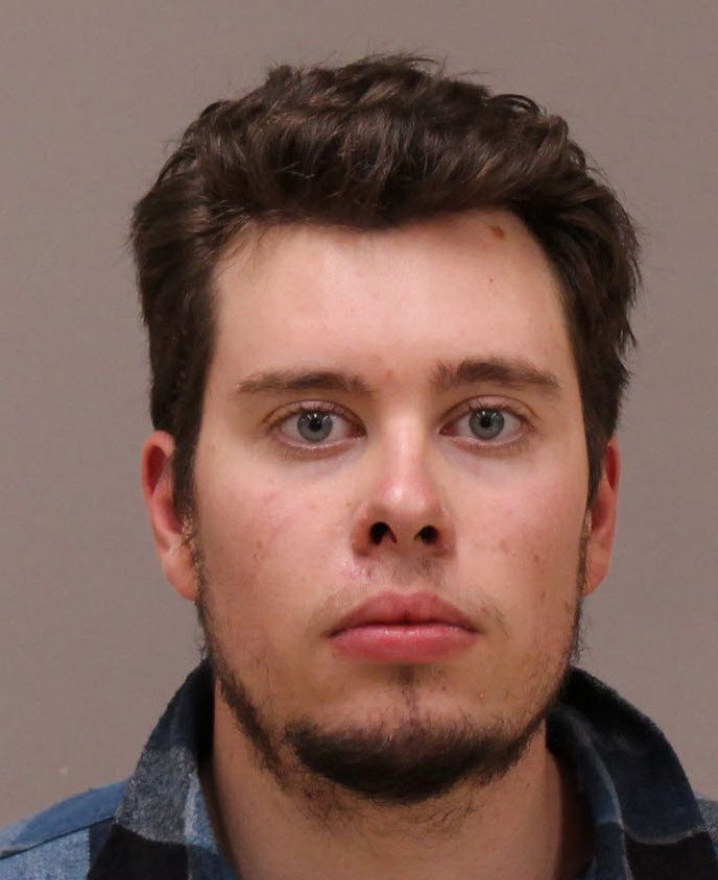 On Sept. 13, at a training exercise hosted by Garbin on his property in Luther, Michigan, the men considered how they could kidnap Whitmer if, after a possible Joe Biden victory at the polls, she were named to the new president's Cabinet. That, they surmised, would complicate matters because she would have a Secret Service detail, the new court filing said.
Croft, a trucker from Delaware, "suggested putting a shoulder-fired weapon in the back of a pickup truck to use against the lead vehicle in the Governor's convoy," noting that he already had an AR-15 assault rifle mounted with a 37 mm projectile launcher for just that purpose, according to Garbin's plea agreement.
In another parallel to more recent events in Washington, Fox told his alleged coconspirators that he had acquired a Taser and zip ties, which he planned to use for "neutralizing" the governor, according to the new document. He also said he'd prepared a space to practice "close quarters combat" for the men to learn to "work on acquiring an asset and detaining for distraction." Video evidence presented by prosecutors in a prior hearing showed Fox testing a Taser.
At least two men arrested for illegally entering the US Capitol were photographed carrying zip ties, and several allegedly were carrying Tasers.
One question still hanging over the case is the extent to which the defendants were linked to right-wing militants operating in other parts of the country. According to prosecutors, Fox first linked up with the Wolverine Watchmen after attending a meeting in June in Dubin, Ohio, that drew extremists from at least four other states.
According to the new court filing, Fox, Garbin, Croft, and two others subsequently attended a second meeting "of self-styled 'militia' representatives from several states" in Peebles, Ohio, a small town east of Cincinnati.
In exchange for the guilty plea, prosecutors have agreed to potentially lobby for a shorter sentence for Garbin, who otherwise could face up to life in prison. To earn that reduction, Garbin must "fully cooperate with the FBI, the US Attorney's Office, the Michigan State Police, the Michigan Attorney General, and any other law enforcement agency in their investigation of the charges." Garbin will also be required to submit to a polygraph test on request, may be called upon to testify on behalf of the prosecution in court, and must waive his right to request information from the case using the Freedom of Information Act.
Garbin's sentencing is set for July 8, but that date could be pushed back depending on when a potential trial of the other defendants takes place.