U.S. Soccer Head Calls For Transparency; Won't Reveal Own Salary
Sunil Gulati, the U.S. Representative to FIFA's Executive Committee, wants World Cup corruption report released. But he continues to defy his pledge to release his own compensation info.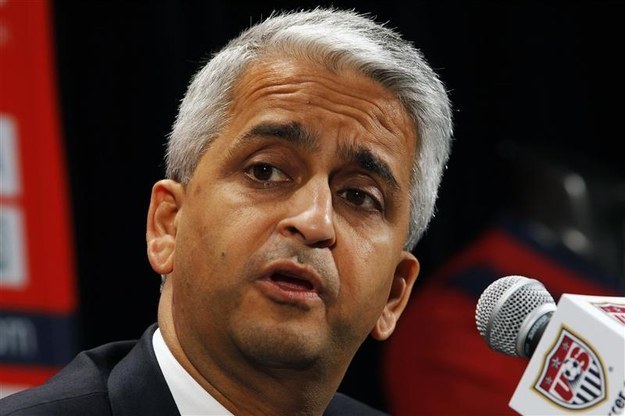 Sunil Gulati, America's top soccer official, made headlines this week by calling for greater transparency at FIFA, yet has not been completely open about his own role at the sport's highest international body.
Gulati, the 55-year-old president of U.S. Soccer and a member of FIFA's Executive Committee, told the New York Times he would urge the group to release the findings of an internal probe into the bidding process for the 2018 and 2022 World Cups. The 350-page report was submitted to the Zurich-based institution on Sept. 5, but FIFA subsequently said it would not reveal the contents.
"If we're going to truly support the idea of transparency and change within FIFA, it has to be made public in the truest meaning of the word," Gulati told the Times.
Gulati's vocal stance on bringing sunlight to an organization known for secrecy and corruption has been warmly received. Yet it stands in stark contrast to his own prior statements about transparency as it applies to him.
Just days after being elected to the Executive Committee, or ExCo, in April 2013, Gulati told the media that he wanted to make public his compensation for that position.
"It's my belief that FIFA should in fact disclose the compensation of directors," he said at the time. "Mine would be the same as everyone else's and I would have no problem of disclosing if it's not a violation of any provision with FIFA."
Yet nearly 18 months later, Gulati has not released any information about his compensation from FIFA and has been silent on the subject. He would not comment on the record in response to a query from BuzzFeed News. FIFA itself has not indicated there are any rules barring such disclosure.
"It's always curious that there's such a culture of secrecy and obfuscation around FIFA," said Laurent Dubois, a professor at Duke University and author of Soccer Empire: The World Cup and the Future of France. "It all lends itself to the feeling that they have something to hide, which may or may not be true."
The 25-member ExCo, headed by FIFA president Sepp Blatter, is responsible for the sport's most important decisions, including deciding where future World Cups will be held. In December 2010, the committee awarded the competition to Russia in 2018 and Qatar in 2022. Those bids have been under increasing scrutiny, among allegations that massive bribes and other acts of corruption swayed the vote.
Gulati was not a member of the ExCo at that time. But he won a place on the body only after his predecessor, Chuck Blazer, abandoned the post amid a spiraling corruption scandal involving nearly $22 million he received as a top official at the Confederation of North, Central American and Caribbean Football Association (CONCACAF).
Blazer's once-closest ally, former ExCo member Jack Warner, has been at the center of bribery allegations over the successful Qatar bid, which has been derided as a site because of the extreme temperatures in the region as well as the country's lack of soccer prominence. Nearly a half-dozen ExCo members have been removed or resigned in the face of corruption allegations in the past several years.
In 2012, FIFA hired a former U.S. Attorney, Michael J. Garcia, to investigate wrongdoing at the organization and, in particular in regards to the 2018 and 2022 World Cup bids. Less than a year later — in a bizarre twist — Garcia was barred from all travel to Russia, one of the central subjects of his probe.
In a statement this week, he too called for public airing of his investigation. "I believe it is now necessary for the FIFA executive committee to authorize the appropriate publication of the report on the inquiry into the 2018/2022 FIFA World Cup bidding process," Garcia said.
FIFA ExCo members occupy a rare and privileged position in world affairs, flying first class to exotic locales where they are greeted like heads of state and showered with gifts. Compensation for any of its members has never been revealed, nor has the salary of FIFA's president been disclosed, although the organization reported it paid $36.3 million to "key management personnel," an increase of more than 8% from the previous year.
In his April 2013 comments, Gulati indicated he thought that disclosing his compensation would in a small way help FIFA overcome nagging "governance" problems: "I think in fact there is at the highest level a sincere effort to try to reform and change the organization. I think some of the things that have happened show that. Clearly there needs to be a lot more done, and hopefully some of that will happen."
Gulati is not compensated for his work at U.S. Soccer, according to the non-profit's federal tax filings. He also is on the faculty of Columbia University, where he is a senior lecturer in the economics department and teaches several courses.
He also received a total of $50,000 as member of the executive committee of the CONCACAF, between 2007 and 2011, tax records show. Gulati still sits on that committee, but as a non-voting member, and he also sits on several other CONCACAF committees.
Sunil Gulati is a senior lecturer in the economics department at Columbia University. An earlier version of this item said he was an instructor. In addition, the post originally said that Gulati no longer serves on the CONCACAF executive committee. In fact, he still sits on that body, but as a non-voting member.