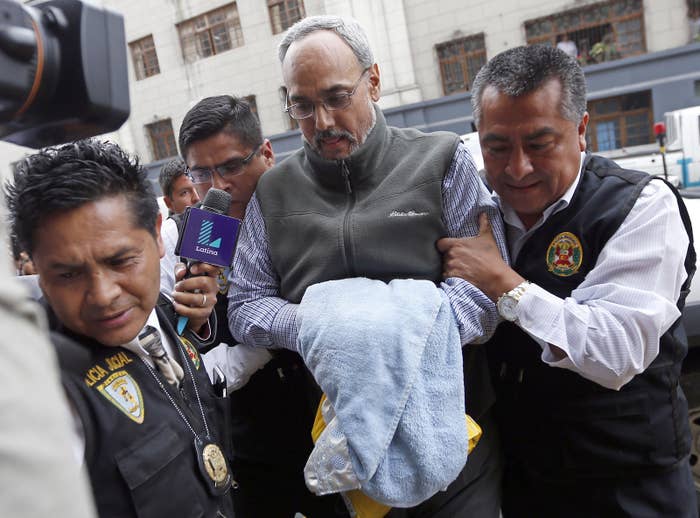 The long-awaited international soccer corruption trial kicked off on Monday, with US prosecutors arguing that the sport's high officials, driven by "lies, greed, and corruption," agreed to take millions of dollars in bribes over a period of decades..
In opening statements, delivered in a Brooklyn federal courtroom, federal prosecutor Keith Edelman said that the officials "lined their own pockets with money that should have gone to benefit the game instead of themselves," and claimed that the three South American defendants used their positions of power to negotiate bribes involving three different international tournaments.
The trial, expected to last six weeks, does not involve the biggest names to come under scrutiny during the course of the sprawling, years-old investigation. Many more well-known figures have either already pleaded guilty or so far evaded extradition to the US. Still others, such as former FIFA president Sepp Blatter, have never been charged.
Nonetheless, the trial's verdict will likely serve as a referendum on the Department of Justice's controversial decision to take on the world's most popular sport and in particular FIFA, the Swiss-based organization that oversees global soccer.
The defendants — Juan Ángel Napout of Paraguay, José Maria Marin of Brazil, and Manuel Burga of Peru — are charged with conspiring to commit a variety of financial crimes, including racketeering, wire fraud, and money laundering. All three men were heads of the soccer federations in their respective countries, and Napout was also briefly president of the confederation that controls soccer in all of South America and a FIFA vice president.
Prosecutors will attempt to convince jurors that the three men used their positions to solicit and receive bribes and kickbacks, and subsequently exploited the US financial system to launder those ill-gotten gains. Specifically, they claim that the men took under-the-table payments from sports marketing companies in exchange for television and sponsorship rights to soccer tournaments, including the Copa Ámerica, Copa Libertadores, and Copa do Brasil.
Government lawyers hope that a guilty plea will help silence critics who claim the case unfairly applies American laws to other countries. Convictions could also help justify allowing the criminal investigation to continue, opening the possibility that more soccer officials could be charged in the future.
But lawyers for Napout, Marin, and Burga, who are the only defendants in the case who have not agreed to take guilty pleas after being extradited to the US, say the government's case against their clients is weak. In their opening statements Monday, they said that although corruption is indeed a serious problem in global soccer, they intended to show there is no evidence that their clients negotiated or took any bribes.
"This case is not about FIFA," said Silvia Piñera-Vazquez,, attorney for Napout. "What this case is about is that the government decided that everyone in the sport is guilty."
She said that although she doesn't "dispute that many areas of foreign soccer are corrupt," there is no evidence that her client ever took any bribes at all or made any attempts to hide any money.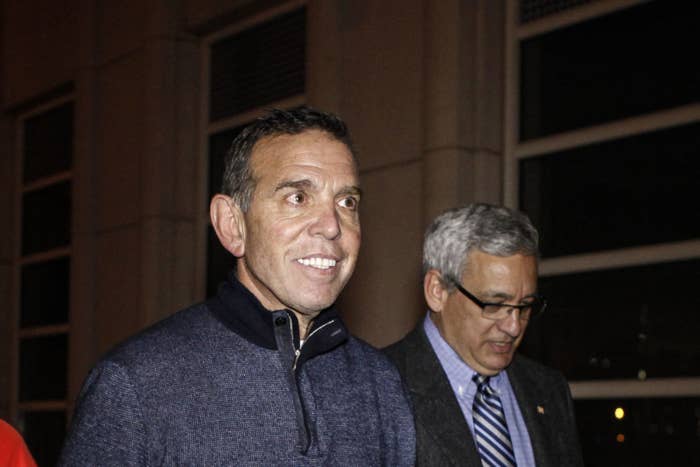 The FIFA case, as it is commonly referred to, first came to the public's attention on May 27, 2015, when Swiss police arrested seven soccer officials in Zurich at the Justice Department's behest, and former U.S. Attorney General Loretta Lynch unsealed an indictment charging 14 people. The case, from a country that has little popular interest in soccer, rocked the rest of the sporting world.
A second indictment was unsealed in December 2015, and numerous other soccer officials have been charged in related cases. To date, more than 40 people have been accused of violations in the case, and two dozen have pleaded guilty.
Last month, two relatively minor figures in the investigation, a Guatemalan lawyer who took roughly $200,000 in bribes for handing over rights to World Cup qualifier matches, and a British citizen who helped a high-ranking official from the Cayman Islands launder millions of dollars in bribes, were sentenced. The Guatemalan, Hector Trujillo, was given eight months in prison, while the Englishman received 15 months. Both are being required to make financial reparations as well.
Marin, Napout, and Burga all had more important positions in the sport.
Marin, a former vice governor of São Paulo state in Brazil, was president of the Brazilian Soccer Confederation from 2012 to 2015. Burga was president of the Peruvian Soccer Federation between 2002 and 2014. And Napout served as vice president and then president of the Paraguyan Soccer Association between 2003 and 2013, before becoming head of CONMEBOL, the South American soccer confederation in 2014 and subsequently taking a seat on FIFA's Executive Committee in May 2015.
All three used those positions, prosecutors allege, to demand money from executives at various sports marketing companies and then used a variety of methods to attempt to hide the money
Top executives from a number of those sports marketing companies, including Brazilian José Hawilla and Argentine Alejandro Burzaco, have already pleaded guilty in the case and agreed to cooperate with the investigation. Since those individuals paid the alleged bribes, they are expected to serve as key witnesses for the government in the case, recounting firsthand the deals they cut with soccer officials.
Defense attorneys on Monday lashed out at Burzaco, saying he was deeply corrupt and had bribed high government officials in Argentina. Three former South American soccer officials, Sergio Jadue of Chile, Luis Bedoya of Colombia, and Rafael Esquivel of Venezuela, were also named as potential witnesses who could testify to having receiving bribes similar to the ones allegedly received by the three defendants on trial.
But defense attorneys will argue that all the government's cooperating witnesses are simply trying to avoid harsh prison sentences for crimes that could put them behind bars for as long as 60 years. By secretly making recordings, testifying, and pointing fingers, the lawyers claim, they hope to win more lenient sentences.
"The witnesses they call are probably some of the most corrupt people on earth," said Bruce Udolf, attorney for Burga. "People can get pretty darn creative under those circumstances."
Marin, who is 85 years old, was arrested in Zurich's luxurious Baur au Lac in the early morning arrests of May 2015. He owns an apartment in New York's Trump Tower and has been under house arrest there since being brought to the US. Chuck Blazer, an American soccer official who secretly cooperated with the investigation for several years, also lived in the Trump Tower, although he died last July.
Napout, a wealthy Paraguayan, was seized in another predawn raid of the Swiss hotel on Dec. 3, 2015, while Burga, 60, was extradited from Peru in December of last year.
Over the course of the investigation, agents from the Internal Revenue Service and the Federal Bureau of Investigation gathered millions of pages of bank records to help trace money connected to the defendants.
Meanwhile, cooperators including Blazer made some 200 hours of recordings of soccer officials in English, Spanish, and Portuguese. Some of those tapes capture defendants brazenly discussing bribes and how they could be paid without leaving a trace.
"It's about time," Marin was recorded telling one bribe-paying cooperator in 2014, "to have it coming our way."
Napout's lawyers, who have billed upwards of $4 million in the case, have claimed that the government has extremely limited recordings of him, and that the ones they do fail to show any foul play. Prosecutors claim that although he allegedly took millions of dollars in bribes, he insisted on being paid in cash, but Piñera-Vazquez noted that the government pulled some 70,000 pages of Napout's bank records and found no irregularities.
Burga, for his part, negotiated the bribes, Edelman and the two other assistant US attorneys on the government's trial team argue, but never took the money because he feared scrutiny from an ongoing money laundering investigation in Peru.
The money was easier to trace in Marin's case, Edelman said, as he "received millions of dollars in bribes at a bank account here in New York."
Charles Stillman, one of the Brazilian's attorneys, claims Marin "is an innocent man" and that although he was president of his nation's soccer federation for some three years, it was his vice president, rather than him, who was engaged in negotiating bribes.
"He was on the field," Stillman said, employing an extended soccer metaphor throughout his opening statement, "but not playing the game."