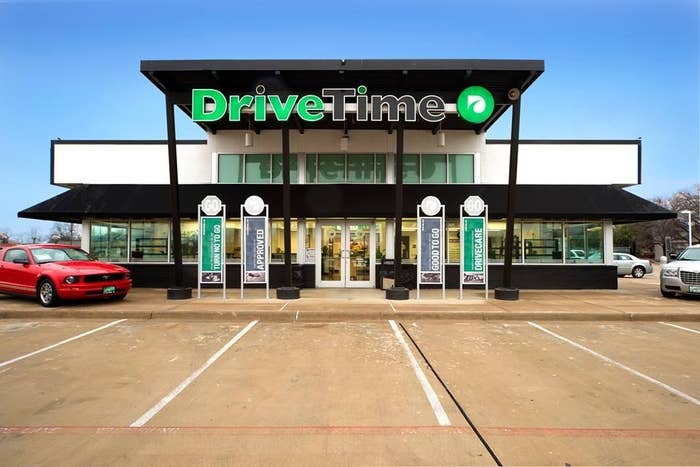 The Consumer Financial Protection Bureau has slapped the DriveTime used car chain with an $8 million fine for abusive collection and credit reporting tactics.
The nation's top consumer watchdog found that DriveTime, a so-called "Buy Here Pay Here" dealer, routinely harassed customers for payments, called them at their workplaces, and regularly reported inaccurate information about them to credit bureaus, often failing to correct mistakes after it had been notified of the errors.
The chain's constant phone calls were at times more than an inconvenience; one woman was fired because DriveTime debt collectors repeatedly called her at work, the regulator found. Other customers were reprimanded or threatened with termination by their bosses due to the call volume.
The move marks the first time that the CFPB has cracked down on used car dealers that specialize in people with damaged credit, and follows a two-year investigation into the company.
In addition to the fine, DriveTime agreed to halt the aggressive collections and credit reporting practices and provide free credit reports to customers affected by the tactics, according to a consent order signed this week.
"Consumers who purchase a car at a buy-here, pay-here dealer deserve to be treated fairly," said Richard Cordray, director of the CFPB, in a statement. "DriveTime harassed and harmed countless consumers, many of whom were economically vulnerable."
Jon Ehlinger, executive vice president and general counsel of DriveTime, said in a statement that the company was "pleased" the investigation was over, adding that "DriveTime strives to comply with all applicable laws and provide exemplary service to our customers." The company did not admit to or deny any of the agency's findings.
The Phoenix-based chain has 122 dealerships in 23 states. Its customers have credit scores ranging from 461 to 554, a tier far below the level that most traditional lenders, even subprime lenders, will finance.
As a Buy Here Pay Here dealer, however, DriveTime focuses on people with wrecked credit — sometimes called "Deep Subprime" — and profits handily from it, in part by charging interest rates that can top 20%. Unlike most auto dealers, Buy Here Pay Here lots both sell the cars and underwrite the loans that finance them, making them both the dealer and the bank. And because their customers have bad credit and nowhere else to turn, these dealerships can demand large down payments on cars that are often old and in bad condition.
Buy Here Pay Here Dealers advertise themselves as the last, and best, friend to desperate people in financial trouble. DriveTime, in particular, sells itself as different than other dealerships focusing on the working poor: a friendly place that will help you get the car you need to get to work.
Like payday lenders, Buy Here Pay Here dealers have a reputation for tough collections practices and aggressive repossession tactics.
They repo early and often, and some dealerships make a regular practice of reselling the same car over and over again. A series of Los Angeles Times articles in 2011 examined the business model, finding one dealer that sold a single Kia Optima eight times over three years.
The CFPB's probe of DriveTime, launched in April 2012, found that that at least 45% of the chain's loans are delinquent at any one time. And when customers got behind on their payments, DriveTime's debt collectors — more than 300 in the U.S., Barbados, and Honduras — picked up the phones, calling borrowers repeatedly to demand payment and calling their family, workplaces and personal references in attempt to encourage payment. In some cases, DriveTime collectors dialed wrong numbers multiple times, harassing people who had nothing to do with the loan and refusing to stop calling for as long as a year. The CFPB found these tactics were in violation of the Consumer Financial Protection Act.
DriveTime also violated the Fair Credit Reporting Act, according to the CFPB, by providing incorrect information to the major credit bureaus about its customers' payment and repossession status for as many as 90,000 customers. The chain received 22,000 complaints per year about the errors, yet had only two employees on staff to handle them, the CFPB found. That would mean those two employees would have had to process, on average, a complaint every 11 minutes.
In financial statements filed to the SEC, DriveTime said it spent $3.1 million complying with the investigation.
Regulators have shown stepped up interest in the subprime auto industry recently.
In August, the CFPB, which has regulatory authority over many categories consumer lending, forced a $2.75 million penalty on a subprime lender specializing in auto loans. First Investors Financial Services Group had provided incorrect information on tens of thousands of customers to credit bureaus, the agency found.
The same month, two large subprime lenders, GM Financial and Santander Consumer USA Holdings, disclosed that the Department of Justice was probing their lending practices.
A spokesman for the CFPB said the agency could not comment on whether it was investigating other Buy Here Pay Here lenders. In August 2013, however, the CFPB closed a probe of the J.D. Byrider chain, another nationwide Buy Here Pay Here chain, with no findings.
Most Buy Here Pay Here dealerships tend to be small operations with only a few locations. But J.D. Byrider and DriveTime stand out not only for their size but for their sophisticated financial model. Like mortgage lenders and credit card companies, they bundle and resell their loans as securities, the same cash-flow generating tactic made infamous by the financial crisis a half-dozen years ago.
Because of the high interest rates on the underlying loans in a time when most other consumer loan rates are near record lows, subprime auto securities have become extremely popular with investors in recent years.
DriveTime has played an active role in that growth, issuing 47 securitizations between 1996 and 2013, according to Kroll Bond Rating Agency. So far this year, DriveTime has issued two new securitizations backed by more than $630 million in car loans. The chain's securities have been snapped up by investors and are in portfolios of many large mutual funds managing pensions and other pools of money.
Contact the author of this story at ken.bensinger@buzzfeed.com