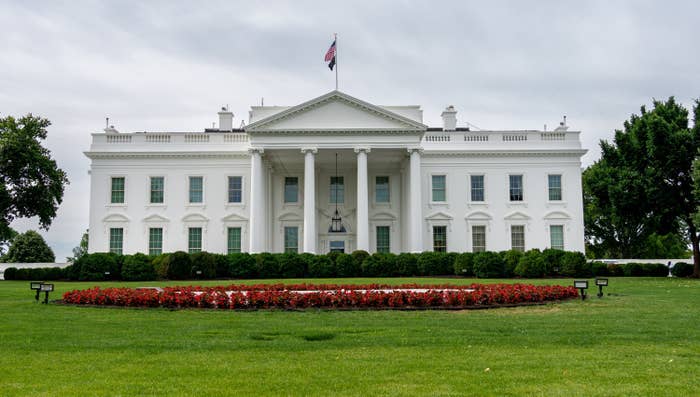 The White House Twitter account spent Thursday night calling out critics of Joe Biden's student loan forgiveness plan, prompting people to wonder what made the official government page go "goblin mode."

The answer? The same person who made "your mom" jokes from a New Jersey government account.
The @WhiteHouse account quote-tweeted statements from six Republican politicians with the publicly available amount of money in PPP loans they have had forgiven.
The account indicated that people like Rep. Markwayne Mullin and Rep. Vern Buchanan each had more than $1 million in PPP loans forgiven, in response to their comments calling the student loan forgiveness plans "reckless" and an "undue burden."
Many Twitter users appreciated the tone shift.
"Hey, WH staff, just so you know, if you're going to continue to drag these hypocrites with clear and hard-hitting messaging, you run a serious risk of surging enthusiasm, electoral success, and continued improvements to the lives of millions of Americans," author Scott Lynch replied to the tweet thread.

"It seems so contrary to typical Democrat behavior but I'm willing to give it a shot just to see where it goes. As an experiment," artist @thatpetewoods tweeted.
One of the first government accounts to embrace having a fun personality on Twitter back in 2018 was @NJGov, the official profile for the much-maligned state.
Together, Megan Coyne and Pearl Gabel used trends and jokes to play into the constant teasing the state has faced, often tweeting "your mom" and invoking the power of New Jersey native Bruce Springsteen.

On Aug. 1, Coyne announced that she was leaving Jersey Twitter behind to join the digital strategy team at the White House.
Since then, the account has been making more jokes than ever before, which Twitter users say should be attributed to the "living legend" herself.

Coyne tweeted ":)" along with a screenshot of "The White House" as Twitter's top trending topic.
The White House digital strategy team has not yet responded to BuzzFeed News' request to confirm Coyne's involvement in the tweet thread, but it certainly was not Dark Brandon.