This is an excerpt from Please Like Me, BuzzFeed News' newsletter about influencers and internet culture. You can sign up here. In our column, Niche Drama, we discuss online community micro dramas.

Dozens of celebrities, brands, and randoms were unceremoniously unmatched by Tinder in front of the whole timeline on Tuesday.

@BigTechAlert, a bot created by tech analyst Alex Barredo that posts about which Twitter accounts top tech executives and companies are following, shared a slew of tweets showing who @Tinder unfollowed.
A spokesperson for the dating app told BuzzFeed News it was "routine account cleanup."

On the chopping block were much of the cast of Modern Family (Eric Stonestreet, Ariel Winter, and Sarah Hyland), fellow brands (Casper and Chick-fil-A), a singer who once released a Tinder-themed music video (Hilary Duff), a beloved actor (Emma Watson), Morbius (Jared Leto), embattled YouTubers (Gabbie Hanna and Tana Mongeau), the crown jewel of the self-described girlboss era (Nasty Gal and its founder Sophia Amoruso), and an internet-famous cat that died in 2019 (Lil Bub).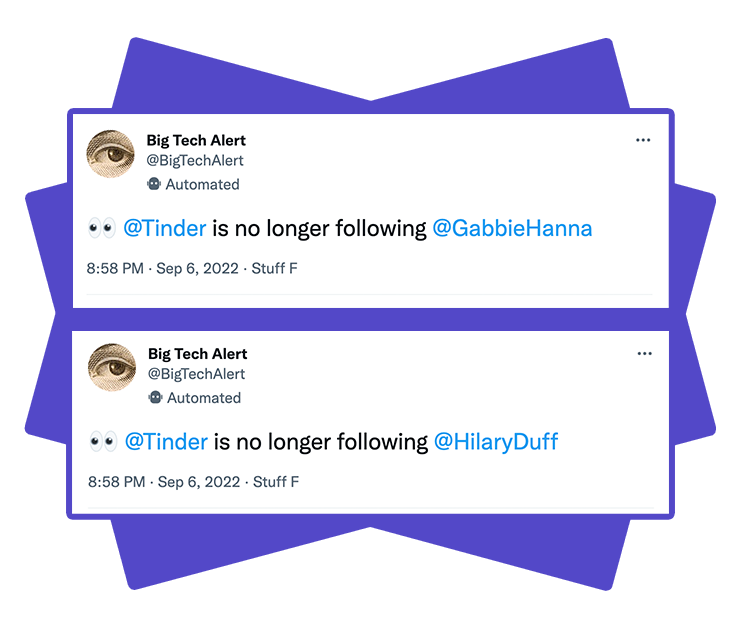 Tinder is still following 156 people, including Oprah and Alexandria Ocasio-Cortez, and all the late-night hosts named Jimmy (Kimmel, Fallon, and, look, we're including James Corden) are still on the list, as is James Charles.

The connections may seem fleeting, but some of @BigTechAlert's most popular posts have generated chatter about which powerful people tech companies are collaborating with. Mentions of tech CEOs Jeff Bezos and Elon Musk are particularly popular. Sometimes an online connection signals a strategic collaboration, like Netflix following Shania Twain, and sometimes it's just funny, like when Jack Dorsey unfollowed Rita Ora.

Come to @BigTechAlert for industry tea, stay for updates on Musk's relationship with Grimes.